Higher taxes may trigger social unrest: Capt
Tribune News Service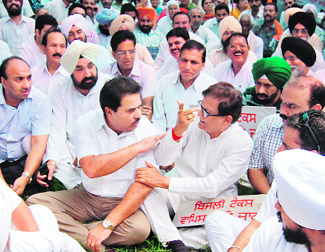 Legislator OP Soni and district chief Jugal Kishore Sharma (right) exchange heated words during a protest in Amritsar on Friday. Photo: Sameer Sehgal

Ludhiana, September 7
Announcing that the Congress would not give up its "struggle" against the imposition of taxes by the SAD-BJP Government, Pradesh Congress Committee (PCC) president Capt Amarinder Singh said today that higher taxes could trigger social unrest leading to a law and order problem. This would only encourage destabilising forces to rear their ugly head, he warned.
"When financial situation gets bad and taxes go high, petty crime increases and the law and order machinery breaks down. The growth trajectory of the state is affected too," Amarinder said. Referring to reports that Punjab was on the terror radar, he said: "We don't want our neighbour (Pakistan) to think that it can indulge in any adventurism."
The state Congress today held district-level dharnas in protest against the "punitive" taxes imposed on the people.
Earlier, speaking at a dharna held near the city mini-secretariat, he said: "Chief Minister Parkash Singh Badal should not rest complacent that the government will run its full term. Whenever economy grows weak, the government fails to survive."
Striking a strident note, he said: "The Congress will take its protest (against imposition of taxes) to its logical conclusion." Criticising the state government, he said 47 lakh people were unemployed. "At least 400 steel units are fleeing the state. Some cycle units have shifted to Bihar and Rajasthan," he claimed.
Buttressing his arguments with statistics, the PCC chief said the state growth rate was 6.5 per cent. To this, the contribution of the agriculture sector was less than 1 per cent and that of the industrial and service sectors 5.5 per cent. Flaying the "blanket" imposition of property tax, he said the government's target was to impose taxes to the tune of Rs 9,000 crore. He concluded his address thus: "This is your (the people's) dharna. Till the taxes are rescinded, we will not rest, even though we may have to court arrest."
Talking to mediapersons, he said the taxes had been imposed illegally since these had not been approved by the Vidhan Sabha. "Congress Legislature Party Leader Sunil Jakhar has rightly said the House should be reconvened." Calling for rationalisation of taxes, the PCC chief said the government could not impose taxes with retrospective effect.
"Instead of larger taxes on a smaller base, there's a need to bring smaller taxes on a larger base," he added.
Clarifying that the Congress had no plans to forge a political alliance with the Sanjha Morcha, he said: "If for the sake of Punjab we have to carry anyone with us, we will do so." On the PCC leadership issue, he said till a decision by the Congress president, he would continue shouldering the responsibility. Among those who attended the dharna were Jakhar, Congress MP Manish Tewari and Punjab Youth Congress president Vikramjit Singh Chaudhary.
Gurdaspur: At least 1,000 Congress activists staged a dharna here. Prominent among those who participated were Gurdaspur Member of Parliament Partap Bajwa, District Congress Committee president and Dera Baba Nanak MLA Sukhjinder Singh Randhawa and sitting legislators Tripit Rajinder Singh Bajwa, Charanjit Kaur Bajwa, Ashwani Sekri and Aruna Chowdhury. Raman Bahl and Balwinder Laddi, who lost the last assembly elections from Gurdaspur and Sri Hargobindpur, respectively, were also present. However, Partap Bajwa's brother Fatehjung Singh decided to keep away.
Amritsar: That the Congress, the main Opposition party in the state, continues to be a divided house became evident when District Congress Committee (DCC) chief Jugal Kishore Sharma and Amritsar Central legislator OP Soni exchanged heated words in full media glare at the Congress dharna here.
Other Congress leaders were seen pacifying the two. It took them a while to calm down the warring leaders. Also, various Congress leaders were seen holding the protest along with their supporters to showcase their strength. Most of them ended up targeting their own party workers who, they alleged, had caused their defeat in the assembly elections. Capt Amarinder Singh is to hold a political conference at Majitha, the stronghold of Revenue Minister Bikram Singh Majithia, on September 11.
Sangrur: The party protest was led by district president Subhash Grover here. Those present included Sangrur MP Vijay Inder Singla, Dhuri MLA Arvind Khanna, former minister Jasbir Singh and former MLAs Surinderpal Singh Sibia (Sangrur), Surjit Singh Dhiman (Dirba), Gurcharan Singh Dirba (Dirba) and Ramesh Singla (Nabha).
Moga: Local MLA Joginder Pal Jain dubbed the imposition of fresh taxes an undemocratic move by the state government. SGPC member Sukhjit Singh Kaka Lohgarh, who lost the Assembly elections to Akali stalwart Tota Singh on the Congress ticket, attended the protest with his supporters. Former MLAs Darshan Singh Brar, Ajit Singh Shant, Vijay Sathi, district party president Gurdarshan Kaur and other local leaders were also present. Similar protests were held in Bathinda, Ropar, Fatehgarh Sahib and Muktsar.