Police services should be paid for
While there can be no price tag attached to most police activities, in times of fiscal crunch strategic management is the answer to future policing needs. This will also help in meeting the ever-growing demand for police services
Rohit Choudhary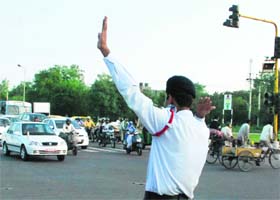 Traffic management is a capital-intensive activity. Funds generated through fines can be used by the police for improvements in traffic regulation. Tribune photo :Nitin Mittal
THE National Police Commission 1977 says that the police organisation should be kept at a high pitch of efficiency, particularly through effective personnel and financial management for a proper role performance. A fiscal crunch in the police is not just an issue in India. In the US of the 92 police departments surveyed, 73 indicated that there was a perception of fiscal stress within their cities. In the UK, the Audit Commission has published several reports on policing and the criticism of financial management in the police service has frequently attracted headlines in the national Press.
Reports of an increase in recorded and unrecorded crime are regularly accompanied by criticism of the effectiveness and efficiency of the police and skeptical comment on the efficacy of conventional methods of policing. In Australia the Management Improvement Initiative programme requires the police to pursue cost-saving and productivity improvement measures. Today the top police managers are bound to address one of the key questions: Is there a better way to deliver police services that cost less?
Efficiency vs values
Further for the police, society does not wish maximum efficiency in law enforcement as it clashes with central societal and political values, e.g. there can be no cost benefit analysis carried out in executing legal decisions. Then the compulsions of economics may not find application to policing when a set of central values define policing, such as, as little force as possible.
In any given law and order situation the police has to be equipped with appropriate arms and be in appropriate strength to ensure that minimum force is used to achieve the objective and this may not be the most cost effective means. Another value is that technical policing cannot replace all the police work. For example, society wants a policeman and not a camera or another mechanical device in a street affected by crimes like snatching and eve-teasing. So in that sense there are cultural limitations to cost reduction within the police.
Marginal adjustments
However, in response to the growing fiscal stress the departments have been trying to balance their budgets by making marginal adjustments in their operating procedures and expenditures. The examples include the use of vehicles for years after they have been condemned, putting a limit on the use of patrol, thinning out manpower on duties etc. Though such methods offer short-term solutions, stretching resources over a period of time has resulted in compounding of problems at hand for the departments. These include
Human resource erosion: There has been a decline in the skill level, health, commitment of policemen due to stretched over-deployment. This has led to a decline in their responsiveness and performance.
Excessive centralisation: An immediate response to cut expenditure has been to impose expenditure limits and centralised clearances of proposals above fixed limits. In the long run this kills initiative and builds in unnecessary delays and inefficiency.
Low allocations: Some of the worst hit units are those that give benefits in the long run like the planning department or the training section. When they are affected by the cuts, the effectiveness of the department in the long run is compromised.
Strategic management
Therefore, in place of short-term measures there is a need for strategic management which means having a clear understanding of what the department's mission and core services are and to prioritise them to create sustainable long-term administrative arrangements to finance and deliver those services. Some of the measures that need serious consideration are:
Reorientation of police functions: In police management too much attention is devoted to tactics and the fine tuning of operations within the traditional framework of police management paying little attention to the question of grand strategy – mission, design and service delivery options. Over a period of time while some activities may be carried out efficiently their utility to the public can be questioned.
One way of redesigning and aligning of policing activities is by an identification of basket of police functions that are most important to the people. This means demand identification by holding public meeting directly with the people of the area and orienting police activities according to the requirements of the people. These activities can be combined with the core/traditional policing activities so that the maximisation of public satisfaction level is achieved, given the available resources.
Low-level additions: In the police departments there are varieties of jobs done by trained police officers that may not require the skills of a policeman such as reception duties, maintenance duties, telephone operators' duties etc. These duties could be handled by police assistants and wardens at cheaper rates and would avoid underutilisation of specialised police officers. Their education can be lower, their tasks limited and also their powers could be less and for some groups equal to those of normal citizens. Their salary would, of course, be lower and many would be on temporary contracts leading to substantial savings in the salary bill.
Spread of costs to other authorities, special police forces: Another international development worth mentioning is the spread of policing costs over more institutions. In countries with state police systems, many municipalities take safety costs on their own account by paying an extra slice out of their own budget. They pay for their local policemen. This is, of course, not a cost-reduction measure, but a cost-redistribution measure. In a country like the US, with its differentiated and fragmented police structure, the cost of policing is divided over thousands of local, county, state, federal and special budgets.
Spread of costs by diffusion of tasks: These are not the times where policing functions in isolation; the issue of crime and disorder has a wider perspective today. Thus the "old" police task is partially redefined and converted into broader categories, and in this way can be distributed over more sectors of government than in the past. So the Department of Public Health takes a part of the responsibility and the costs of the drugs problem by defining drug addiction as a health problem.
A second example is the concept of "integral safety." Through this broad policy concept a large number of local officials get involved in crime and crime prevention problems. Policemen have to become the organisers of safety, not the producers, and their organising role has to combine the efforts of a lot of local public and private institutions. The function of diffusion here is that it creates the possibility of relying on funds, which carry a label other than police costs, and this way more resources become available for policing.
On payment services: As of now, there is a tendency to look down upon the idea of charging from the public as the police is a law-enforcing organisation. But the role of the police does not limit to law enforcement only. It has to do security duties, guard duties, crowd control and regulation duties also. These duties are done free of cost where it is a matter of common public concern or is arising out of the same. However, increasingly the police is being called on to render services in situations that may not be categorised in public realm. However, the police is doing duties in these areas but is not charging any amount as the private agencies do.
There are certain areas of police activity such as "passport verification", "verification of domestic servant" and "security survey" for which the beneficiaries should pay in some way or the other. To achieve this it would be necessary to set up a mechanism which is uniform for the entire country and which is consistent with the laws and rules. The Australian Federal Police (AFP) conducts some of their activities such as criminal history checks on a fee-paying basis. Another such area is the event security arrangements, like a one-day cricket match. There are provisions in the police rules, which authorise the chief of the police in the district to provide policemen to individuals and institutions on payment at his discretion.
Retention of the revenue generated: The police department generates revenue by way of fines and penalties, especially in the area of traffic regulation. Traffic management in itself is a capital-intensive activity, requiring capital for its engineering aspect. Funds generated from the fines could be deposited and used by the police from a special purpose account for improvements in traffic regulation. The Gujarat government, for example, has allowed the police to plough back its earnings by way of fines to carry out projects.
Load shedding: Load-shedding involves the transfer of responsibility for service provision from the police to the private and voluntary sector. There has been a significant expansion of private policing with the private security industry employing a significant number of people and the trend is growing rapidly. Outsourcing of police jobs like issuing of summons, verification of passports and employment checking is a possibility that can be examined for efficiency and cost reduction.
Rohit Choudhary, an IG in Punjab, is the author of "Policing: Reinvention Strategies in a Marketing Framework"
Strategy for future policing
Reorient & shed functions
Low-level additions to police jobs like assistant constables.
Spread costs to other authorities for special police services.
Spread costs through "self-help", voluntary work.
Spread costs by diffusion of tasks to various agencies & departments.
Provide police services on payment.
Retain some of the revenue generated through fines.
Outsource some of the non-core activities.