jp atray memorial cricket Tournament

ONGC win by seven wickets, earn 5 points
Tribune News Service
Chandigarh, September 20
In the first match of ongoing 19th All-India JP Atray Memorial Cricket Tournament for the Pearls Trophy, the team of the PCA Colts faced a 7-wicket defeat at the hands of ONGC here today.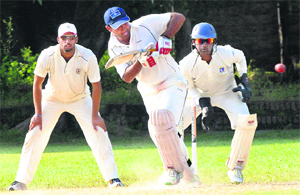 A batsman in action during the JP Atray Memorial Tournament at St John's High School, Sector 26, in Chandigarh on Thursday. tribune photo: manoj mahajan
With this outright win, the visiting side earned 5 points, including a bonus, while the PCA Colts got (-1).
Winning the toss and opening to bat first, the PCA lads were bundled out for 134 in 36.2 overs. ONGC's, Puneet Mehra engineered claimed a 5-wicket haul after giving for 26 runs. He was supported by Sohil Sharma and Sorab Kumar, who grabbed two wickets each. For bowling side, Jeevanjot (23) and Kunwar Raina (22) scored the most for the team.
The ONGC team hammered 135 for 3 in 24.2 overs with Mayank Tehlan (72 off 56 with 11 boundaries and 2 sixes) and Sandeep Sharma (38 off 56) thrashing the PCA bowlers all over area. For PCA colts, Yogesh Kumar claimed 2 for 45 while Kamal Passi took 1 for 26.
Brief Scores:
PCA Colts-134 all-out in 36.2 overs (Jeevanjot 23, Kunwar Raina 22, Puneet Mehra 5 for 26, Sorab Kumar 2 for 14, Sohil Sharma 2 for 32).
ONGC-135 for 3 in 24.2 overs (Mayank Telhan 72, Sandeep Sharma 38, Yogesh Kumar 2 for 45, Kamal Passi 1 for 26).
At the PCA Stadium, Mohali, the DDCA led by opener Jagrit Anand who blasted an unbeaten ton 117 off 120 balls, which included 8 rousing boundaries and five lofted sixes, all of them clearing the field by a huge distance and landing on the last tier of the Terrace Block.
His scintillating knock despite his bout of cramps won the applause of all and sundry as he took his team to a five-wicket win to garner four points. He was given the man of the match award by Mr. Sandeep Patil, Director NCA.
In the second match, the team of Delhi and District Cricket Association defeated PCC by 5-wickets. Batting first, the PCC team started their innings with Karan Goel building a 109-run partnership with Taruwar Kohli for the 2nd wicket, before snapped by Anand off Kshitiz for 52 of 84 inclusive of 4 boundaries and 2 sixes.
Later, Taruwar (70) and Mayank Sidana (56) stabled the team's innings and ended at 268 for 8 in 50 overs. For the DDCA, Sunny Sherawat, Rishit Saini and Kshitiz
Sharma claimed two wickets each.
In reply, the DDCA team chased down the target in 49.1 overs.
Jagrit Anand and Rahul Yadav star in team's win after contributing 117 runs for the third wicket before Rahul was trapped in front by Gurinder Singh for 54 off 72 with 9 boundaries.
Jagrit along with Kshitiz Sharma guided the team to victory after the duo contributed unbeaten 93 runs for the sixth wicket Kshitiz remained unbeaten on 53 off 50 inclusive of four boundaries and two sixes.
Brief Scorers:
PCC-268 for 8 in 50 overs (Karan Goel 52, Taruwar Kohli 70, Mayank Sidana 56, Sunny Sherawat 2 for 66, Rishit Saini 2 for 46, Kshitiz Sharma 2 for 38).
DDCA-271 for 5 in 49.1 overs (Jagrit Anand 117 not out, Rahul Yadav 54, Kshitiz Sharma 53 not out, Barinder 1 for 47, Sandeep Sharma 1 for 43, Karan Goel 1 for 33, Gurinder 1 for 44).
In another match, Comptroller and Auditor General (CAG) defeated State Bank of Patiala (SBOP) by 132 runs to garner 5 points including a bonus.
After wining the toss, the wining side posted a healthy total of 240 runs. Gaurav Gambhir (48) and Kuldeep Rawal (66) scripted team's scorecard after contributing 114 runs for the 6th wicket.
For bowling side, Siddharth Kaul was the pick of bowlers after grabbing 4 for 33.
In reply, the SBOP team lost first four wickets on a mere total of 46 runs. Pankaj Dharmani (35 off 47 with three boundaries and a six) was the main batsman for the SBOP. The team was bundled out for 108 in 30.4 overs. Bowler Bipul Sharma and Paramvir claimed three wickets each while Imtiaz grabbed 2 for 14.
Brief Scores:
CAG-240 for 9 in 47 overs (Gaurav Gambhir 48, Kuldeep Rawal 66, Bipul Sharma 29, Bharat Lumba 37 not out, Siddhart Kaul 4 for 33).
SBOP-108 all out in 30.4 overs (Pankaj Dharmani 35, Bipul Sharma 3 for 26, Parambir 3 for 12, Imtiaz 2 for 14).
In the last match, the BPCL ousted the SBOH by 7 wickets with four balls to spare and garnered four points.
Brief Scores:
SBOH-130 for 9 in 26 overs (Akash Bhandari 36,Kiran Adav 3 for 20, Sairaj Bahutule 2 for 22 and Anoop Revandekar 2 for 8).
BPCL-131 for 3 in 25.2 overs (Bhavin Thakkar 43 Uday Kaul 52 and Skipper Munish Pandey 33, Aoop Pai 1 for 1).