Protests against Centre across state
Tribune Reporters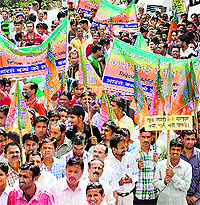 BJP activists protest against the UPA government in Dharamsala on Thursday. Photo: Kamaljeet

Shimla, September 20
The impact of the Bharat bandh call given by opposition parties, including the BJP and the CPM, today evoked a mixed response. The supply of essential commodities and vehicular movement were not affected much.
Life remained normal, though shops and commercial establishments in most parts here remained closed for half of the day. Restaurants and hotels remained closed during the morning.
CPM activists disrupted traffic at the Victory Tunnel from 10:30 am for two hours. Led by CPM's state unit secretary Rakesh Singha, they blocked National Highway 22 in Theog. Protests were also organised in Rampur.
BJP activists took out a rally here and later held a public meeting at the Sher-e-Punjab. They raised slogans against the UPA for hiking the prices of diesel and limiting the subsidy on liquefied petroleum gas cylinders to six.
They were led by BJP's national general secretary JP Nadda, Rajya Sabha MP V Kashyap, Shimla MLA Suresh Bhardwaj, state mahila unit president Rupa Sharma and state spokesperson Ganesh Dutt.
Nadda demanded the immediate resignation of the Prime Minister and the deallocation of all 142 coal blocks. Bhardwaj said the decision on cylinder subsidy could prove harmful as people could go back to using wood as fuel.
Dharamsala: BJP workers led by national vice-president Shanta Kumar organised a dharna at the kachehri crossing here on Thursday afternoon.
They burnt an effigy of the Prime Minister and raised slogans against the UPA government. Industries Minister Kishan Kapoor, Food and Civil Supplies Minister Ramesh Dhawala and other MLAs from the district took part in it.
Shops and private business establishments remained closed. Government offices, banks and schools remained open. Traffic flow on roads was normal as there was no report of traffic blockade by protesters.
Hamirpur: There was a mixed response to the bandh call here on Thursday. Owners of a majority of shops and business establishments downed shutters in the morning while some shopkeepers did business.
Government offices functioned normally and there was no disruption in vehicular traffic. Activists of the CPM and the CPI held a demonstration before the Deputy Commissioner's office and raised slogans against the government.
CPM leaders Kashmir Singh Thakur, AC Chauhan, Pratap Rana, Satya Galoda, Anil Mankotia and Joginder Kumar and CPI leader Mukesh Kumar addressed the gathering.
Mandi: The BJP and the CPI-CPM combine burnt effigies of the Prime Minister here on Thursday. They staged separate protest marches and rallies. Traders, shopkeepers, taxi operators and transporters observed a complete bandh.
BJP workers were led by district unit president Dile Ram, Sundarnagar MLA Roop Singh Thakur and state unit secretary Ram Swarup. The CPI-CPM protest was led by district unit general secretary Bhupender Singh. There was a complete bandh in Kullu.
Kangra: The response to the bandh call was lukewarm. All government and private banks and offices, schools and colleges remained open. Transport plied as usual.
Business establishments were open in the morning. BJP workers led by city unit chief Suresh Checha gathered at the Nehru chowk and forced shopkeepers to down shutters.
Kangra district Beopar Mandal president Ved Sharma said some BJP workers and local shopkeepers approached him later for the bandh. A majority of shops in Nagrota Bagwan remained closed.
The bandh had no impact in Dehra subdivision. All shops and business establishments remained open in Dehra, Pragpur and Dadaseba.
The bandh call had a partial impact in Jwalamukhi.
Nurpur: There was no response to the bandh call in the subdivision on Thursday. No BJP leader approached traders to observe the bandh.
Shops and other business establishments remained open in Nurpur, Raja ka Talab, Rehan and Indora. A partial bandh was observed in Jassur.
Barring Kotla and Nagrota Surian, the bandh call evoked no response in the Jawali subdivision. Markets remained open in Jawali, Bharmar and Fatehpur. Buses plied as usual on link roads.
Chamba: The bandh call evoked a partial response in the district. Most shops and commercial establishments remained open.
An official with the Law and Order Department informed over telephone that the bandh went off peacefully in the district.
Solan: Business came to a standstill in Solan and Sirmaur districts on Thursday. Reports of a near-total bandh were received from Solan, Dharampur, Kandaghat, Kasauli, Baddi, Nalagarh, Nahan, Paonta Sahib, Kala Amb and Shillai.
BJP activists burnt effigies of the Prime Minister and raised slogans against the government. A large number of industrial units remained shut in Baddi, Barotiwala, Nalagarh, Kala Amb and Paonta Sahib.
A rally was taken out by the local Beopar Mandal in Solan. Its members later submitted a memorandum to the Deputy Commissioner here.
The Swadeshi Jagran Manch took out a rally in Nahan. A delegation led by Himachal Lokhit Party leader Shyama Sharma submitted a memorandum to the DC there.
Bilaspur: All shops and business establishments remained closed in Bilaspur, Ghumarwin, Berthin and Jhandutta on Thursday. Vehicular traffic was blocked for some time.
Led by district BJP president Ranjit Singh Thakur and other leaders, party activists organised demonstrations. Workers of other parties, including the CPI, the CPM and the Himachal Lokhit Party, also organised protests.