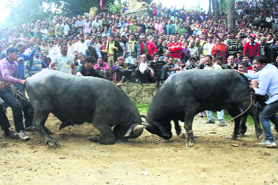 People watch a traditional buffalo fight at Mashobra near Shimla on Sunday. Photo: Amit Kanwar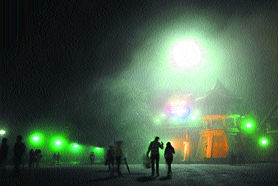 People walk amid dense fog in Shimla. Photo: Amit Kanwar

Mallan-Mubarakpur NH okayed, says Bali
Kangra, September 16
Congress leader and Nagrota Bagwan MLA GS Bali today laid foundation stones of a tourist information centre and two community halls at Bhaloglova and Bussal. HPCC member Ajay Verma said the tourism information centre and community hall at Bhaloglova was a Rs 10 lakh project and the community hall at Bussal was a Rs 5 lakh project.
Ravi may contest from Dehra
Shimla, September 16
Prospects of Irrigation and Public Health Minister Ravinder Ravi entering the poll fray from Kangra district have brightened with the core group of the BJP offering him the option of contesting from Dehra.
Tanda medical college faculty demands allowances
Kangra, September 16
Medical teachers of Dr Rajendra Prasad Government Medical College, Tanda, have demanded that the specialist allowance, 15 per cent of their basic pay, should be given to the faculty of both the medical colleges of the state as they were actively involved in specialist services and teaching. They should also be given time-bound promotion, they said.
Centre has failed to provide green bonus to state: CM
Shimla, September 16
Chief Minister PK Dhumal has said despite having the best environment protection record in the country, Himachal is not being adequately compensated by the Centre in the form of green bonus or any other incentive.
Chhari of Manimahesh pilgrimage begins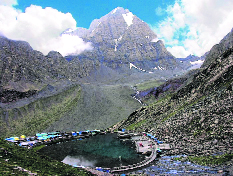 Chamba, September 16
The holy chhari of the Manimahesh pilgrimage officially commenced from here today. It will conclude on September 23 on Sri Radhashtami when pilgrims and devotees of Lord Shiva will take a dip in the sacred icy waters of the Manimahesh Lake at an altitude of 4170 m. The pilgrims will start their return journey the same day.
A file picture of the Manimahesh Lake.
Woman gives birth in ambulance
Hamirpur, September 16
Though the state government is laying great emphasis on institutional deliveries, an expectant mother who was referred to the Dr Rajendra Prasad Government Medical College (DRPGMC), Tanda, from Hamirpur hospital and then to the PGI, Chandigarh, had a normal delivery in the ambulance on way to Chandigarh.
Twin fungal attack hits apple orchards
Shimla, September 16
Widespread premature defoliation in apple plantations due to a twin fungal attack has been giving sleepless nights to growers, particularly in the higher areas where the crop is yet to be harvested.
Indo-Czech Chambers of Commerce to explore investing in HP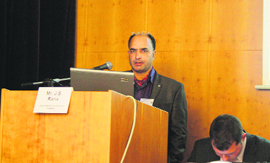 Solan, September 18
A delegation of the Indo-Czech Chambers of Commerce will soon visit the state and explore the possibility of investing in the state's clean and green environs, which offers immense scope for Foreign Direct Investment (FDI).
Director, Industries, JS Rana makes a presentation at an industry conclave, India Show, in Czech Republic

Unauthorised Constructions
Architects seek public referendum on retention policy
Shimla, September 16
With government's proposed policy to regularise unauthorised constructions coming in for severe criticism, a new dimension of deciding the issue by holding a public referendum has been proposed by the Practicing Architects Association of Himachal Pradesh so that the final decision reflects popular sentiment.
Implement environment-friendly technologies, engineers told
Shimla, September 16
The State Centre of Institution of Engineers (India) celebrated the 45th Engineers Day by organising a seminar on "Appropriate Climate-responsive Technologies for Inclusive Growth and Sustainable Development" the theme for the year here last evening.
Change of BJP candidate from Badsar sought
Hamirpur, September 16
A section of the BJP leadership has demanded that sitting Badsar MLA Baldev Sharma, elected thrice, be replaced for the Assembly elections.
BIS certification made mandatory for steel
Solan, September 16
The Bureau of Indian Standards (BIS) has made certification mandatory for steel items since September 12, thus about 40 steel plants in Himachal will have to manufacture goods as per the bureau's specifications.
Ticket for Sudha Sushant opposed
Nurpur, September 16
In the wake of media reports that the name of Sudha Sushant, wife of Kangra Lok Sabha MP Rajan Sushant, is under the serious consideration of the BJP high command for fielding her in the neighbouring Fatehpur Assembly constituency as party candidate, the Fatehpur BJP Mandal today convened an emergency meeting to oppose her prospective candidature.
BJP criticises PM for allowing FDI in retail
Shimla, September 16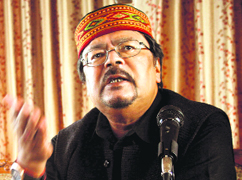 Lambasting the UPA regime for allowing FDI in the retail sector, BJP leader and Rajya Sabha MP Chandan Mitra today said the "pro-US" economic agenda being pursued by Prime Minister Manmohan Singh was fraught with danger. Interacting with mediapersons here, he alleged that the normally docile Prime Minister flexed his muscle only to promote the interests of the US.
BJP leader and Rajya Sabha MP Chandan Mitra addresses mediapersons in Shimla on Sunday.

HLP lashes out at Centre, state govt
Bilaspur, September 16
The Himachal Lokhit Party (HLP) has criticised the 'corruption-ridden' policies and programmes of the BJP in the state and the Congress at the Centre. It has urged the youth to fan out and apprise the people of the 'corrupt' deeds of leaders and ensure that both parties were routed in the upcoming elections.
Dhumal for socially responsible media
Shimla, September 16
Chief Minister PK Dhumal today said a socially responsible and credible media was essential for a strong democracy. He was speaking at the valedictory function of a two-day meeting of the national governing board of the Indian Media Centre and a national seminar on "Building a Socially Responsible Media of India".
Pensioners resent welfare fund misuse
Kangra, September 16
Pensioners of the Kangra Central Cooperative Bank have expressed resentment over the alleged misuse of the welfare fund for non-welfare activities.
MC pleads to govt over dilapidated school building
Nurpur, September 16
Expressing concern over the dilapidated building of Government Senior Secondary School (GSSS) in the town that has outlived its utility, the Municipal Council (MC) passed a resolution in its meeting on Friday evening seeking government attention towards the issue.
National honour for Chamba
Chamba, September 16 Chamba district has been assessed as a "superlative model district" among 410 districts of the country in a three-day event, Saakshar Bharat Mahotsav, held at Lucknow recently. Suman Kumar Minhas, district project coordinator, Saakshar Bharat Mission, Chamba, has also been awarded for his commendable services in the field of national literacy mission.
Consumer awareness body lambasts UPA, Oppn
Kangra, September 16
The Himachal Pradesh National Consumer Awareness Organisation (NCAO) today lambasted the UPA government for the hike in diesel price and in the LPG cylinder price after six cylinders to Rs 750. It described the decision as anti-people, unfortunate and dictatorial act of the UPA government. It demanded that President Pranab Mukerjee should sack the government, impose President's rule in the country and hold midterm polls.
BJP seeks relief for HP
Shimla, September 16
The BJP has demanded that the Centre must come out with a special scheme for the state in view of the steep hike in prices of LPG and diesel or else people will be forced to rely on wood from forests for fuel, which can be disastrous for environment.
Cook hit by safety valve cap, dies
Bilaspur, September 16
Community lunch cook Roshan Lal (40) of Khainta Smella village was hit in the neck by a safety valve cap of a cooker and he fell unconscious here yesterday.