Protesting teachers canecharged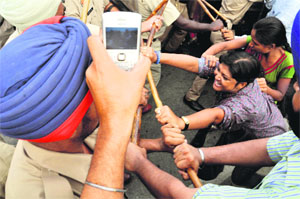 Ludhiana, September 16
Last Sunday's events were repeated here today when the Ludhiana police had to use mild force to stop protesting teachers from blocking the Ludhiana-Chandigarh highway here. However, the policemen failed in their mission and the protesters managed to block the road for three-and-a-half hours from 1:30 pm to 5 pm.
Slugfest: Policemen try to stop teachers from blocking the Ludhiana-Chandigarh road in Ludhiana on Sunday. Tribune photo: Himanshu Mahajan

Khanna Factory inferno
Kin refuse to accept 'meagre' Rs 1 lakh relief; toll reaches 12
Ludhiana, September 16
The relatives of a worker killed in Wednesday's blast at Khanna factory have refused to accept the compensation of Rs 1 lakh offered by the Punjab Government to the next of the deceased.
Ranike was reluctant to quit
Chandigarh, September 16
Animal Husbandry Minister Gulzar Singh Ranike quit his post reluctantly, professing his innocence, say sources. During his recent meeting with Chief Minister Parkash Singh Badal, he is said to have claimed that he was innocent and that his personal assistant Sarbhdayal Singh alone should be held accountable for embezzlement of the Border Area Development Funds.
Demand for CBI probe gets louder
Amritsar, September 16
Even as the Punjab Government has ordered a Vigilance probe into the embezzlement of rural as well as Border Area Development funds, Congress leader Tarsem Singh, who lost the assembly elections to Gulzar Singh Ranike from the Attari constituency, and district CPI leaders today demanded a thorough CBI probe into the "plunder of public money" during Ranike's tenure as minister.
Plan to impart employable skills to 1 lakh youths
Chandigarh, September 16
The state government has finalised a programme to impart employable skills to 1 lakh youths every year and ensure their placement or guide them in self-employment ventures.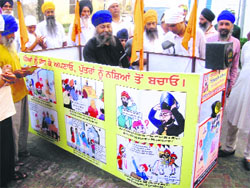 for a cause: Activists find a novel way to create awareness against drug abuse and foeticide, at Bharta Kalan village in Nawanshahr on Sunday. Photo: Pramod Bharti
Hoshiarpur villagers on warpath against mining
Talwara (Hoshiarpur), September 16
Up in arms against the governments of Punjab and Himachal Pradesh for allegedly sheltering the mining mafia active in the area, hundreds of villagers today held a protest at Dasoli village on the interstate border.
Govt to give Adarsh schools another shot
Chandigarh, September 16
The state government is all set to make major changes in the working of Adarsh schools, which had failed to serve its purpose of providing free education to poor children mainly due to lack of accountability.
Nothing is too tough for these rural girls
Khadoor Sahib (Tarn Taran), September 16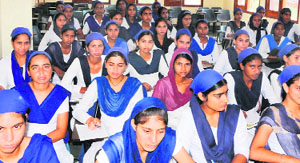 Guru Angad Dev Institute of Careers and Courses, being run by Baba Sewa Singh, has proved that girls are no less than boys. More than 200 girls trained at the institute have made it to the paramilitary/police forces in the last four years.
Girls attend a class at Guru Angad Dev Institute of Careers and Courses in Khadoor Sahib. Photo: Vishal Kumar
Institute fined for misleading students
Chandigarh, September 16
The Punjab State Consumer Disputes Redressal Commission has pulled up the Adesh Institute of Medical Science and Research, Bathinda, for publishing misleading advertisements to "extort money from students and their parents".
Playwright's house to be made museum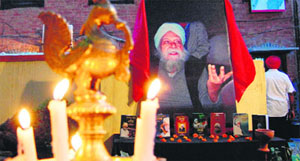 Amritsar, September 16
He was known as Baba Bohar (towering personality) of the Punjabi theatre and his legendary character Bhai Manna Singh was just another theatrical reflection of his own personality. But there was much more to the legendary playwright Gursharan Singh that made him a formidable name in the Punjabi theatre.

Fans light candles on Gursharan Singh's birth anniversary in Amritsar on Sunday. Photo: Sameer Sehgal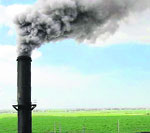 Six units found violating pollution norms
Patiala, September 16
Punjab Pollution Control Board (PPCB) raided 14 industrial units in Mandi Gobindgarh. Board chairman Ravinder Singh said out of the 14 units, six were found violating the prescribed guidelines of the PPCB.
Ludhiana resident receives power bill of Rs 11 lakh!
Patiala, September 16
A Ludhiana-based resident was shocked out his wits when he got a bill of over Rs 11 lakh from the Punjab State Power Corporation Limited (PSPCL) for a two-month period.
Dubai firm to compensate Indian family for worker's death
Chandigarh, September 16
On the intervention of the Punjab State Commission for NRIs, a Dubai based company has agreed to pay the benefits and requisite dues to the family of an Indian immigrant who died in an accident while on duty.
Speed limit warning goes unheeded in Bathinda
Bathinda, September 16
Even though the traffic police claims to have brought down the number of traffic violations in the city, the ground reality proves otherwise.
Octroi abolition has hit revenue: Mayors
Bathinda, September 16
Their economy in dire straits and the mounting pressure to provide basic amenities to the people was one of the issues that shadowed the meeting of the mayors who assembled in Bathinda from various parts of the country to participate in the national-level executive committee meeting of the All India Council of Mayors.
Dialogue only way out, says Pak minister
Amritsar, September 16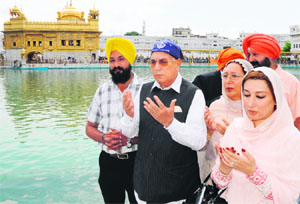 Pakistan's Federal Minister for Kashmir Affairs Mian Manzoor Ahmad Wattoo, along with his family, paid obeisance at the Golden Temple before returning to his country through the Attari-Wagah Joint check post today. Wattoo said he prayed for harmonious relations between India and Pakistan and sought peace and prosperity for their inhabitants.
Mian Manzoor Ahmad Wattoo, Pakistan's Federal Minister for Kashmir Affairs, and his family pays obeisance at the Golden Temple. A Tribune photo
PSPCL RECRUITMENT EXAM
Probe report doesn't rule out use of 'unfair means'
Patiala, September 16
The Vigilance Wing of Punjab State Power Corporation (PSPCL) in its final report has not ruled out the possibility of candidates using "unfair means" to clear the examination that PSPCL conducted in its recruitment drive.
ASI begins work to restore the historic grandeur of Bathinda Fort
Bathinda, September 16
The Archaeological Survey of India (ASI) has started restoration work at the Bathinda Fort. Beginning with the low wall situated on the right side of the entrance, the ASI intends to gradually undertake restoration work of the Rani Mahal as well as the gate and its staircase that collapsed on the side of the gurudwara two years ago.
Dispatch tax notifications on time: HC
Chandigarh, September 16
Directing the State of Punjab to dispatch forthwith pending excise and taxation department notifications to departments concerned, the Punjab and Haryana High Court has warned that laxity would be viewed seriously.
Embezzlement
Sarpanch, 3 panchayat secretaries booked
Bathinda, September 16
The Mansa district administration has detected a fraud of Rs 50 lakh in Bhaini Bagha village and Kahangarh. Sarpanch Mandeep Singh, a relative of a former Akali MLA, and three panchayat secretaries of Bhaini Bagga and a panchayat secretary of Kahangarh village were today booked for cheating and embezzlement. Two separate cases were filed against them.
Suspended principal booked for drawing wife's salary
Patiala, September 16
The district police has registered a criminal case pertaining to fraud, conspiracy and forgery against the suspended principal of Government Senior Secondary School, Bhadson, Patiala for allegedly drawing his wife's salary.