Consumers powerless in face of meter shortage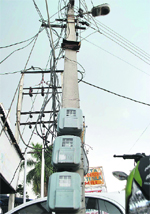 Patiala, September 13
Power consumers in the state are a harried lot with Punjab State Power Corporation Limited (PSPCL) running short of electricity meters. The shortage has led to an inordinate delay in releasing new connections and replacing defective/burnt meters. Sources said the shortage of three phase meters was not acute, but there is a huge backlog for single phase meters. The stock position as on September 7 shows the corporation had just 1,888 single phase and 2,193 three phase meters whereas the demand is quite high. The sources said from 10,411 pending applications for new connections as on March 31, the number rose to 27,233 by June 30. Inquiries reveal that the widening demand and supply gap has resulted into such a situation.
Govt okays funds to resume 'dal' scheme
Chandigarh, September 13
Suspended a few months back due to paucity of funds, the distribution of free pulses is set to be resumed soon.
Will arrest Ranike's PA soon: Police
Amritsar, September 13
Animal Husbandry Minister Gulzar Singh Ranike is embroiled in two scams worth Rs 1.55 crore. In both cases, his personal assistant (PA) Sarbdayal Singh is seen as the common link. Sarbdayal has been named in an FIR regarding a Rs 1.15 crore Rural Development Fund (RDF) scam. The police also suspects his role in the Rs 40 lakh Border Area Development Programme (BADP) fund scam. The minister's PA absconded after he was booked in the RDF scam in June this year.
Khanna Factory inferno
Kin take away victims' charred remains by measuring skeletons
Khanna, September 13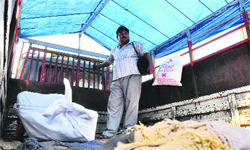 While the police was in the process of collecting DNA samples of factory workers charred to death in an explosion at Sanjiv Agro Solvent Plant here yesterday, the relatives of a few deceased today collected the remains of their kin by measuring the size of skeletons.

Ajay Kumar with the body (wrapped in white cloth) of his relative Davinder who was killed in the factory blast, in Khanna. Tribune photo: Himanshu Mahajan
Illegal mining
Action against police officials recommended
Chandigarh, September 13
Punjab's Department of Industries and Commerce has recommended action against police officials for their failure to initiate timely action to check illegal mining in the Kishanpura drain passing through Moga district.
Another probe by Finance Dept
Chandigarh, September 13
In the wake of reports of embezzlement in the utilisation of funds for developments projects in certain villages of Amritsar district, the Finance Department has ordered an inquiry into the utilisation of funds in the entire border belt.
Pakistan Minister comes hunting for his roots
Fazilka, September 13

Federal Minister of Pakistan on Kashmir Affairs Mian Manzoor Ahmad Wattoo, who visited his birthplace Mauzam, 4 km from here, last evening, had a providential escape.
Federal Minister of Pakistan on Kashmir Affairs Manzoor Ahmad Wattoo at a shooting range at Badal village in Muktsar. Chief Minister Parkash Singh Badal is standing behind him. (Right) The roof that caved in at his birthplace. Tribune photos
No lessons learnt from Sheetal Fibres mishap
Ludhiana, September 13
The fire tragedy at a factory in Khanna has once again brought the Punjab Industries Department in the spotlight for its alleged failure in ensuring adherence to safety measures.
Cement import from Pak back on track
Amritsar, September 13
Almost a month after it was discontinued, the cement import from Pakistan through the Attari rail route started again today.
Bhagat Chuni Lal gets stuck in hospital lift
Patiala, September 13
Punjab Local Bodies and Medical Education and Research Minister, Bhagat Chuni Lal today got stuck in a lift during his visit to inaugurate a renovated ward of the Ophthalmology Department at Government Rajindra Hospital.
Dr SS Johl is Central varsity Chancellor


Ludhiana, September 13
Padma Bhushan awardee Sardara Singh Johl has been appointed the first Chancellor of the Central University of Punjab, Bathinda, for a tenure of five years by the President. A former Vice Chancellor of Punjab Agricultural University (PAU), Ludhiana, and Punjabi University, Patiala, Dr Johl is a litterateur who has been active in research and planning. He joined PAU as an assistant professor and later served as Head, Department of Economics and Sociology, and as Director of Research.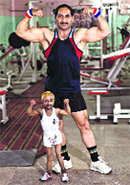 Country's shortest bodybuilder dies
Phagwara, September 13
Aditya Dev Sharma, India's shortest bodybuilder popularly known as "Romeo" passed away at a Jalandhar Hospital today. He suffered from a brain haemorrhage and was taken to a private hospital in Jalandhar last night. Sharma died today morning after grappling with his injuries for 12 hours. At just 2ft 9inches, Phagwara born Sharma was India's shortest bodybuilder. He is survived by his parents, a brother and a sister.



Aditya Dev Sharma with his coach. Tribune file photo


Gikki's Murder


Will not watch case go astray, says High Court
Chandigarh, September 13
More than a year after Gurkirat Sekhon alias Gikki was shot dead in cold blood in Jalandhar, Justice Ranjit Singh has made it clear that the Punjab and Haryana High Court would not be a mute spectator and watch the trial go astray.


Father, uncle held for honour killing
Amritsar, September 13
A girl in her twenties was allegedly strangulated to death by her father and her uncle in Jandiala this morning for family honour.
Sex offender arrested for 11-year-old boy's murder
Kotkapura (Faridkot), September 13
Three days after Husanpreet, 11-year-old son of a doctor, disappeared from his house in Kotkapura, his body was recovered from a canal last evening. The police today arrested 20-year-old youth Satnam Singh, a habitual sex offender, for murdering him.
Rs 2 crore and homemade tablets seized
Patiala, September 13
After getting a tip-off, the district police today raided a house near Gurbaksh Colony and seized over Rs 2 crore and some homemade tablets. Police have informed the income tax department and the health authorities to examine the content of the tablets.