Nausheen Ali Sardar, Anuj Saxena and Joe Baath, in Chandigarh to announce their respective television shows, share their views on telly & much more
Take from real life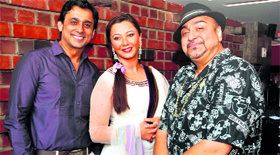 A Punjabi channel relaying Hindi shows is surely debatable. The reasons come from Nausheen Ali Sardar, Anuj Saxena and Joe Baath, who were in Chandigarh to announce their respective shows on the channel Spark Punjabi.



SMALL IS BIG: (L-R) Anuj Saxena, Nausheen Ali Sardar and Joe Baath

Look no further!
Once upon a time, the Piccadilly Theatre in Chandigarh was something of a Friday street; a landmark for giving directions to places in the sector. Then the mall culture happened and a deluge of multiplexes followed.
Gavie Chahal and Neeru Bajwa starrer Punjabi movie Pinky Moge Wali is a right mix of romance and comedy
Road to Moga slip
It has started and it is sure to go a long way - Punjabi cinema's fancy for romantic comedies (romcom in Bollywood terms) and interesting names! And the recent Punjabi flick to fall into both the categories is Pinky Moge Wali, which has been directed by debutant Vikram Dhillon.
Daughters are indeed a blessing of god. We catch up with a few 'daughters only' families...
On an affectionate note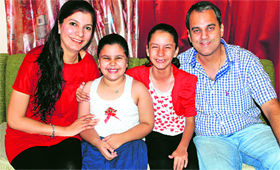 A daughter is a day-brightener and a heart-warmer... When one comes across families in everyday life that consider daughters as a gift of love, it's hard to accept the fact that we are tackling a glaring gap in male-female sex-ratio. On a positive note, we track a few whose life has been more beautiful, more delightful and more satisfying with girls around.

Sheena, Khushmita, Deveshi and Hitesh Harjani

star track
Woman power
There is a certain shift in the way Bollywood is treating its heroines. We take a look at their powerful female characters due to hit the screens…
Weighty issues
Singer Demi Lovato says she has always felt overweight since she was very young, and that insecurity continues to stay with her till date.


Graffiti

Aradhika & Sesh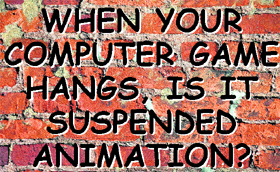 Touching hearts with Barfi!
To many, it is surprising that Anurag Basu is the same man who helmed Kites and Barfi!. The director, who believes touching a hundred hearts is more important than Rs100 crore box-office takings, says versatility often turns out to be a disadvantage in the film industry.
Life's good
Actress Katie Holmes has been doing her best to stay fit following her split from Tom Cruise.
Mallika, who?
Mallika Sherawat, her PR company and the media floated rumours that she was having an affair with Antonio Banderas which led to a rift between him and his wife Melanie Griffith.
Tweet talk
John Abraham is back on Twitter. He will only talk about his bikes since he is a bike enthusiast and will not mention anything about his personal life with Priya Runchan.


Ever grateful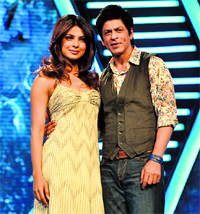 Priyanka Chopra is thankful to Shah Rukh Khan for giving her his My Name is Khan autism research material. It finally helped her play Jhilmil in Barfi! The film has been praised unanimously and is working wonders at the box office too.
Siddharth felt odd shooting SOTY
Model-turned-actor Siddharth Malhotra says facing the camera for Dharma Productions' Student Of The Year (SOTY) was a little "odd" as he had worked as an assistant director with the banner before.
Voice matters
Sonam Kapoor who plays a 17-year-old in Varanasi for her character in Raanjhanaa is trapped in a strange dilemma. Her character can't get older until a ghost voice is found for her.
Creating a buzz
The promo of Jab Tak Hai Jaan was launched recently on a video site and it has created a massive buzz! The film truly carries the Yash Chopra stamp! Picturesque locales, intense poetry, enviable costumes, Shah Rukh Khan's dimpled cheeks, his passionate lover avatar, teamed up with Katrina Kaif's flawless beauty and Anushka Sharma's effervescence — the trailer of Jab Tak Hai Jaan regales with all this.
No dolling up for Zarine
Actress Zarine Khan has played a coy girl in a couple of films she has done so far. But it turns out that she's quite a tomboy in real life. In fact, the actress herself admits that she's a total tomboy and a complete speed junkie.
Operation cover up
Paoli Dam created waves for her bold act in Hate Story and the film worked. She is doing another film with Vikram Bhatt on wife swapping. As of now, she is shooting for a film in which she plays a lawyer fighting a case of medical negligence. She will be covered in the movie directed by Suhail Tatari.
chatter box
Divine presence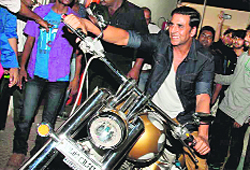 The sets of Comedy Circus Ke Ajoobe saw a divine intervention when Lord Krishna paid a sudden visit on the sets. Now, before you let your imagination run wild here's the real story. Akshay Kumar, along with Paresh Rawal made an appearance on the sets of Comedy Circus Ke Ajoobe to promote their upcoming film Oh My God.


God willing: Akshay Kumar
From the judge's table
Kirron Kher, who has been associated with India's Got Talent since its inception, is glad to be back on the show. Here, she talks about the new judges and the upcoming season of the popular show
Seriously inspired
Angad Hasija of Bidaai fame has been approached to play the lead in Film Farm's next on Life OK. The show will also star Maryaada girl Riddhi Dogra and will be different from family dramas seen on TV. Riddhi will play a girl hunting for her missing husband while Angad will help her. Kahaani anyone?
Retired hurt
Karanvir Bohra got hurt while shooting his TV show Saubhagyavati Bhava on Life OK. During a stunt scene, his nose was hurt and he got a ligament tear. He has a plaster and won't be shooting for the next two days.