150 villages roped in for pesticide-free basmati project
Sarbjit Dhaliwal
Tribune News Service
Chandigarh, September 22
With foreign countries pointing out the high presence of chemicals in rice exported from India, the Punjab Agricultural University, Ludhiana, has initiated steps to encourage farmers to minimise the use of pesticides on basmati variety.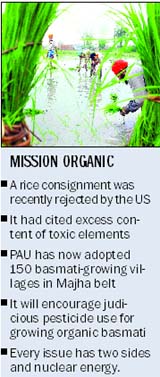 The US had recently rejected a rice consignment from India, complaining it had high toxic content.
In the North, Punjab and Haryana are notorious for excessive use of pesticides. In fact, Punjab is at the top in the country in terms of per acre usage of pesticides. Basmati is a valued crop in the international market and in Punjab, it is mostly grown in Amritsar, Tarn Taran and Gurdaspur districts. This year, the variety has been sown on 8 lakh hectares of land.
Vice Chancellor Dr Baldev Singh Dhillon said, "We have developed an integrated pest management technology, which will facilitate judicious use of chemicals." He said Sir Ratan Tata Trust had, through the Punjab Agriculture Department, funded a project to encourage the use of the technology in 150 basmati-growing villages. He said educated youths had been roped in to spread awareness among the farmers about the benefits of using pesticides judiciously.
Already, he said, the judicious use of a particular pesticide has resulted in 50 per cent drop in the demand for urea in the area.
"I have written to Food and Supplies Minister Adesh Partap Singh Kairon to direct the Markfed (Punjab's procurement agency) to procure the entire crop for export," he said.
Dhanwant Singh, a farmer of Padhri village in Chogawan block of Amritsar who has sown basmati on 20 acres, said, "We are strictly following the guidelines issued by university experts and are using pesticides cautiously."
A local youth, who has been guiding the farmers at Khemkaran village of Valtoha block in Tarn Taran, said, "The technology is getting great response. And why not! Their pesticide-free produce will fetch good prices in foreign countries."