Jalandhar mayoral poll deferred to Sept 25
Jalandhar, September 19
The Jalandhar mayoral election scheduled for tomorrow has been postponed to September 25. Local Bodies Minister Bhagat Chunni Lal had requested Divisional Commissioner SR Ladhar to postpone the election, citing apprehensions over the law and order situation due to the nationwide bandh call given by the BJP for tomorrow.
Centre defends denial of voting right to Sehajdharis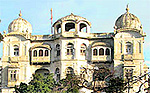 New Delhi, September 19
Breaking its long silence in the Supreme Court, the Centre has strongly defended its October 8, 2003, notification withdrawing the right of Sehajdhari Sikhs to vote in the Shiromani Gurdwara Parbandhak Committee (SGPC) elections.

SGPC headquarters in Amritsar
Former Cong minister Henry loses citizenship

Jalandhar, September 19
The Ministry of Home Affairs (Foreigners Division) has ceased the Indian citizenship of senior Congress leader and transporter Avtar Henry. In a communication to Principal Secretary (Homes) DS Bains, Undersecretary, Union Government, SN Garg has said the Centre, while exercising powers under Sections 9(2) of the Citizenship Act-1955, had ceased Henry's Indian citizenship from the date he acquired British citizenship and passport in 1969.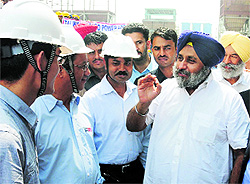 Delay in Mansa thermal project upsets Sukhbir
Banawali (Mansa), September 19
Deputy Chief Minister Sukhbir Singh Badal today pulled up the Vedanta Group for the delay in the construction of the 1980 MW thermal power project here. He said the first unit must be commissioned on April 13 (Baisakhi) next year.


Deputy Chief Minister Sukhbir Badal with Chinese engineers at the Banawali thermal power project in Mansa on Wednesday. Tribune photo: Pawan Sharma


UPA's fall imminent, claims Deputy CM
Goindwal Sahib, September 19
Deputy CM Sukhbir Singh Badal today said the Congress-led UPA Government was "in the ICU and may fall any time".

Mukerian plant: Centre blamed for delay
Rajpura, September 19
Punjab Deputy Chief Minister Sukhbir Singh Badal said today that he was against the setting up of a nuclear power plant in the state. Speaking to mediapersons after reviewing the performance of the under-construction 1400 MW thermal power plant here, he said he believed there was no need for a nuclear power plant.

Factory Inferno
Not one but two blasts, victims tell SDM
Ludhiana, September 19
It seems there were two explosions that led to the massive fire at Sanjiv Agro Solvent Plant in Khanna on September 11, resulting in the death of 12 factory workers.




Bandh: Token protest by PPP
Chandigarh, September 19
Activists of the People's Party of Punjab (PPP) will take part in the demonstration that will be staged at various places in the state by the Left parties tomorrow to lodge their protest against the "anti-people" polices of the UPA Government.



Work to begin soon: MC Commissioner
Amritsar, September 19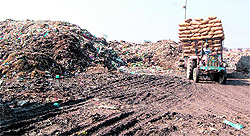 Following the Punjab and Haryana High Court directions to the Amritsar Municipal Corporation (AMC) to initiate the process of allotment of work for setting up a solid waste management plant in the city within six weeks, AMC Commissioner Dharampal Gupta has said a proposal in this regard will be tabled soon.

A tractor-trailer laden with foodgrain crosses a stretch littered with garbage at Bhaktanwala in Amritsar. Photo: Vishal Kumar


Audit Reports of Adarsh Schools
CM orders action against erring managements
Chandigarh, September 19
Following reports of irregularities in the audit reports of some Adarsh Schools run by private players, Chief Minister Parkash Singh Badal has directed the Director-General School Education (DGSE) to take strict action against those flouting the government terms.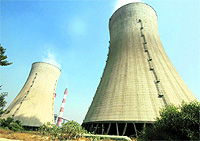 Power demand dips, 9 thermal units shut down
Patiala, September 19
The steep dip in power demand in the state has forced the Punjab State Power Corporation Limited (PSPCL) to shut down nine thermal units, besides surrendering power to be purchased through the Short-Term Power Purchase Agreement (PPA).


A view of Lehra Mohabbat Thermal Plant. A Tribune file photo
Labour cess worth Rs 300 cr remains unutilised
Chandigarh, September 19
Even as the Punjab Government has imposed fresh taxes to muster an additional revenue of Rs 900 crore, the Labour Department is sitting on a cash reserve of Rs 300 crore collected as cess.
Merge aided schools, demand teachers
Patiala, September 19
Teachers working in government aided schools have urged the Punjab Government to merge such schools with government schools to ensure a better education for students.
Youth's death: Kin protest police inaction
Moga, September 19
The family and relatives of Parveen, who was found dead in mysterious circumstances yesterday, held a protest on the district hospital premises after the police failed to register a criminal case of murder today.
Commerce Secy on Pak visit to discuss trade ties
Amritsar, September 19
A high-level delegation, headed by Union Commerce Secretary SR Rao, crossed over to Pakistan through the Attari-Wagah land route here today.
Govt to encourage farmers to diversify
Chandigarh, September 19
Punjab Chief Minister Parkash Singh Badal today stressed the need to prepare a comprehensive five-year agricultural plan to push for the much needed crop diversification in the state.
Three new bus stands in 3 dists
Patiala, September 19
Pepsu Road Transport Corporation (PRTC) will begin the construction of three modern bus stands at Sangrur, Kapurthala and Faridkot next month. PRTC Chairman Ranjit Singh Ballian said Punjab Infrastructure Development Board would demolish the existing bus stands and construct the new ones for Rs 300 crore.


Begin door-to-door garbage collection, Amritsar MC told
Chandigarh, September 19
It may be the end of "the dirty picture" for Amritsar residents. Just over 10 days after Amritsar MP Navjot Singh Sidhu raised a dust over the issue of garbage accumulating in the holy city, the Punjab and Haryana High Court yesterday directed the Municipal Corporation to initiate the process of door-to-door garbage collection within 15 days.
Director rapped for wasting court's time
Chandigarh, September 19
Rapping Punjab Director (Panchayat) on his knuckles for wasting the Court's time by compelling a sarpanch to approach the Punjab and Haryana High Court again, Justice Ranjit Singh has imposed a cost of Rs 5,000 on him. The order, removing Jit Ram from the sarpanch's post, has also been set aside.


Bus rams into tree, 25 injured, driver booked
Barnala, September 19
Over 25 persons sustained injuries when the bus in which they were travelling rammed into a tree near Harigarh village (Dhanaula) today. The PRTC bus was on its way from Bathinda to Chandigarh when it met with the accident. The driver of the bus Harjinder Singh and the conductor Jagdish Singh were among the five who got seriously injured.