Gohalwaria is Ludhiana Mayor
Ludhiana, September 21
Harcharan Singh Gohalwaria, a Shiromani Akali Dal councillor, has been elected as the fifth Mayor of Ludhiana, the state's industrial capital. Bharatiya Janata Party councillors Sunita Aggarwal and RD Sharma were chosen as the Senior Deputy Mayor and Deputy Mayor, respectively.


Ludhiana's new Mayor Harcharan Singh Gohalwaria prays before entering his official vehicle and (left) Senior Deputy Mayor Sunita Aggarwal and Deputy Mayor RD Sharma after their election on Friday. Tribune photos: Himanshu Mahajan



SAD attempt to check groupism
Ludhiana, September 21
By elevating two-time councillor Harcharan Singh Gohalwaria to the prestigious Mayor's post in Ludhiana, the SAD high command has made an attempt towards curbing factionalism within the party.
Diversification: Govt offers backup support to farmers
Chandigarh, September 21
The Punjab Government today decided to offer backup support to farmers in order to put the state on the diversification track.
Furore over arrests for publishing Punjabi folk poet Rajab Ali's text
Chandigarh, September 21
The arrest of two publishers and as many book editors by the Punjab Police for reproducing mid-20th century text of famous Punjabi folk poet Babu Rajab Ali has led to much hue and cry in the state's literary circle. The development has also raked a debate about sanctity of the historical text.

Son concocting stories: Henry
Jalandhar, September 21
Refuting the allegations levelled against him by his son Gurjit Singh Sanghera, senior Congress leader and a leading transporter Avtar Henry claimed that Sanghera has been concocting stories and forging documents in an attempt to tarnish his public image. He claimed that Sanghera, under the influence of certain rivals, has been doing all this for property. Henry refused to comment on his first wife Surinder Kaur and the circumstances under which they had separated.
Avtar Henry
Economist Johl backs FDI, Manpreet for debate
Chandigarh, September 21
Though several opposition parties have been opposing tooth and nail the UPA government's decision to allow foreign direct investment (FDI) in multi-brand retail, eminent agricultural economist SS Johl has the move will unfold "major" benefits to the Punjab's farming community.
Will not transfer officers in violation of Police Act: Govt
Chandigarh, September 21
In an affidavit filed before the Punjab and Haryana High Court, the Punjab Government today undertook that in future it would not transfer senior police officers in violation of the Punjab Police Act.
Patient's kin allege negligence
Chandigarh, September 21
In a case of alleged negligence on part of the doctors, 28-year-old Jagtar Singh from Nabha died at Government Rajindra Hospital today after the doctors delayed changing his food pipe that was choked due to sputum.
Teachers under Central Scheme demand equal pay
Patiala, September 21

Angry at the Punjab Government for not regularising pay grades of the teachers working under Central Sponsored Scheme (CSS), the Sarva Shiksha Abhiyan, Rashtriya Madhmyamik Shiksha Abhiyan and CSS Teachers Union today held a protest march in the city today.


Protesting teachers. Tribune photo: Rajesh Sachar

Hike fares or face stir, say pvt bus operators
Chandigarh, September 21
Private bus operators in Punjab have threatened to stop plying buses across the state from next month, if the state government does not allow a hike in fares. They said the recent hike of Rs 5 per litre in diesel prices had made it unviable for them to run buses at the current fare.
Adarsh Schools
Moga ADC begins probe into bungling
Moga, September 21
The Additional Deputy Commissioner (ADC) of Moga, Dr Joram Beda, has begun a probe into the alleged financial irregularities in the three Adarsh Schools in the district.
10-yr-old Case against Sukhbir
Faridkot, September 21
In a 10-year-old attempt to murder case against Punjab Deputy Chief Minister Sukhbir Singh Badal and others, the court of Judicial Magistrate (First Class), Faridkot, has issued non-bailable warrants against Naresh Kumar to ensure his appearance before the court for testimony against the accused.
Cheating cases: SC to decide if panchayats or courts will adjudicate
New Delhi, September 21
The Supreme Court has agreed to spell out as to who would adjudicate cheating cases in Punjab, the Panchayats under the Punjab Panchayati Raj Act :1994 or courts constituted under the Code of Criminal Procedure (CrPC).
Suicide By ETO
Notice to Punjab on accused's bail plea
Chandigarh, September 21
Barely a month after Superintendent of Police (Vigilance Bureau) Amandeep Kaur was booked along with four others in connection with the suicide of an Excise and Taxation Officer (ETO), the Punjab and Haryana High Court today issued a notice to the State of Punjab on her anticipatory bail petition.


SGPC member Barapind in police custody
Jalandhar, September 21 }
The recovery of binoculars and two bullet-proof jackets, among other things, from the house of SGPC member Kulbir Singh Barapind, a former militant, has raised many an eyebrow.
Tractor mows down woman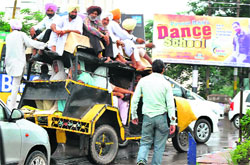 Patiala, September 21
A woman was crushed to death in the heart of the city by a recklessly-driven tractor on Thursday. The incident throws light on the district police's failure to check the illegal use of commercial vehicles. Even though the city traffic wing claims to have set up a sufficient number of nakas, it could not impound the tractor as it did not have a registration number.
An overloaded auto. Tribune photo: Rajesh Sachar
Jail staff connived to supply heroin: Panel
Chandigarh, September 21
In an order that indicates that narcotics find their way into prisons, possibly with the connivance of jail staff, the Punjab State Human Rights Commission(PSHRC) has fixed a sum of Rs 50,000 to be paid as compensation to the legal heirs of a 70-year-old convict who died after consuming heroin while serving a life sentence in the Ferozepur Central Jail.