Vrindavan widows' tryst with Delhi
Ananya Panda
Tribune News Service
New Delhi, September 27
The Vrindavan widows whose morning starts with religious recitals amidst hopes for a better day ahead had a hearty time today in the national Capital where Sulabh International felicitated them in a step forward to its welfare measures after the monthly support of Rs 1,000 it announced in August, this year.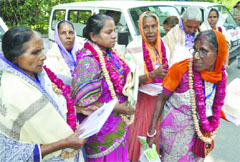 The hapless widows in New Delhi on Thursday. Tribune photo: Mukesh Aggarwal
Otherwise, life for these hapless widows has revolved around "Radhe Radhe" in the holy place Vrindavan. They are just left to survive on a pittance through religious recitals in temples apart from begging.
With pension coverage still a far cry, the tales of many such as Sarathi Mazumdar, accompanied by seven others from her Leela Kunj Ashram to Delhi, stood testimonies to their grim realities in Vrindavan.
"I was 12 when I was married and after seven years my husband died. Neglected by own people, I went to Vrindavan when I came to know that we get food there for singing bhajans," said Sarathi, who was widowed 40 years ago and forced to leave her home for livelihood while her grown-up children live in 24 Parghanas, West Bengal.
"We sing bhajans and have our meals at temples. Life has been going on somehow, but our basic needs of health are not met," said Geeta Das as she waited for her turn to get a gift of shawl.
Many of them are putting up at the five government-run shelter homes-Ashraya Sadans. Others are staying in nearby shelters on rent. Being economically deprived, they are compelled to compromise with their simple wants.
In this regard, in line with the apex court's directives, Sulabh has assured the court of providing adequate medical care to the widows and supplied five mini-ambulances for them today.
"We have started giving Rs 1,000 per month to each widow living in the government-run shelters in Vrindavan. We have also opened a centre for healthcare and the last rites. We have also handed over certain medical equipment, TV sets and a refrigerator to them," said Sulabh founder Dr Bindeshwar Pathak.