technical writing
Wizards of tech talk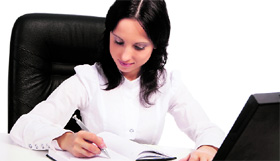 Buy a new phone, an IPad or laptop and the first thing you do is go through the user manual to get it started and to check out its features. Sometimes you are able to figure out the instructions, while at others you end up totally confused with the technical details. It may be interesting to know that those who prepare the instructions for such manuals require professional training in technical writing. A technical writer is the bridge between technology and its users, and technical writing is the 'science' of designing, validating, and packaging the information created for the purpose.
Career Hotline


Try CBSE's vocational course on fitness


What are the options for engineers in the Army?


After BCA what?


What is the scope of aerospace engineering?
study abroad
Look for affordable options
Sending children abroad to study has always been a dream of a large number of parents wanting to give the best educational experience to their children. But studying abroad has traditionally been reserved for the students whose parents are able to afford the considerable expense or for the exceptionally bright students who could bag different scholarships.
Three selected for PM's scholarship
St John's College, Cambridge University announced the names of the 2012 Dr Manmohan Singh PhD Scholars recently. The programme has been instituted in recognition of Dr Singh's achievements and nurtures future world leaders in the areas of science, technology and social sciences.


Career Cature
SANDEEP JOSHI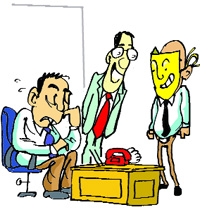 Oh God! now our company, too, has gone in for a "reformed" face like the government.

scholarship roundup
Research in USA
The Getty Foundation is offering research level grants for international students in the field of arts, humanities, or social sciences, in USA. Getty scholar grants are for established scholars, artists, or writers who have attained distinction in their fields.
StockMind contest for college students
ICICIdirect Centre for Financial Learning (ICFL) has announced the launch of StockMIND — a nation-wide contest aimed at college students enabling them to showcase their stock investment skills. ICFL aims at educating the youth on investing in the stock market through this unique and interesting initiative.
Different strokes: pet industry Pet path
Pets are always termed as man's best friends and have, in fact, become an important part of the urban lifestyle over the years. For pet lovers they are just like any other family member and are not only well-fed and cared for but are also groomed.
career compass: perfumer
The scent of success
If you are a perfume lover who dreams of spending your days sniffing nuanced fragrances, or you have a superlative sense of smell and an ability to identify scents with precision and you have developed an assortment of great ideas for intoxicating perfumes that are yet to be "discovered" then becoming a professional 'smell tester' at a perfume company can be your calling.
lucrative field: multi-level marketing model
Giving women a shot at independence
Multi Level Marketing (MLM) originated in the US around 1945 and has given those lacking formal professional qualifications a stable source of livelihood. Under this mode of marketing, companies appoint independent, non-salaried sales people to become distributors.
New York Film Academy to set up India campus
World's premier film education institute, The New York Film Academy is all set to launch its first state-of-the-art campus in South Asia at Greater Noida. The term is due to begin in January 2013 and the courses offered will be the same as those offered in the New York City campus.
smart strategy: smooth operations
Shhh...
Your HR Manager is the one who has hired you, so by that logic he should be the first shoulder for you to cry on in a crisis situation. It is always said. "You should be as transparent as you can be with your HR manager."
How to increase your employability
The first and the most important thing in increasing one's chances of getting employed is to get clarity on what job fits one's personality. People who choose careers that suit their personality are most likely to be satisfied and successful.
cubicle trends
What is your mail personality?
If you can't resist checking emails day or night, then you are a 'Compulsive Woodpecker' and if you read emails but don't reply to them then you are 'The Incommunicado Ostrich'.
Poor grammar can tip career scales
Poor spelling and grammar can adversely affect your career, your business and how you're perceived as a professional, experts have said.
Happiness @ work
As the first impression — at most times — ends up being the last impression, the selection of spokesperson or receptionist for the organisation is of paramount importance. Monsoon had ended and the search operation for Sita — as promised by Vaanara King Sugriva — had not begun. The otherwise cool Rama became enraged.