Varsity holds workshop for farm officers
Ravinder Sood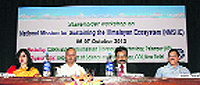 Dignitaries on the dais release a booklet on insect-pest management during the agriculture officers' workshop at CSK HP Agriculture University in Palampur.

Palampur, October 6
A state-level agriculture officers' workshop on the ensuing Rabi season was held at CSK HP Agriculture University here today.
While addressing around 200 farm officers from the state Department of Agriculture and scientists from the university, Vice-Chancellor SK Sharma, who was the chief guest, said it had been decided at the national level to give priority to farmers in all farm research and technology activities.
A farmer's first initiative has been proposed where right from the initial stage he will be involved in all research plans and as far as possible experiments will be done at his farm.
The proposal will be launched in all state agriculture universities and the Indian Council of Agricultural Research (ICAR) institutes across the country with a special grant of Rs 5 crore to each agriculture university.
The Vice-Chancellor said "students ready" scheme had also been proposed to make students more pragmatic and enhance their entrepreneurial skills. Similarly, "public-private-partnership" would be the mantra for future agriculture research.
"It will be more cost effective to develop resistant varieties to face emergence of new diseases due to climate change," he advised and asked plant breeders to concentrate on their work to face new virus and fungi.
Dr JC Rana, Director, Agriculture, HP, said a target of 6.73 lakh tonnes foodgrains production had been fixed for the ensuing Rabi season and all arrangements had been made by arranging 73,000 quintal wheat seed and other farm inputs.
He praised the university for developing useful farm tools for hill farmers to reduce drudgery.
Dr Rana said efforts would be made to utilise the moisture available due to the late monsoon for timely sowing of crops. There were around 12,000 poly houses in the state, which needed specific crop varieties and technology.
He said efforts had also been made to reduce use of pesticides by 10-15 per cent every year in the state.
Dr SP Sharma, Director, Research, while elaborating the research strategy and accomplishments, said 158 research projects worth Rs 84 crore were in operation in the university.
Dr Desh Raj, Director, Extension, Education, said a large number of training programmes had been organised at the headquarters and Krishi Vigyan Kendras of the university. All modern means of audio-visual aids had been put to use to disseminate new farm technology to farmers.
Dr Gurdev Singh, Director, Horticulture, HP, also expressed his views. Dr YS Paul, Head, Department of Plant Pathology, gave a special lecture on "Yellow rust of wheat and its management strategies in the state".
Dr Sant Parkash and Dr Arun Sud also spoke. Some of the progressive farmers also participated in the discussions. All statutory officers and heads of departments also attended the workshop.