Taking Scouts and Guides movement to new heights
Tribune News Service
Dehradun, October 13
Commissioner, Uttarakhand Bharat Scouts and Guides, State Headquarters, Rajeev Sharma, has been associated with the Bharat Scouts and Guides movement in the state for the past one decade.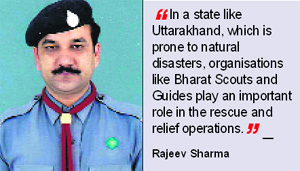 Bachelor of Business Administration from Shri Guru Ram Rai Institute of Technology and a businessman by profession, Sharma has been organising important functions in the state related to Scouts and Guides.
He has been regularly participating in Bharat Scouts and Guides programmes and visiting schools inspiring students to take to scouts. Significantly, the state today has 52,944 scouts and guides.
Sharma said his inspiration had been Ravindra Mohan Kala, a very senior member of the Uttarakhand Bharat Scouts and Guides, whom he met during school days. He said the movement had always believed in disciplined life and commitment towards the welfare of the masses.
Referring to the history of Scouts and Guides, Sharma said the Boys' Scouts Movement was started in 1907 by a retired Army General Lord Baden Powell, who started the movement in England with a team of 20 boys.
He said the Bharat Scouts and Guides today had units all over the country and in Uttarakhand, the movement was spreading fast. A large number of schools, both in public and private sector, had units of Scouts and Guides, he said.
Sharma said scouts were the second line of defense after the administration in cases of emergencies. "In a state like Uttarakhand, which is prone to natural disasters, organisations like Bharat Scouts and Guides play an important role in the rescue and relief operations. We are also associated with social causes like eradication of tuberculosis and are working along with the State TB Control Society in this regard," Sharma pointed out.
He was a participant in the 21st World Scout Jamboree at Chelmsford England in 2007.
He also attended 39th World Scouts Conference from January 10 to 14, 2011, at Brazil as part of the Indian delegation. Now Sharma is all set to attend the Asia Pacific Scouts Conference in Dhaka slated for November 24 to 29.