Huge number of Kazi Mandi youths falling prey to drugs
Aparna Banerji
Tribune News Service
Jalandhar, October 13
Even though the Deputy Chief Minister has dismissed Congress general secretary Rahul Gandhi's statement on drug addiction, the Kazi Mandi area in Jalandhar, which is prone to drugs and even deaths due to addiction, calls for an immediate attention.
The area brims over with tragic tales of lost fathers, brothers, sons, husbands and even mothers, daughters and sisters.
The entire area is full of people who are either drug users or sellers (in any case, almost all are addicted).
Worried parents
We meet Maddi, who runs a shop in Kazi Mandi, and his addict son Ramesh (16).
Talking about Ramesh, Maddi said, "We coaxed him, loved him, beat him. But he wouldn't give up drugs. He would set out of house, do drugs and return. I don't know where he got these drugs. He has been found unconscious at the railway station and at streets. He is my son, but I won't hide that he steals to buy drugs too. After a recent injury, we coaxed him to give it up and now I just keep one person to follow him around. We keep a watch on him 24 hours a day, otherwise he would start again."
Hollow-eyed Ramesh stares blankly at his father as he talks. Ramesh has many injury marks on his face. A dark hollow beneath his eyes, a wound on his leg (from which a local doctor took out worms) and itch marks from some bugs he picked up on the street all over his body.
The kingpins
Residents say it started with three prime kingpins, but now every street has some man into the drug trade.
Men and women, all set up stalls. There are people whose five generations haven't earned as much money as they have in a short time, all due to the drug trade.
Murugan, who runs a health club to raise awareness against drugs and reform addicts, has had at least two cases filed against him just for opposing the wrong practice.
He said, "The drug trade is all due to an eminent local leader. His henchmen enjoy patronage from the police. Personnel visiting the area totally ignore the brimming drug trade and the lives destroyed. There are other police personnel who say they have to reluctantly let go of caught peddlers because they receive calls to do so."
"Drug peddlers have themselves told me nobody can touch them as long as their patron politician is around," says Murugan.
District watch
Except the Kazi Mandi, areas like Santoshi Nagar, Dhan Mohalla, Bhargo Camp, Garha, all the basti areas and towns like Shahkot (Bagh Wala Mohalla) have fallen prey to addiction.
There are many school and dispensaries in the district, the workings of which have been adversely affected due to the menace of addicts, who steal furniture and destroy infrastructure.
Addiction is also strongly associated with the high incidence of diseases like TB and many respiratory disorders among the people of the city.
DocSpeak
Dr Sanjay Khanna, psychiatrist, Jalandhar Civil Hospital, said, "Kazi Mandi is the hot spot for addiction in the city. On our level, we try to involve as many people as possible to get them on the drug de-addiction treatment, but it cannot be denied that there are a large number of dropouts."
"Proper treatment of addicts requires that they follow up with us and visit us daily at the Civil Hospital. But despite the fact that our teams regularly visit them, people soon stop pursuing proper treatment. This might be one of the reasons for the number of deaths being reported in the area," he added.
He said he did not have the total number of deaths caused due to addiction in the city.
75 pc addicts, over 300 dead (in past year)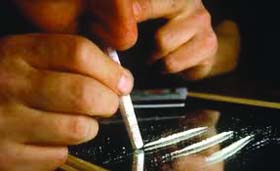 Residents say at least 75 per cent of the youths of Kazi Mandi are addicted to drugs. In the past one year, at least 300 youths have died in the area. Locals say they have lost count of the deaths. Streets in the area teem with people who lie unconscious after sundown. Except thieves, snatchers and addicts, no one treads in the area after five in the evening. Murugan, who runs a tailor shop at Kazi Mandi, is among the few area people working to fight against the menace of addiction. "There are times when there are five to 10 deaths in a week. I remember a week when one of my neighbours lost three of his sons and another lost two," said Murugan, who originally hailed from Tamil Nadu. "In the past year, there have been at least 200 deaths in our area. At the Marathi Mohalla, too, people say the young men are not seen anymore because most of them are dead. There, too, at least 100 to 200 people have died," says Murugan. There is no official figure on the deaths caused due to addiction.
Child addicts and messengers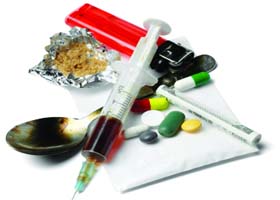 Teenaged kids with weathered faces walk around smoking in the area. "Little kids are an integral part of the drug trade. They start off as couriers and end up falling prey themselves. I have sent my kids to Salem in Tamil Nadu. If they stayed here, they would not survive," said a resident. "Kids are the foundation of the drug network. Earlier henchmen used to employ elder men. Now, they have kept little kids who work for them across areas. Even in villages, they have three to four disciples in every street. They are messengers and drug providers," he added.