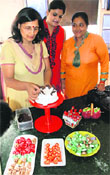 Taste of success
Variety, they say, is the spice of life. So even if you are used to your regular dal, roti and sabzi, a dash of creativity can make a world of difference to your life. With the world full of cookery shows, celebrity chefs and super-markets that sell anything and everything from across the globe, getting innovative now has become easy. And people who know the art of cooking, are definitely the winners these days as almost each one of us aspire to be either Anthony Bourdain or Gordan Ramsay or closer home Sanjeev Kapoor.
Sonia with her students

Give & gain
Kiran Seth inspires everyone who comes in howsoever brief contact with him. When he addressed a SPICMACAY (Society for Promotion of Indian Classical Music And Culture Amongst Youth) session, full of dignitaries on Sunday morning at Panjab University, each one present at the large hall got inspired to do their own bit for our rich, classical heritage.
Man on a mission: Kiran Seth
chatter box
Call it quits
Star track
Figment of imagination
Rangeeley shoot over, Neha gets emotional