Punjab to install CCTVs to check crime
Patiala/Sirhind, October 15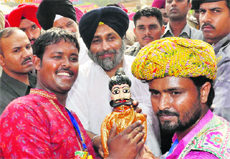 Deputy Chief Minister Sukhbir Badal today unveiled a Rs 100-crore CCTV project for all cities of Punjab. Speaking to mediapersons during his visit to the annual Saras mela today, Sukhbir said Ludhiana would be the first district where cameras would be installed at strategic locations




Deputy Chief Minister Sukhbir Badal with rural artisans at Saras mela in Patiala. Tribune photos: Rajesh Sachar

Amarinder: I got threat call for opposing Bluestar Memorial
Chandigarh, October 15
Punjab Pradesh Congress president Capt Amarinder Singh today said he had received a threat call from Germany for speaking out against the Operation Bluestar Memorial at the Darbar Sahib complex in Amritsar.
State's dairy sector in crisis
Chandigarh, October 15
The dairy sector in the state is in a crisis. Reasons: falling milk prices, a huge stock of powdered milk and ghee and milk being procured by private players from neighbouring states like Rajasthan.
Rahul's 'wake up' call ignored: Brar
Chandigarh, October 15
Congress Working Committee (CWC) member Jagmeet Singh Brar today alleged Chief Minister Parkash Singh Badal and Deputy Chief Minister Sukhbir Badal had violated their oath of office by failing to perform the duties entrusted to them by the people of Punjab.


CBI told to probe murder case involving MLA's brother
Chandigarh, October 15
Nearly two years after Punjab MLA Balbir Singh Sidhu was accused of manoeuvring the probe in a murder case, the Punjab and Haryana High Court today handed over the investigation to the Central Bureau of Investigation.
Farmer commission chief bats for maize cultivation
Firwaria (Amritsar), October 15
Punjab Farmers' Commission Chairman GS Kalkat today stressed the need to reduce the area under paddy so as to maintain the underground water level. Instead of paddy, he said, farmers in the state should opt for maize cultivation.
For training the jobless, govt to collaborate with Germany: CM
Sujanpur, October 15
In an attempt to reduce unemployment in the state, the Punjab Government will provide technical education to jobless youth by initiating skill development programmes in collaboration with the Federal Republic of Germany, Chief Minister Parkash Singh Badal announced at a BJP Vikas Rally here today.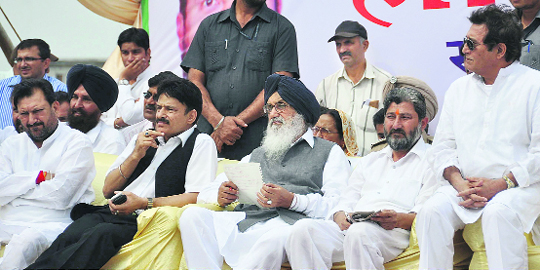 Chief Minister Parkash Singh Badal with BJP leaders Ashwani Sharma, Vinod Khanna, Swaran Salaria and Dinesh Babbu at a BJP rally in Sujanpur on Monday. A Tribune photograph
Develop holistic approach, Governor tells students
Jalandhar, October 15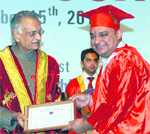 Punjab Governor Shiv Raj Patil, who is also Chancellor of Punjab Technical University, gave away degrees to 198 students at the 10th convocation of the university."We have the potential, knowledge, expertise and professional capability and we must pool these resources to achieve better results in the field of technical education. You are students of a technical university.Therefore, you carry the burden of developing such technologies," he said.

Punjab Governor Shivraj Patil at the PTU convocation in Jalandhar on Monday. A Tribune photograph

Power corp JEs to strike work on October 18
Patiala, October 15
Junior engineers (JEs) working with the two power utilities in Punjab have decided to launch a protest to impress upon the state government to accept their long-pending demands. The JEs said their demands had not been met despite assurances by the managements of Punjab State Power Corporation Limited (PSPCL) and Punjab State Transmission Corporation Limited (PSTCL).
Doubts raised over state govt's claim on number of sex workers
Faridkot, October 15
After AICC general secretary Rahul Gandhi's claim that 70 per cent of Punjab's youth were addicted to drugs triggered a war of words between the SAD-BJP Government and the Congress recently, there could be another row, this time on the number of sex workers in the state.
Nanded on Green Pilgrimage Network
Amritsar, October 15
The city of Takht Shri Hazur Sahib, Nanded, has joined the Green Pilgrimage Network, a global initiative promoting environment conservation in major pilgrimage centres of different religions across the world.
HC: Can't count trial period for remission
Chandigarh, October 15
In a first, a "larger" Bench of the Punjab and Haryana High Court has interpreted the law and Supreme Court judgments to hold that a convict's sentence will commence from the date he is awarded punishment and the period undergone as an undertrial cannot be considered for remission.
Assault on tehsildar: HC raps police for shielding accused
Chandigarh, October 15
In a major embarrassment to the state government, the Punjab and Haryana High Court today indicted the Punjab Police for attempts to shield Ludhiana MLA Simarjit Singh Bains and Councillor Kamaljit Singh Karwal in a case of assault on Ludhiana tehsildar.
False case against patwari
High Court notice to Punjab on inquiry report
Chandigarh, October 15
Just about seven months after the Revenue Patwar Union of Punjab complained that Moga Superintendent of Police (Vigilance) had registered a false case against patwari Mohan Singh, an inquiry has not only given the latter a clean chit but also recommended action against the erring police officers.
Retired judge files plea against delay in probe
Chandigarh, October 15
Acting on a petition filed by former High Court Judge Justice Ajit Singh Bains for directing the completion of a probe regarding gambling money allegedly looted by senior Punjab Police officers, including IPS officer RP Mittal, the Punjab and Haryana High Court today issued notice of motion to the State of Punjab and other respondents.
PIL on minority status to Sanskrit
Chandigarh, October 15
Acting on a public interest petition for according minority status to Sanskrit, the Punjab and Haryana High Court has directed the Union of India, Punjab, Haryana and Chandigarh to consider and decide the issue within two months.
Man opens fire at wife, son
Malout: A man allegedly opened fire at his wife and son in aqn attempt to kill them. The police said Charanjit Singh, a resident of Nagpal Nagri, fired from his pistol and injured his wife Tirlochan Kaur and son Parampreet Singh. Deputy Superintendent of police Manwinderbir Singh said: "The victims are not in a state to give their statement.