Schoolchildren at a rally on the eve of International Day for Girl Child in Patiala. Tribune photo: Rajesh Sachar (L) and Bollywood actors Ajay Devgan and Sonakshi Sinha pay obeisance at the Golden Temple in Amritsar on Wednesday. Both will appear together in their forthcoming film 'Son of Sardar'. Photo: Sameer Sehgal
Orders on use of official vehicles flouted
Chandigarh, October 10

Certain officers of the Punjab Government are keeping more than one vehicle at their disposal, contrary to the instructions issued by the Chief Minister. The state government has sought information from Financial Commissioners, Principal Secretaries and Administrative Secretaries in this regard at least thrice since April this year.
Rakhra okays Rs 176-cr water treatment plant
Patiala, October 10
The Punjab Government will use a major portion of "excess" water flowing from Punjab to Haryana through Khanauri Headworks to ensure proper drinking water supply in Patiala. A project of water treatment plant would be forwarded to the state government for a final approval.
Rahul lends ear to grass-roots leaders
Amritsar, October 10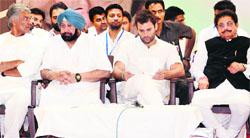 Stating that the Congress defeat in the state assembly elections had taken him by surprise, AICC general secretary Rahul Gandhi today said there was a need to introspect as to what had gone wrong.


(From right) AICC general secretary Rahul Gandhi, Pradesh Congress chief Amarinder Singh and CLP Leader Sunil Jakhar in Amritsar on Wednesday. A Tribune photograph

Paddy glut in mandis as millers refuse to relent
Moga, October 10

A sizable section of rice millers have refused to lift the paddy procured by the state-owned agencies even as the Punjab Government has stepped up efforts to resolve the issue. The rice millers are at loggerheads with the government over the new milling policy, which has made it mandatory for them to give a bank guarantee or a security of Rs 30 lakh against the stock stored in their mills.
Farmers block highway over delay in lifting paddy
Muktsar, October 10
Despite Chief Minister Parkash Singh Badal's directions for a speedy lifting of paddy from grain markets across the state, the officials concerned seen to be least bothered even in his home district Muktsar.
Staff use loudspeakers in Patiala hospital
Patiala, October 10
Class IV employees of Government Rajindra Hospital today flouted rules by using loudspeakers on the hospital premises during a felicitation programme organised to honour Patiala Mayor Jaspal Pardhan.

Experts for research on FDI
Gharuan (Mohali), October 10
Every political party is part of the current hullabaloo over the foreign direct investment (FDI) in multi-brand retail in the country. However, the entire argument is not backed by any authentic research, said Dr Sucha Singh Gill, Director General of the Centre for Research in Rural and Industrial Development (CRRID).
Direct DSGMC chief's poll will empower Sikhs: Sarna


Amritsar, October 10
After criticism by the Shiromani Akali Dal, the DSGMC has welcomed the proposed amendment by the Delhi Government in the rules governing elections to the religious body. The amended law will facilitate direct elections for the post of president. Addressing mediapersons here today, DSGMC (Delhi Shiromani Gurdwara Management Parbandhak Committee) president Paramjit Singh Sarna said the step will make the president more accountable.
Paramjit S Sarna in Amritsar
Another gastro death in Batala
Batala, October 10
Gastroenteritis claimed yet another life in the town today, raising the death toll to 11. Harish Kumar (40), a resident of Gandhi Camp, died at the Civil Hospital this afternoon, said Senior Medical officer (SMO) Dr Sukhdeep Singh.
Crime on the rise in Muktsar
Muktsar, October 10
A recent spurt in crime in the distrcit has left the residents worried. Official records reveal that this year, 143 cases of thefts, 20 murders and 47 incidents of cheating have been reported in the district so far. Besides, 13 rape cases have also been reported till date this year.


Court summons Omaxe MD
Fatehgarh Sahib, October 10
The court of Judicial Magistrate First Class, Patiala, has summoned Sunil Goel, joint managing director of Omaxe Ltd, for "defrauding" Pradeep Kumar of Bassi Pathana. The firm has not allotted a unit in a shopping mall even after receiving the full payment of Rs 1.03 crore from him.


Gang of snatchers busted; 8 arrested
Mansa, October 10
In pursuit of their dreams to own new motorcycles and swanky mobile phones, eight youths from various parts of the Malwa belt had joined hands and taken to the world of crime a few months ago.
Undertrial attacked in courts complex
Jalandhar, October 10
An undertrial in a murder case, Narendra Bobby, sustained serious injuries when attacked by another jail inmate and his gang at the District Courts complex here today.
School dropouts take to crime, nabbed
Mansa, October 10
In pursuit of their dreams to own new motorcycles and swanky mobile phones, eight youths from various parts of the Malwa belt had joined hands and taken to the world of crime a few months ago.