| | | |
| --- | --- | --- |
| | TOP STORIES | |
Entrenched Badals have it all
CM and his relatives hold 26 of the total 55 portfolios
Jangveer Singh
Tribune News Service
Chandigarh, October 1
For the Badals, family comes first. And this is being increasingly felt during the second consecutive term of the Parkash Singh Badal government with the Chief Minister keeping a major share of the ministerial portfolios for himself and his family members.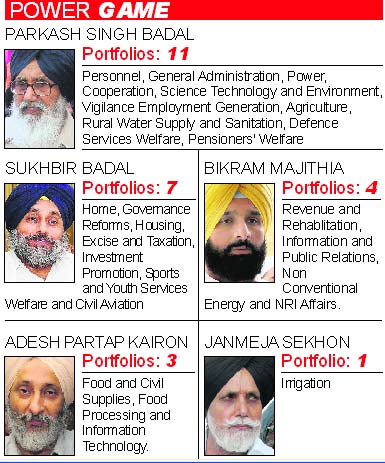 The Badal family has the lion's share of 26 portfolios of the 45 held by the SAD. Its alliance partner, the BJP, has 10.
The 23 portfolios shared between Badal and his four relatives, including Sukhbkir Singh Badal, Bikram Singh Majithia, Adesh Partap Singh Kairon and Janmeja Singh Sekhon, form the cream de la cream of the ministry.
These include the most important portfolios of Home, Revenue, Excise and Taxation, Agriculture, Food and Power. Badal's son and Deputy CM Sukhbir Singh Badal is in charge of seven portfolios including Home, Excise and Taxation, Investment Promotion and Sports.
The CM's son-in-law, Adesh Partap Kairon, holds the portfolios of Food and Civil Supplies, Food Processing and Information Technology. Sukhbir's brother-in-law Bikramjit Singh Majithia holds Revenue and Public Relations besides two other portfolios. A distant relative, Janmeja Singh Sekhon, is in charge of Irrigation. The CM holds eight portfolios, including that of Power, Agriculture and General Administration.
After the forced resignations of ministers Tota Singh, who held the Agriculture ministry, Bibi Jagir Kaur, who was Minister for Rural Water Supply and Sanitation, Defence Services Welfare and Pensioners' Welfare and Gulzar Singh Ranike, who was Minister for Animal Husbandry, Dairy Development and SC/BC Welfare, the CM has kept with himself the portfolios held by Tota Singh and Jagir Kaur.
He has allocated the portfolios held by Ranike to Sarwan Singh Phillaur. This has sent out signals that the CM is in no mood to re-allocate the other portfolios, indicating the Cabinet will continue to be family-centric.
Despite this, there is not a murmur of protest in the SAD. This is because the Badal family has emerged even more powerful than it was during its earlier term in office. Sources say there were initially some rumblings that a few family members enjoyed too much power. But the SAD-led coalition's return to power in March this year changed that. Sources say several leaders are not happy with the present setup.
But is the absence of an alternative leadership in the party, they have no choice but to keep mum.
With senior leader Capt Kanwaljit Singh no more, veteran leader Sukhdev Singh Dhindsa both physically and politically weak and Majha veteran Ranjit Singh Brahmpura unable to retain his assembly seat, the Badal family now has complete control over the Shiromani Gurdwara Parbandhak Committee too.
Party spokesman Daljit Singh Cheema claims that members of the Badal family have made it to the ministry on merit.
Sources said even among the family members, there has been a re-alignment of forces. Deputy CM Sukhbir Badal has been given a larger role than before. His brother-in-law Bikram Majithia, who was made minister in the last government, despite being a first-time MLA, has been rewarded for the work done by him in the Majha belt
and for the successful stewardship of the Youth Akali Dal (YAD). Adesh Partap Singh Kairon retains the same portfolio, but his political importance has diminished.
Janmeja Sekhon has been rewarded for standing with Sukhbir in the latter's war with Manpreet Badal. Sekhon was a protégé of Manpreet's father Gurdas Singh Badal.
SGPC in their hands too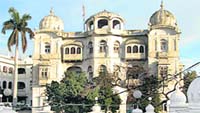 With senior leader Capt Kanwaljit Singh no more, veteran leader Sukhdev Singh Dhindsa both physically and politically weak and Majha veteran Ranjit Singh Brahmpura unable to retain his assembly seat, the Badal family now has complete control over the SGPC