Amritsar PRTS route changed; now won't eclipse heritage sites
Amritsar, September 25
Addressing the concerns of heritage lovers, the state government has finally decided to change the route of its ambitious PRTS (personal rapid transport system) project in the holy city to ensure it does not eclipse the view of its significant landmarks like the Jallianwalla Bagh and the Golden Temple.
Punsup detects several frauds
Chandigarh, September 25
Close on the heels of the Vigilance Bureau booking Ludhiana Regional Manager of Punjab State Civil Supplies Corporation Limited (Punsup) for siphoning rice worth Rs 5.42 crore, the department has detected at least six more cases where huge stock of foodgrain was siphoned off.

Congress jittery as SAD engineers defections
Batala, September 25
Senior SAD leaders of the district, who have been designated as halqa incharge of the Vidhan Sabha seats from where they had lost in the assembly elections, have been reportedly told by the party leadership to engineer defections in the Congress rank and file.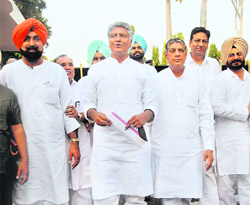 Cong MLAs ask Governor to call House session
Chandigarh, September 25
Congress legislators led by Congress Legislature Party Leader Sunil Jakhar today urged Governor Shivraj Patil to convene an emergency assembly session to discuss fresh taxes imposed on the people as well as the state's financial crisis.



Congress Legislature Party leader Sunil Kumar Jakhar and party members at Punjab Raj Bhawan in Chandigarh on Tuesday. Tribune photo: Manoj Mahajan

Cong to ask Centre for direct bonus to Punjab farmers
Chandigarh, September 25
With Agriculture Minister Sharad Pawar expressing his ministry's inability to help Punjab farmers as the state had not invited a Central team to assess the ground situation, the state Congress today advocated approaching the Centre for a special bonus on paddy to Punjab farmers.



Fresh service rules on cards
Chandigarh, September 25
Government employees retained in service after attaining the age of superannuation will be considered as a case of extension of service and not re-employment. After effecting a change in this regard in the service rules, the authorities concerned have forwarded the file to Chief Minister Parkash Singh Badal for his approval.
Prisoners' wages hiked threefold
Patiala, September 25
After over a decade since they last got an increment, criminals lodged inside Punjab jails will get a threefold hike in their daily wages.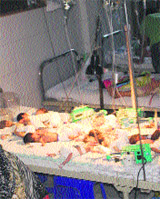 Smoke in neonatal ICU triggers panic
Ludhiana September 25
At least 23 infants had a narrow escape when smoke entered the Neonatal Intensive Care Unit (ICU) of the local Deep Hospital this evening due to a short circuit in the MCP box.






Infants shifted to another room after a fire in the ICU. Tribune photo: Himanshu Mahajan

Students may not get tablets this academic session
Chandigarh, September 25
As many as 1.5 lakh students of Class XII may not get tablets as the state government is yet to release funds for the purpose. Sources in the Education Department said it would take at least four to five months for them to purchase tablets. By that time, the current academic session would be almost over, they said.
BKU activists hold protest in Capital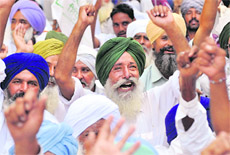 New Delhi, September 25
The Congress has advised the Shiromani Akali Dal (SAD) to be more concerned about farmers instead of toeing the line adopted by its political ally, the BJP, on FDI in retail. Former Agriculture Secretary MS Gill said the Punjab Government's foremost duty was to save the distressed farming community by helping it grow out of the wheat-paddy cycle using the FDI as a game-changer.
Punjab farmers at a rally in Delhi. A Tribune photo

'Cancer train' engine catches fire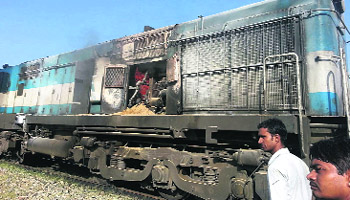 Tragedy averted
A major tragedy was averted as the engine of the 54703 Abohar-Bikaner-Jodhpur passenger train, also called "Cancer train", caught fire on Tuesday
commuters panicky
Panic gripped commuters as flames started emanating from the engine at 7 am when the train was near Udayramsar village, 15 km from Bikaner
Engine snapped
Loco pilots and other staff stopped the train and separated the engine from coaches; residents of the village rushed to the spot carrying water buckets
cause behind fire
A preliminary inquiry by the Railways indicated that the fire broke out due to a leakage in the fuel pump of the engine.
Photo & text: Raj Sadosh (Abohar)
Printing Rajab Ali's text doesn't attract SC/ST Act: Panel member
Chandigarh, September 25
In a major embarrassment to the Punjab Police, member of the Punjab State SC Commission Dalip Singh Pandhi today said the SC/ST Act could not apply on the publishers and book editors who were arrested on September 15 for reproducing the text of 20th century Punjabi poet Babu Rajab Ali.
Drug baron Kandola flees from custody
Ludhiana, September 25
Notorious drug lord Raja Kandola, who had surrendered before the Delhi Police in June this year for his involvement in the Rs 200 crore drug haul in Jalandhar, reportedly escaped from police custody today.
One-time settlement plan to regularise illegal colonies
Samrala September 25
The state government is finalising a policy to regularise all unauthorised colonies in Punjab through a one-time settlement scheme, announced Revenue Minister Bikramjit Singh Majithia here today.


Save our youth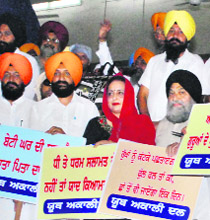 Punjabi University Vice Chancellor Dr Jaspal Singh (right), Dr Harshinder Kaur and other SAD leaders at Virsa Sambhal rally against female foeticide and drug abuse. — Tribune photo: Rajesh Sachar
Two more children die of diarrhoea in Patiala
Patiala, September 25
Two more children from Rampur Partan village here fell prey to diarrhoea yesterday. Hundreds of people till date have fallen ill because of the disease and the Health and Family Welfare Department has not been able to check the disease from spreading.
Lemon grass a boon for farmers in Kandi area
Ludhiana, September 25
In the non-cultivable Kandi area of Punjab, communities have started cultivating lemongrass and have become more self reliant. Earlier, people here had to work as labourers to earn a livelihood. Lemon grass, which was a cause for concern a while ago, has become a major source of income for the local residents.
Docsfed: NEET would stop malpractices
Patiala, September 25
The Doctors Federation of India (Docsfed), an organisation of retired and in-service doctors, medical teachers and students, has strongly condemned the Vice-Chancellor of Baba Farid University of Health Sciences (BFUHS), for opposing the All India National Eligibility and Entrance Test (NEET).
Drunk man drives off with bus, causes accident
Ropar, September 25
A drunk man drove off with a Punjab Roadways bus from the local bus stand, driving at a high speed. The bus smashed into the boundary wall of a school. Fortunately, no other person was present near the spot.



Conclude 'militant' Lahoria's trial in six months, court told
Chandigarh, September 25
The Punjab and Haryana High Court today set a six-month deadline for the trial court to conclude the trial against alleged militant Daya Singh Lahoria.
Bittu was planning to kill Ashutosh Maharaj: Police
Ludhiana, September 25
Police claimed that Daljit Singh Bittu, former president of Panch Pardhani and All India Sikh Student Federation, was making plans to kill a well known religious personality, Ashutosh Maharaj of Noormahal.



2 booked for siphoning PDS sugar in Muktsar
Muktsar, September 25
The embezzling of ration meant to be supplied to BPL (below poverty line) families continues unabated in Chief Minister Parkash Singh Badal's home district Muktsar.
PPP leader held with illegal weapons
Bathinda, September 25
Police today claimed to have arrested a leader of the People's Party of Punjab (PPP), Lakhvir Singh Lakha Sidhana with illegal weapons and cartridges from near the district courts. Lakha was arrested with another man, identified as Amandeep Amna. Both are residents of Sidhana village in Rampura.