Govt calls off merger of rural banks
Chandigarh, September 29
The state government has decided to withdraw its consent for the amalgamation of its three regional rural banks (RRBs) — Punjab Gramin Bank, Malwa Gramin Bank and Satlej Gramin Bank. Following representation by employees of the three banks, the state government has withdrawn its approval for merger of the three banks into one entity — Punjab Gramin Bank.
Charges under SC/ST Act against editors withdrawn
Chandigarh, September 29
The Punjab Police has had to do a volte-face and withdraw the charges pressed under Section 3(10) of the SC/ST Act on two Dalit editors in the Babu Rajab Ali case today.


VHP leader meets Sukhbir
New delhi, September 29
In a move that could be seen as a gesture of reaching out to leadership of the Shiromani Akali Dal (SAD) and the Sikh community, Vishwa Hindu Parishad leader Ashok Singhal today called on Punjab Deputy Chief Minister Sukhbir Badal and suggested showcasing of the Sikh history during the Maha Kumbh next year.
Muktsar schools will soon become disabled friendly
Muktsar, September 29
Government schools in Chief Minister Parkash Singh Badal's home district Muktsar will soon become more friendly to the children with special needs.
High uranium content causing cancer, says MP
Sangrur, September 29
People in the region fell victims to cancer after drinking water that had a high content of uranium and heavy metals, said Vijay Inder Singla, Member of Parliament (MP) from Sangrur here today.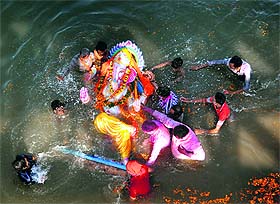 God's Immersion:

Devotees immerse an idol of Lord Ganesh on the concluding day of Ganesh Chaturthi in Ludhiana on Saturday. Tribune photo: Himanshu mahajan
Tenders invited for Sangrur ROB
Sangrur, September 29
The long-pending demand of the local residents regarding construction of a railway over bridge (ROB) near the police lines here would soon be fulfilled as the Public Works Department (PWD) and the Railways have issued tender notices for the project.
Ban on steel spoons will prove costly: Jail officials
Ludhiana, September 29
With the state jail department banning the use of steel spoons in state prisons yesterday, inmates would now have to use disposable spoons.
JE arrested taking bribe
Patiala, September 28
A Vigilance team arrested a junior engineer (JE) working with Punjab State Power Corporation Limited for allegedly accepting a bribe of Rs 20,000 from a consumer for installing a transformer.
Firing leaves two injured
Tarn Taran, September 29
Conflict between two groups in the border township of Chabal, 16 km from here, left two injured in a firing incident today.
Forest Department to move court against encroachers
Jalandhar, September 29
Tightening the noose around encroachers, the Forest Department has issued notices to around 500 violators who are in illegal occupation of protected forest land along the highways and other scheduled roads in Jalandhar, Nawanshahr and Kapurthala districts.


Move to extend 'favourite' councillors' tenure under High Court scanner
Chandigarh, September 29
The Punjab Government's alleged move to enable its "favourite" municipal councilors to remain in power for another two years after the end of their tenure in Ferozepur has come under the Punjab and Haryana High Court's scanner.
Golden Project: Court declines former director's plea on stay
Chandigarh, September 29
An application filed by Pamila Syal, one of the former Directors of Golden Project Ltd, has failed to find favour with the Punjab and Haryana High Court. She was seeking a stay on proceedings in criminal complaints pending against the former management and directors of the company.


Woman kills 5-yr-old son
Ferozepur, September 29
In two tragic incidents that took place in the district today, an elderly woman was gruesomely murdered by her daughter-in-law and a five-year-old boy was allegedly killed by her mother.
Dera caretaker among 5 booked on fraud charges
Muktsar, September 29
The Kabarwala police today booked a caretaker of a dera in Malout and four other persons for allegedly trying to take possession of another dera, spread over an area of 12 acres, at Midda village near Malout after preparing a forged death certificate and will of its head, Sant Kashmir Das.