fifty fifty
The raping monsters among us
It is shocking to see the pathetic condition of young men in Haryana, who have no other form of recreation than to torture and oppress the already marginalised.
Kishwar Desai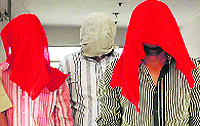 Will arrests change the psyche responsible for the horrific crimes against women?

Even after 65 years, India has not grown up. It still does not show any respect towards women, and the three recent rape cases in Haryana make one wonder, once again, how secure are Indian women today?
Whilst it is tough enough to be a woman in modern India, it is probably the worst thing in the world to be a Dalit woman in a village, living far too close for comfort to the upper castes. The problem gets exacerbated in a tradition-bound, patriarchal state like Haryana, where they are frequently abandoned by the police and politicians. Indeed, even the men in their family feel threatened. Despite the special laws which have been created for the protection of the Dalits, nothing seems to deter the misguided and cruel men who want to molest or rape these marginalised women. And even the spotlight of the media does not speed up the excruciatingly slow wheels of justice. Recently, in the first reported rape in which the traumatised young woman said nothing for 10 days, fearing reprisal — while MMS clips were doing the rounds in her village and elsewhere — makes one wonder on whose side the state government is. There is no greater proof of poor governance than the police taking ages to register a case, and conduct the investigation, even in a case like this where the evidence must have been easily available.
This was after a rape which took place in a small community. Thanks to the MMS, the criminals would have been easily identifiable as well. Everyone must have known their identities and yet the sheer reluctance to track down the culprits till the father of the victim killed himself is shameful. But we have heard no apologies from anyone. And when within a few days a second case of a gang rape emerged in which a young child had witnessed her mother being brutally molested — there was no alacrity demonstrated by the police or the politicians. Neither was there a healing or soothing touch extended towards this distraught family.
As always, the state of Haryana lived up to its reputation of being cruel and callous towards its women. This is the state where the gender ratio is appalling, and machismo rules. It is also where khap panchayats are free to pass all kinds of retrograde pronouncements. And yet, nothing ever changes, because the patriarchal stranglehold of the upper castes and the Jat community appears to be far too strong. One can only hope the next time the electorate will have better choices, but who can they turn to?
What is even more astonishing is that the high-profile Dalit woman politician from a neighbouring state has made no extraordinary effort to champion the cause of the two Dalit victims. Former UP Chief Minister Mayawati might be a Dalit icon, but she has done little to push for gender justice. Why do Indian women politicians demonstrate an almost macho attitude towards women victims? Even the newly anointed Chief Minister for West Bengal, Mamata Banerjee, the darling of the "bhadralok", was not very sympathetic towards a rape victim in Kolkata. Similarly, the Chief Minister of Delhi, Sheila Dikshit, had admitted sometime back that it was difficult to provide security for women at night, and suggested they stay at home after certain hours. Thus the implication is that unless you are surrounded by gun-toting security guards (as most women politicians are) there is no security for Indian women today, regardless of caste or class.
Years ago, when Phoolan Devi was gang-raped — again a lower-caste woman oppressed by the upper castes — she decided to pick up the gun and take revenge. It was a short, brutal and difficult life, celebrated in cinema and literature, but one wonders whether anything has really changed in India since then. As long as we continue to live in a divisive society where human beings are judged and treated according to their caste, and where real social reform hasn't taken place, rape will continue to be used as a weapon of oppression. States such as Haryana must introspect and bring about a social revolution, before violence becomes a mindless way of life. I am shocked at not only the treatment of the two victims by the state but also the pathetic condition of the young men from Haryana, who are so misguided and uneducated that they have no other form of recreation than to torture and oppress those who are already marginalised. Who is going to teach them values, or kindness?
These sorry specimens seem to have learnt nothing good from their families or society. It is about time we woke up to the monsters among us, and tried to change their horrific mindset.