A respected NRI politician, who served as a minister in Britain's previous Labour government, has thrown his weight behind blocking the efforts of multinational supermarket chains gaining a foothold in the Indian market.
Keith Vaz, MP from Leicester East, says it would not be appropriate for him to comment on what the Congress government decides to do about allowing the likes of Walmart, Sainsburys and Tesco in India. But some years earlier he led efforts within the UK to try and prevent Tesco from opening up on the main street of Leicester, risking the livelihoods of many small, family owned grocery shops within his constituency. Vaz's initial efforts were successful, but later failed on appeal. That has not prevented him from continuing to worry about what happens to small shops and their owners when the big giants move in and start selling their products at substantially lower prices.



Keith Vaz, MP from Leicester East, led efforts within the UK to try and prevent Tesco from opening up on the main street of Leicester, risking the livelihoods of many small, family owned grocery shops within his constituency.
Vaz's comments about the big super markets were made at a dinner- given in London by the Indian Journalists Association -- commemorating his 25 years as a British MP -- where he also touched on other big issue items like racism, human rights and bilateral ties between India and the UK. When he first entered the House of Commons in 1987 Vaz had a slim majority of only 1,924. At the last general election in 2010, his majority had soared to 14,802, a tribute to his work and reputation as a safe and reliable pair of hands.
In a special message of congratulations Prime Minister David Cameron reflected on Vaz's "selfless dedication and commitment", adding, "however, it is Keith's role as Chairman of the Home Affairs Select Committee since 2007 for which he is most well known, and in which he continues to make a significant impact -- both in Parliament, around the country, and overseas. Keith will probe every detail to ensure no stone is left unturned in his Committee's investigations and, through doing so, he has earned a reputation as an outstanding Committee Chairman and a true public servant."
Labour leader of the Opposition Ed Milliband describes Vaz as the first Labour MP of Asian origin since 1922, the first Asian Minister and now the longest-serving MP of Asian origin. "Throughout his career he has been a stalwart supporter of diversity, and stood up for Britain's ethnic minority communities. Thanks to his championing of the Race Relations (Remedies) Act 1994 the limits to the amount of compensation awarded in industrial and employment tribunals in respect of acts of racial discrimination were removed."
Jaguar: Legal dispute over the name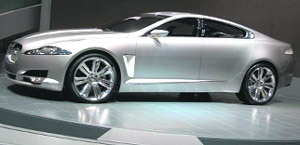 Jaguar
The Indian-owned Jaguar car company is locked in a dispute with a celebrity café, bar and art gallery located in the fashionable Shoreditch suburb of East London, which was once renowned as a centre for selling leather shoes and bags. Jaguar Shoes, which takes its name from a former bag and shoe store, was founded by a brother and sister team, Nick and Teresa Letchford, who kept the original storefront signs for their business which soon became an arts collective visited by music celebrities.
But the Letchfords ran into trouble when they tried to protect Jaguar Shoes with a trademark. It was then that Jaguar Land Rover objected, resulting in the dispute being referred to the UK's Intellectual Property Office.
Nick Letchford, a former assistant film director, commenting on "irrational and inappropriate pressure" from Jaguar cars, told the media, "This has been going on for about two years. We've tried to settle it, we're looking to settle, but it feels like we're banging our heads against a brick wall.
"Conceptually, Jaguar Shoes is a very different thing to a Jaguar (car). If I think what Jaguar shoes are, what they represent, most people are going to see a pair of catskin shoes," he added. "I think it's basically a default objection to any other use of jaguar, the word."
He added, "We inherited the name and it is part of the history of the area, which was full of shoes and fashion wholesalers. Our customers are either angered or think it's ridiculous." Meanwhile an online petition has received more than 1,000 signatures from people who say they have never experienced any confusion between the bar/gallery and the car maker.
For its part Jaguar Shoes is proud of promoting more than 600 artists, musicians and fashion designers. It is also home to four full-time artists.
A spokeswoman for Jaguar cars said, "Unfortunately, we can't comment on legal proceedings."
The ongoing dispute with Jaguar Shoes is the least of the worries for the car company, which was bought by Tata Motors in 2008. A recent report by one of the UK's leading motoring websites has highlighted the depreciation value of one of the company's prestige car brands.
The report looks at the Jaguar XJ Ultimate -- currently retailing at more than £50,000 -- which it claims will lose some 77 per cent of its list price value by 2015.
Hawk contract warms up Indo-UK ties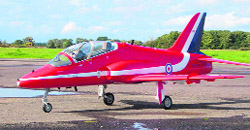 Hawk
India's stock has risen ( slightly) in the UK following Hindustan Aeronautics Limited's decision to buy an extra 20 Hawk additional jet trainers from the UK's BAE systems for an estimated Rs 2,000 crore (more than £200 million). The aircraft to be built in Bengaluru are intended for the IAF's Surya Kiran aerobatics team that previously depended on the Kiran Mkll jets that had to be abandoned following an air crash in 2009.
Whether this order will significantly raise the status and/or prestige of Indian diplomats in London remains to be seen because the Hawk purchase is worth only a fraction of the £7 billion order that the UK government hoped to secure earlier this year when Delhi was mulling options for the next generation of IAF fighter jets.
In the event India declared the front runner for the contract was the Rafale fighter, manufactured by the French company Dassault, ruling out the Eurofighter Typhoon, which is one-third owned by BAE. There was so much heart-burning in London following India's decision that some MPs of the ruling Conservative Party even questioned the wisdom of continuing British aid to India. Embattled British Prime Minister David Cameron said in the House of Commons that the Typhoon was a "superb aircraft, far better than Rafale. Of course, I will do everything to encourage the Indians to look at Typhoon, because I think it is such a good aircraft."
Seasoned observers of the British-Indian bilateral ties have subsequently spoken of a 'chill' or 'bruising' of what is otherwise considered a special relationship between the two Commonwealth partners. But for those who believe London is responding childishly to the defence contract, it is worth remembering how the cash-strapped West is desperate for export orders from emerging economic giants like India and China.
For its part BAE Systems has trumpeted the latest Hawk order as the third contract for the Hawk, building on a first order in 2004 for 66 aircraft and a second order in 2010 for 57 aircraft. The cumulative value of the two orders was assessed at more than Rs 12,300 crore.
"This is a tremendous opportunity to build on the success of Hawk in India and demonstrate the progress we are making in capturing significant opportunities to address the defence modernisation requirements of the Indian Government", said Guy Griffiths, group Managing Director of BAE Systems Intermational. "Together with HAL, we look forward to giving the Indian Air Force's display team a fantastic aircraft."
A delightful painter of historic buildings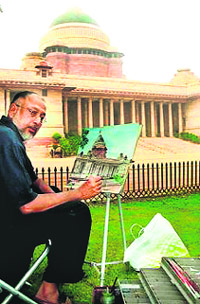 Swaroop Mukerji
Avisiting Indian painter has delighted Londoners with previews of some of his works of art completed during his current trip to the UK. What singles out Kolkata-based Swaroop Mukerji from other well-known Indian artists is his focus on painting historic buildings, rather than abstracts and portraits favoured by the likes of Satish Gujral or M.F. Husain.
He started off with his paintings of Raj Bhavan in Kolkata (Government House in British times) from where, as he points out, India was ruled for more than 200 years. His easel and brush later took him to the grounds of Rashtrapati Bhavan where he was taken under the wings of the then President A.P.J. Abdul Kalam.
For his part, Mukerji describes Kalam as a "wonderful" and "outstanding" human being who took a personal interest in his work and welfare. At the time Mukerji was recovering from cancer (doctors have now given him a clean bill of health as he has been cancer free for more than seven years) and Kalam took it upon himself to look up treatments and remedies that might help his recovery.
A man of immense personal charm, Mukerji was previously a successful participant in the corporate rat race. Before becoming a full-time painter he worked for Dunlop and then for 20 years with what he describes as another multi-faceted business house.
He had been painting since the age of 10 and for the next 40 years managed to combine his private passion with whatever professional demands were made of him. But in 2000, possibly for health and other personal reasons, he quit the corporate sector for good to devote himself to the world of art.
Successful exhibitions have followed all over the world, including at the World Bank in 1998 and in 2007 at the Indian High Commission in London.
During his current trip, Mukerji has had the backing of English Heritage, which has allowed him to visit and paint pictures of Chiswick House -- inspired by the architecture of ancient Rome and 16th century Italy -- and described as one of the finest examples of neo-Palladian design in England.
His trip has also taken him to Osborne House on the Isle of Wight, a former summer residence of Queen Victoria and one of the British royal sites visited by Maharaja Dalip Singh, although not where he handed over the precious Kohinoor diamond to the British monarch.