With no help in sight, villagers leave Chandi Kotla
Panchkula, September 24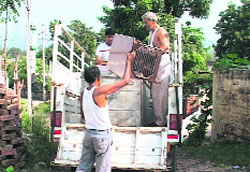 Nathu Ram (60) has left his home at Chandi Kotla village near Chandimandir for a rented accommodation somewhere. Never before in the past 60 yeas did he feel so insecure at his birthplace. A few spells of rain, and his house looks like a pack of cards following landslides.




A family leaves Chandi Kotla village in Panchkula on Monday. a Tribune photograph
All clubs in City Beautiful under Admn's scanner
Chandigarh, September 24
The controversy surrounding the lease money of the Central Club in Sector 9, which led to its ceiling, has brought other clubs under the scanner of the Chandigarh Administration.
96-year-old city resident to run Delhi Half Marathon
Chandigarh, September 24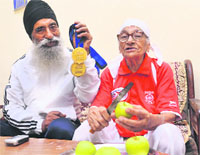 Age is no deterrent when it comes to chasing one's passion. Having given wings to her dreams in the twilight of her life, city resident Mann Kaur (96) is all set to mark her presence in the Delhi Half Marathon on September 30.




Mann Kaur age (96) with her son Gurdev Singh (75) at their house in Sector 40, Chandigarh, on Monday. Tribune photo: Vicky Gharu



Projects stalled as UT admn yet to earmark land
Chandigarh, September 24
The UT Administration seems to be delaying the earmarking of land for essential development projects of the Municipal Corporation. The projects that have been delayed for the last one decade include community parking lots in residential areas, burial land for children, six underground reservoirs, schools and a civil dispensary.



A burial ground for children without a boundry wall in Sector 25, Chandigarh. Tribune photo: Manoj Mahajan (L) and Vehicles parked in a park at Sector 45, Chandigarh. Tribune photo: Parvesh Chauhan
Bindra Sr counters GMADA
Mohali, September 24
Dr AS Bindra, father of Abhinav Bindra, today countered the claims of GMADA that he had undertaken construction of a boundary wall on their land at Behra village (Derabassi), in violation of the Punjab New Capital (Periphery) Control Act, 1952.
Chandigarh Tourism Week kicks off
Chandigarh, September 24
Magical spell of lights are adorning the City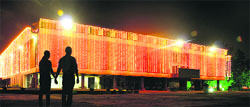 Beautiful's buildings and monuments. Buildings, including the Open Hand Monument, UT Secretariat Building, Le Corbusier Centre, Sector 19, Government College of Arts and Tourist Information Centre, Sector-17, etc have been illuminated as part of the Chandigarh Tourism Week that began today with a Clean Chandigarh Campaign.
A couple watches the illuminated building of Government Museum in Sector 10, Chandigarh, on Monday. Tribune photo: Pradeep Tewari
UT Admn begins exercise to define PG accommodation
Chandigarh, September 24
The Chandigarh Administration has begun an exercise to define the meaning of a paying guest accommodation.
Auto operators flay hike in diesel price
Chandigarh, September 24
The Chandigarh Auto-Rickshaw Union today staged a protest against the hike in diesel and LPG rates. Members of the union gathered near the Circus Ground in Sector 17 and demanded that the fare of auto-rickshaws should be revised.
Cadets get training in microlite flying
Chandigarh, September 24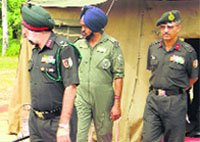 A Pre Vayu Sena Camp is being conducted by No.1 Chandigarh NCC Squadron at Patiala, where cadets are being trained in microlite flying, aero modeling, drill, weapons and other service-related subjects. Eight NCC units from Punjab, Haryana, Himachal Pradesh and Chandigarh are participating in the camp.


Maj Gen PS Mander, Additional Director-General, NCC, at the training camp in Patiala. A Tribune photograph
Councillors meet Principal Secy
Panchkula, September 24
Councillors of the Panchkula civic body today met Ram Niwas, Financial Commissioner and Principal Secretary, Urban Local Bodies Department, and raised various issues pertaining to development of the town.
Workshop on child health begins at PGI
Chandigarh, September 24
Over 20 participants from Chhattisgarh, Odisha and West Bengal are attending a health workshop at the School of Public Health, PGI. The workshop is being conducted to improve the knowledge and skills of district level managers for universal coverage of the Reproductive and Child Health (RCH) scheme under the National Rural Health Mission (NRHM). The workshop, being organised in collaboration with the UNICEF and WHO, was inaugurated by Dr Rajesh Kumar, head of the School of Public Health, here today.
Muddy water being supplied to colony
Chandigarh, September 24
Residents of Charan Singh Colony have been "forced" to consume contaminated water these days, thanks to the callous attitude of the Chandigarh Municipal Corporation that has failed to supply clean drinking water in the area.
City in grip of fever
Chandigarh, September 24
Hundreds of patients suffering from viral fever are visiting hospitals and dispensaries in the city these days. In many cases, they are being diagnosed with serious ailments such as malaria, dengue and typhoid. At Government Multi Specialty Hospital, Sector 16, of around 500 patients visiting the out patient department (OPD) every day, patients with complaints of fever remain as high as 50 per cent.

Kidney patient at PGI needs help
Chandigarh, September 24
A 23-year-old youth struggling for life after renal surgery needs help. The patient, Sanjiv Goswami, working as a helper at a tailor's shop, is finding it hard to spend Rs 15,000 every month on his post-operative care.
Sanjiv Goswami
Theatre artiste Arundhati leaves audience spellbound
Chandigarh, September 24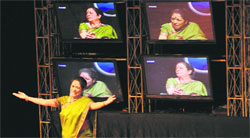 Film and theatre actor Arundhati Nag's masterly portrayal of two characters in the skillfully conceived plot of Girish Karnad's "Bikhre Bimb" was the highlight of the fourth day of the ongoing Chandigarh Theatre Festival. The play, which was staged at the Tagore Theatre, is among the most successful plays produced recently in India.
Theatre artiste Arundhati Nag performs during a play, "Bikhre Bimb", at the Tagore Theatre in Chandigarh on Monday. Tribune photo: Pradeep Tewari
CBSE to set up help centres
Chandigarh, September 24
As JEE-Main and JEE-Advanced will replace the AIEEE and IIT-JEE from 2013, the CBSE is in the process of setting up two facilitation centres in Chandigarh to help students clear any doubts regarding the new pattern of the undergraduate engineering entrance exam.
Mixed response to PU decision on YouTube
Chandigarh, September 24
With regard to the Panjab University decision on blocking entertainment websites in the academic blocks of all 18 Panjab University hostels, The Tribune correspindent Deepankar Sharda talked to hostel residents and youngsters to get their point of view. The Panjab University authorities took the decision after finding that students were using the wifi facility for downloading movies and songs from websites. Certain websites from which students download pirated softwares have also been blocked.
Week-long festivities at UIHMT
Chandigarh, September 24
The University Institute of Hotel Management and Tourism (UIHMT), Panjab University, Chandigarh, is organising a series of activities and competitions during the week to celebrate world tourism day. These include expert talk, special lecture, various competitions and a blood donation camp.