Muktsar farmers set record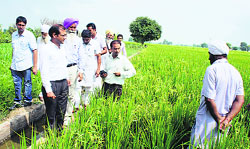 Muktsar, September 26
Kauni village in the Gidderbaha subdivision of Muktsar has earned the distinction of bringing nearly 1,100 acres of land under direct paddy sowing. District Agriculture Officer Beant Singh said 50 farmers of the village had sown the paddy directly.


Agriculture experts and farmers examine the directly sown paddy at Kauni village in Muktsar. A Tribune photograph
Paddy not to be allocated to defaulting rice mills
Chandigarh, September 26
Defaulter rice mills, number of which is about 850 in Punjab, will not be allocated paddy for milling this year. Sources said under the new policy, which is likely to be notified by the end of this week, only those rice mills which have milled 70 per cent of the paddy allocated to them last year would be given paddy for milling this year.
Punsup suspends district manager for pilferage
Chandigarh, September 26
The Punjab State Civil Supplies Corporation Limited (Punsup) has suspended District Manager (Nawanshahr) and shifted Regional Manager (Sangrur) to the headquarters for alleged financial malpractices and pilferage of foodgrains, with immediate effect.

Rahul's 2-day Punjab visit from October 10
Chandigarh, September 26
Congress general secretary Rahul Gandhi is set to visit Punjab on October 10 and 1. He will interact with party leaders at Amritsar, Jalandhar and Patiala.This will be his first visit to Punjab after the party's debacle in the assembly elections.

BJP asks Sukhbir for a concrete proposal on FDI

Chandigarh, September 26
A day after SAD president Sukhbir Singh Badal indicated he was for foreign direct investment (FDI) in retail in case of a national consensus on the issue, the Punjab BJP today opened the doors to discussions, inviting him to come out with a concrete proposal, if any. But it also emphasised that the BJP's stand against FDI was a considered one.
Vinod Khanna, Salaria eye LS ticket
Pathankot, September 26
Filmstar Vinod Khanna will be among the BJP bigwigs to attend the BJP Yuva Morcha rally here on September 30.


Why are meters out of stock, PowerCom asked
Patiala, September 26
The Punjab State Electricity Regulatory Commission (PSERC) has directed the Punjab State Power Corporation Limited (PSPCL) to reply to a petition, regarding the non-availability of single phase electricity meters since May 2012, by October 3.
No housing project on Ludhiana Metro route
Chandigarh, September 26
The Punjab Local Bodies Department, which is handling the Ludhiana Metro Rail project, has urged the Housing Department authorities concerned to not approve any housing colony or other such projects on the proposed route of the metro in Ludhiana. A senior official of the Local Bodies Department said a letter had been sent to the Housing Department in this regard.
Panel on subsidy bill yet to be notified
Chandigarh, September 26
A month after Deputy Chief Minister Sukhbir Singh Badal announced a two-member committee comprising the Finance and Health Ministers on rationalisation of the huge agriculture subsidy bill, the committee is yet to be notified, much to the chagrin of SAD's alliance partner.
Crumbling heritage
Century-old samadhis of maharajas in neglect
Sangrur, September 26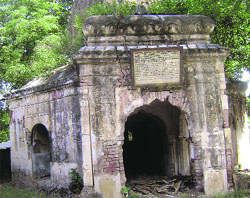 Surrounded by debris with bushes growing over them, the 'Shahi Samadhan' of Sher-e-Punjab Maharaja Ranjit Singh's close relatives are in a terrible state of neglect. The 14 samadhis are over 125 years old and include those of Maharaja Ranjit Singh's maternal grandfather Maharaja Gajpat Singh and maternal uncle Maharaja Bhag Singh, rulers of the erstwhile Jind State.



Maharaja Gajpat Singh's samadhi. Tribune photo: Sushil Goyal
Excise staff observe black day
Chandigarh, September 26
Central excise officers and staff today observed a "black day" by observing hunger strike at the commissionerate here and also at Ludhiana and Jalandhar. They protested against the failure of the Centre to go in for cadre restructuring despite its assurances.
Two-day mega medical camp at Badal village
Women cancer patients outnumber men
Bathinda, September 26
Oncologists at the two-day mega health camp held at Badal village earlier this week were surprised to detect various kinds of cancers among the residents.They were expecting to find a high incidence of particular kinds of cancer which would have enabled them to trace the root cause. Also, women cancer patients at the camp were twice the number of men.
Slain gangster's father to move rights panel
Chandigarh, September 26
Not satisfied with the Bathinda SSP's report submitted to the Punjab Human Rights Commission (PHRC) on the encounter in which dreaded gangster Shera was killed on September 6, Jarnail Singh, Shera's father, has decided to approach the commission.
Lakhan Majra rly station to be commissioned today
New Delhi, September 26
Northern Railway has decided to commission a new railway station at Lakhan Majra on the Delhi-Bathinda section tomorrow.


Efforts to stop female foeticide
Implement Nawanshahr model, DCs told
Chandigarh, September 26
For aborting attempts at female foeticide in Punjab, the Punjab and Haryana High Court has directed "all the Deputy Commissioners in the state" to personally monitor the implementation and progress of the "Nawanshahr model".
HC sets aside suspension of two panchayat members
Chandigarh, September 26
Reprimanding the Director, Panchayat, Punjab, and the Secretary concerned for displaying an inhuman approach by placing elected panchayat members under suspension, the Punjab and Haryana High Court has imposed a cost of Rs 10,000 on the two.


Gang of highway robbers busted
Fatehgarh Sahib, September 26
The local police busted a gang of highway robbers by arresting its kingpin, who had been eluding arrest since 2008, when he murdered a Himachal resident. The accused had been declared a proclaimed offender by the police.
NRI held with 3 kg heroin at Amritsar airport
Amritsar, September 26
The Customs authorities, working in tandem with the state's Special Operations Cell, the counter-intelligence wing of the Punjab Police, has nabbed two persons, including Canadian resident Sarabjit Singh (22), and recovered 3 kg of heroin worth Rs 15 crore in the international market from their possession.
Newborn kept in mortuary, dies
Nawanshahr, September 26
In a case of utter negligence on the part of a private nursing home at Banga, a newborn was wrongly declared dead after birth. The infant was found breathing with difficulty after having been kept in a mortuary for the entire night. Rushed to another hospital, the baby died despite the doctors' efforts to save him.