Khanna steals the show at BJP's Pathankot Yuva Morcha rally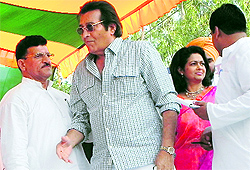 Pathankot, September 30
Local BJP leaders sank their differences to make the BJP Yuva Morcha rally here a massive success. Three-time Member of Parliament (MP) and film star Vinod Khanna drew a massive applause when he delivered his brief extempore.


Three-time MP Vinod Khanna, former state minister Master Mohan Lal and Khanna's wife and BJP executive committee member Kavita Khanna at the Yuva Morcha rally at Pathankot on Sunday. A Tribune photo

Woman dies in police custody; SHO suspended
Gidderbaha, September 30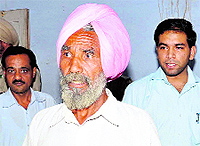 Humiliated at being dragged to a police station for an extra-marital ties, a 32-year-old woman allegedly committed suicide by consuming poison at the Kot Bhai police station in Muktsar this morning. Terming the incidence as "gross negligence" on the part of police officials, Muktsar Senior Superintendent of Police Inder Mohan Singh placed Station House Officer (SHO) Kuldeep Singh, Assistant Sub-Inspector (ASI) Daljeet Singh, head munshi Tarsem Singh and assistant munshi Amarjeet Singh under suspension.
Mahinder Singh, father of deceased Jaspreet Kaur, at the Civil Hospital in Gidderbaha. A Tribune photograph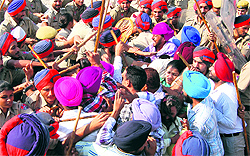 Teachers injured in lathi charge
Ludhiana, September 30
Two female teachers received minor injuries while turbans of three male teachers were toppled when the police used mild force to stop the members of the Sikhya Provider Front, Punjab, from blocking the GT Road here today. However, the protesters managed to block the road for over 90 minutes.

Police uses force disperse members of the Sikhya Provider Front in Ludhiana. Tribune photo


1 dead, 2 hurt as scaffolding of mall collapses
Ludhiana, September 30
One labourer was killed and two others sustained serious injuries when the scaffolding of a block on the eighth floor of the under-construction Bharti Pavilion shopping mall, near Sessions Chowk, collapsed here today.





Jalandhar, September 30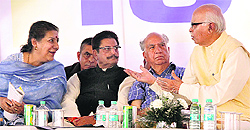 "Untouchability in politics should be done away with." Former Deputy Prime Minister (PM) Lal Krishan Advani stated this while addressing a gathering a function of the Shaheed Parivar Fund held under the aegis of the Punjab Kesari Group where a financial help of Rs 32 lakh was given to 128 families in the shape of fixed deposit receipts.
Senior BJP leader LK Advani in conversation with Information and Broadcasting Minister Ambika Soni at the Shaheed Parivar Fund function in Jalandhar. Photo: Sarabjit Singh


Charak: Badal govt burdening people with taxes
Jalandhar, September 30
The Badal government is working contrary to what the SAD and BJP had promised in their manifestos released before the last Assembly elections. Alleging this, the in charge of Punjab Congress affairs Gulchain Singh Charak said instead of fulfilling the promises made by it before the Assembly elections, the ruling alliance had been putting extra burden on the public by introducing various types of new taxes and hiking the already existing ones after coming to power.

Left, right parties may be part of third front: Chautala
Jalandhar, September 30
"A third front is the need of the hour. The right and the left parties may become part of the third front as they had been in 1977 and 1989 on the main issue of ridding the public from anti-people policies of the Congress."

Rakhra a kingmaker in Patiala
Patiala, September 30
With Jaspal Pradhan becoming the new Mayor of Patiala, and the Tohra group relegating to the background, Punjab Rural Development and Panchayat Minister Surjit Singh Rakhra and his allies have firmly got a hold over Patiala politics.

SAD leaders accused of committing sacrilege
Fatehgarh Sahib, September 30
Former Deputy Speaker of Punjab Assembly Bir Devinder Singh has urged Akal Takht Jathedar to summon Bikramjit Singh Majithia and Prem Singh Chandumajra for committing sacrilege at the Diwan Todar Mal Yaadgari Hall, inside the historic shrine of Fatehgarh Sahib, during a rally organised by Youth Akali Dal (YAD) on September 25.




Cancer detection drive from tomorrow
Chandigarh, September 30
The Punjab Government today approved the launching of a month- long awareness campaign aimed at early detection of cancer in Faridkot on a pilot basis from October 2.

Roko Cancer to hold camps statewide
Chandigarh, September 30
A 500-bed super-specialty cancer hospital at Moga will start functioning in April, 2013, says Kulwant Singh Dhaliwal, Global Ambassador, Roko Cancer.

Ludhiana to get Rs 3,561-cr facelift
Chandigarh, September 30
Ludhiana is all set to get a facelift with Punjab Deputy Chief Minister Sukhbir Singh Badal approving a Rs 3,561 crore integrated development plan for the city and adjoining areas. The project is called "Mission Ludhiana".

Kidnapping case: Differences among police officials hamper investigation
Faridkot, September 30
A week after a minor girl was kidnapped here, the police has made little headway in the case. It seems that there are sharp differences among senior officials as to how to handle the case.

UT-Ludhiana rail link
Thieves strike at will in absence of RPF
Chandigarh, September 30
As the Northern Railway is struggling to meet the March 3012 deadline to complete the 110 km link between Chandigarh and Ludhiana, repeated theft of overhead copper power cables on the section is giving the authorities sleepless nights.

Pak shepherd yet to be repatriated
Abohar, September 30
A flag meeting of the BSF with Pakistani Rangers in the Raisinghnagar segment of neighbouring Sriganganagar could not pave the way for the repatriation of Dildar (15), a shepherd, who was arrested by the BSF for crossing Zero Line near Prithvisar BoP at 11 pm yesterday.

Door-to-door garbage collection in Patiala
Patiala, September 30
The new Municipal Corporation (MC) house in its first meeting, called by the Mayor Jaspal Pradhan, signed a Memorandum of Understanding (MoU) with a private company to ensure daily door-to-door garbage collection in all the 50 wards of the city.

Jaspal Pradhan, Patiala Mayor
Vigilance Bureau raids Sarabhdyal's house
Amritsar, September 30
The Vigilance Bureau raided Sarabhdyal Singh's house at Rani Ka Bagh here this evening and reportedly recovered old cheques and vital documents.
Rice millers to boycott procurement
Bassi Pathana, September 30
In protest against the new procurement policy of the Punjab government, more than a dozen shellers here will boycott the paddy procurement from tomorrow.


2 teenaged boys held for theft
Sangrur, September 30
The police has arrested two students for their alleged involvement in thefts of mobile phones, laptops and motorcycles here today.