Three killed, nine injured in two road accidents
Ambala, September 30
Three persons were killed while nine others were seriously injured in two separate road accidents in Ambala district here today. Two persons were killed and seven others sustained injuries, when their Tata Sumo collided head on with a truck near a local milk plant.
Man commits suicide by jumping before train
Dera Bassi, September 30
One person allegedly committed suicide by jumping before a train near here last night. The deceased was identified as 32-year-old Harbans Singh, son of Sher Singh, a resident of Mehamadpura village.
katoch shield cricket tournament
Chandigarh win cricket tourney
Patiala, September 30
Batsmen of the Chandigarh team marked their iron and helped the team to register a first innings lead of 219 runs against Patiala, to bag the title of ongoing Katoch Shield Cricket Tournament, held at Dhruv Pandove Stadium, here today.


Abetment to suicide case
Wife, in-laws get 3-year jail term
Mohali, September 30
A woman and her parents were convicted in an abetment to suicide case and were sent to three years imprisonment by a local court here today. Harpreet Kaur and her parents, Avtar Singh and Sital Kaur, were found guilty in the case that took place around three years ago. A fine of Rs 2,000 each has been imposed on the convicts.
Car company told to pay Rs 1.5 lakh as compensation
Mohali, September 30
The Mohali District Consumer Forum directed Mahindra and Mahindra to pay its client, Harinder Pal Singh, Rs 1.5 lakh as compensation for not providing the assured services and Rs 10,000 as litigation costs.


Five rounded up for abduction
Mohali, September 30
The Mohali police today chased a speedy Bolero jeep for over an hour to catch a group of students, who allegedly had abducted a youth at Sector 36, Chandigarh, on Saturday. The police rounded up five youths, Akash, Kamal, Gurpartap, Sahibjit and Gurmit Singh, here today.
1 held for extortion
Chandigarh, September 30
A resident of Chandigarh alleges that Rahul, alias Chikna, a resident of Sector 25, along with his friends, identified as Rohit, Rajat, Sagar, Nikka, Deepak, Vikas, Monu, Manish and Ramesh, extorted money from his son and withdrew cash around Rs 47,000 from his ATM card of the State Bank of Patiala, Sector 17, Chandigarh.



Asav outplays Mankeerat in tennis meet
Panchkula, September 30
Tennis player Asav Kumar defeated Mankeerat Singh (6-2), in the pre-quarterfinals match of boys (U-10) category during the ongoing DC Model Open Total Tennis Tournament, being held here today. In another match Snehil Saini routed Abrahim Sohi by 6-2.
A player during the DC Model Total Tennis Tournament at Sector 7 in Panchkula on Sunday. Tribune photo: Nitin Mittal



Chandigarh thrash UP in ball badminton
Chandigarh, September 29
On the opening day of 37th North Zone Ball Badminton Championship for Men and Women, the Chandigarh team defeated Uttar Pradesh by 29-0 and 29-02, at Panjab University's ground, here today.

Players in action during the North Zone Ball Badminton Championship at Panjab University on Sunday. Tribune photo: Pradeep Tewari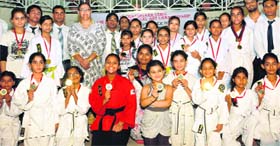 Choi Kwang do martial arts players with their with their gold medals after a championship at Sikhya School, Sector 46, in Chandigarh on Sunday. Tribune photo: Vicky Gharu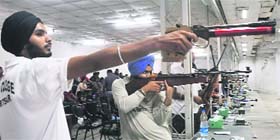 Shooters take aim at shot during the ongoing 48th Punjab State Shooting Championship at the PRSA Range, Sector 56, in Mohali on Sunday. Tribune Photo: Vicky Gharu
CII beat UBI in motors meet
Chandigarh, September 30
The cricket team of the CII defeated Union Bank of India (UBI) in the CII-Tata Motors Corporate Cricket Cup, being held, here today. Batting first, the team posted a total of 168 runs in their allotted slot of 20 overs.
U-19 cricket tourney begins today
Chandigarh, September 30
The 2nd All India Invitational Cricket (U-19) Tournament for Dhruv Pandove Trophy will start from October 1, at various cricket grounds, here. In the opening match, the Vidarbha team will take on Punjab at Dhruv Pandove Stadium, Patiala, while West-Bengal will face Orissa at Cricket Stadium, Sector 16.
PU defeat Delhi varsity by 2 goals
Chandigarh, September 30
The soccer team of Panjab University defeated Delhi University in their opening campaign of Inter-University North Zone Football Tournament here today. The tournament is being held in Jalandhar.
Golf camp from October 6
Chandigarh, September 30
The Academy of Golf, Chandigarh Golf Club, will organise a month-long junior golf camp for children (U-6 to U-18), for members and non-members, at the Golf Club, here. The camp will start from October 6, under the guidance of Manjit Kochar, certified golf teaching professional.