Rahul Gandhi cancels Patiala tour
Chandigarh, October 4
Congress general secretary Rahul Gandhi has re-opened the Pradesh Congress leadership issue by making it known that he would interact with legislators and senior leaders one-to-one at the Punjab Congress headquarters here on October 11.
Paddy procurement: Officials told to monitor progress
Chandigarh, October 4
Upset over the lacklustre procurement of paddy in the last four days, Chief Minister Parkash Singh Badal has directed the Chief Secretary and his Principal Secretary to monitor the progress across the state on a daily basis.
Magisterial probe ordered into Qadian fire
Qadian (Gurdaspur), October 4
The district administration has ordered a magisterial inquiry into the sequence of events leading to a massive fire at a firecracker unit here yesterday. One person was killed and five others sustained serious burn injuries in the incident.
Amidst splurge, rickety govt schools await funds
Chandigarh, October 4

When Deputy Chief Minister Sukhbir Badal handed out a Rs 1-crore package to an established Lawrence School, Sanawar, out of the state exchequer, he apparently forgot the fact that hundreds of government school buildings had been declared unsafe and needed immediate financial help for reconstruction. To top it all, a large number of schools did not even have the requisite staff.

Debris of a collapsed roof lies on the furniture of a classroom at Government School, Budh Singh Wala, in Moga. Tribune photo: Malkiat Singh

Abduction Case
Faridkot legislator joins protesters
Faridkot, October 4
Eleven days after 15-year-old Shruti was kidnapped from her house here, the police is still searching for the main accused, Nishan Singh.
2 men behind immigration racket identified
Amritsar, October 4
The police today identified the two men behind a fake immigration nexus that came to light with the arrest of seven persons travelling on fake visas by the Immigration and Customs authorities at Sri Guru Ram Dass International Airport here yesterday.
Resolve mining issue, CM to Chief Secy
Chandigarh, October 4
Chief Minister Parkash Singh Badal today directed deputy commissioners to ensure timely submission of utilisation certificates of various development grants.
Cong leader Bhinder seeks security
Gurdaspur, October 4
Former Delhi Police Commissioner Pritam Singh Bhinder, who was Punjab IGP during Operation Bluestar, has sought security from the Punjab Government after the same was withdrawn about a fortnight ago for "reasons best known to the state government."
Officials told to get data on illegal colonies
Chandigarh, October 4
The state government is caught in a dilemma over the issue of illegal colonies. Influential owners of some illegal colonies have been lobbying hard to get their colonies regularised. Sources said that the issue was discussed in detail at a meeting here yesterday.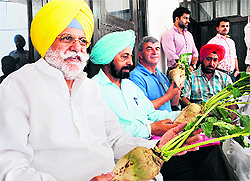 Now, sugar from sugar beet
Amritsar, October 4
Rana Sugars Limited in Buttar Seviyan village, 40 km from Amritsar, will become the first sugar mill in Punjab to commercially produce sugar from sugar beet, a root plant, in addition to sugarcane. The mill is supplying seeds sugar beet to the farmers free of cost to be sown in over 12,000 acres of land.


A sugar beet expert from an overseas company displays a piece of the produce to Rana Gurjit Singh of Rana Sugar Mills at Mehta in Amritsar on Thursday. Photo: Vihsal Kumar

Women power to guard Punjab's forests
Ludhiana, October 4

The first ever batch of 43 women forest guards was yesterday commissioned after a formal training of three months. Each of the 43 women, a majority of whom belong to small towns, has a story to tell. All of them had to battle the conventional mindset for choosing this profession.


Newly recruited forest guards at PAU in Ludhiana. Photo: Inderjit Verma

Excise Dept may miss VAT collection target
Chandigarh, October 4
Meeting its revenue target from value added tax (VAT) may be a tough call for the cash strapped Punjab government. In spite of the widening tax base, increasing VAT rate by 0.5 per cent and plugging loopholes in tax collections, the Excise and Taxation Department may find it difficult to meet its revenue target of Rs 16,000 crore.
DGSE's power to take action against erring teachers restored
Chandigarh, October 4
The Punjab Government has restored the power to take action against teachers for dereliction of duty with the office of the Director General of School Education (DGSE). The development comes more than a year after Education Minister Sewa Singh Sekhwan had taken away these powers following differences with the previous DGSE, Krishan Kumar, in 2011.
Extend scope of Garg panel probing '84 riots: NGO

Jalandhar, September 4
The Bhupinder Singh Hooda-led Congress government should extend the jurisdiction of the Garg Commission probing the anti-Sikh riots at Hond Chillar in Rewari to entire Haryana, Hond Chillar Yadgaar Talmail Committee members Manwinder Singh Giaspura and Darshan Singh Gholia said here today.

Representatives of the Hond Chillar Yadgaar Talmail Committee in Jalandhar. Tribune photo: Malkiat Singh

SC rejects review plea against Sumedh Saini
New Delhi, October 4
The Supreme Court has dismissed petitions seeking a review of its December 7, 2011, verdict quashing the CBI case against Punjab police chief Sumedh Singh Saini for allegedly eliminating three persons in 1991.


After BDPO, sarpanch held for bungling
Amritsar, October 4
A day after the arrest of a Block Development and Panchayat Officer (BDPO) and two former sarpanches in connection with the embezzlement of government funds by Sarabhdyal Singh, personal assistant of former Cabinet Minister Gulzar Singh Ranike, the Vigilance Bureau today arrested sarpanch Ninder Singh of Bhairowal village in Gandiwind block and panchayat member Hardev Singh.
Heroin worth Rs 20 cr seized
Amritsar, October 4
On the information provided by smugglers who were nabbed by BSF jawans from Mian Wali Uttar border post in Khemkaran sector yesterday, the BSF today recovered four packets of heroin from the same border post.
2 killed as bus rams into bike
Muktsar, October 4
A woman, who was in the family way, was killed along with her father-in-law while her husband sustained multiple injuries when the motorcycle they were riding, collided head-on with a private bus near Kabarwala village on the Malout-Abohar highway yesterday morning.