Loss of a fabric
Indian textiles were listed among pieces of art by the British. The British bureaucracy took pains to document the spectrum of award-winning textiles produced in Punjab, now exhibited in their museums. Post-Independence, Punjab lost its sophistication in textiles
Jasvinder Kaur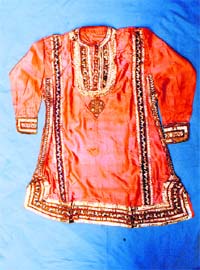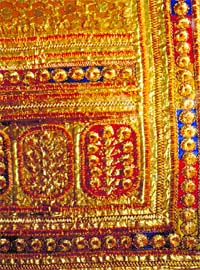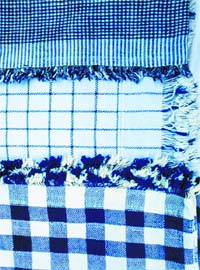 Pic courtesy: Musee d'art et d'histoire, Geneva
Eighteenth and nineteenth century European travellers and British bureaucrats have been responsible for much of the primary information available on textiles in the Punjab. Landmark events like major exhibitions in Victorian England and the documented exhibits provide insights into the volume of trade with Europe and the arts that flourished in that period. These are supplemented with monographs from colonial India, volumes on "Industry and Art of Punjab," District Gazetteers which were meticulously drawn by district commissioners of the area giving invaluable information.
J. Forbes Watson who was reporting on the products of India to the Secretary of State for India compiled a volume "The Textile Manufactures and the Costumes of the People of India" in 1866. He collected specimens of all the important textiles manufactures of India and put them in eighteen volumes forming one set. This contained 700 samples and swatches were cut from one big piece. Twenty such sets were distributed in Great Britain and India. He called these "Twenty Industrial Museums" and says "If we attempt to induce an individual or a nation to become a customer, we endeavour to make the articles which we know to be liked and needed, and these we offer for sale. We do not make an effort to impose on others our own tastes and needs, but we produce what will please the customer and what he wants. The British manufacturers follow this rule generally; but he seems to have failed to do so in the case of India, or to have done it with so little success, that it would almost appear as if he were incapable of appreciating Oriental tastes and habits". This entire exercise was to enable British manufacturers to study Indian tastes and imitate indigenous designs.
B. H. Baden Powell wrote a volume in 1872 on "Manufactures and Arts of Punjab" and Lockwood Kipling produced a comprehensive report on Punjab industry in 1877 for the "Journal of Indian art." These volumes along with other works of that period are of utmost importance to trace the history of Punjab craft and to illustrate further the flourishing textile traditions of the period.
The Punjab connection of shawl
It is generally believed that when Ranjit Singh conquered Kashmir, shawl weaving was confined to Kashmir alone. After the Great Famine of Kashmir in 1833 and other economic reasons many weavers came and settled in Punjab and weaving colonies were established in Amritsar, Ludhiana, Nurpur, Gurdaspur, Sialkot and Lahore etc. Punjab made some of the finest shawls under Sikh patronage. The quality of the Punjab shawls is better marked by the award that they won at an exhibition held in Lahore in 1873. At that time there were 300 factories manufacturing shawls where both Amli (embroidered) and Kani (woven or so called jamavar) shawls were made. Amritsar made some indigo dyed shawls with gold or tilla embroidery. At one point there were as many as 6,493 weavers in Amritsar alone. In the catalogue of "Indian Art" at Delhi 1903, Sir George Watt lists different types of products which were exhibited at this big event. He wrote "One of the superb amlikar (embroidered) do-shala in the Exhibition is No-20 a shahpasand shawl exhibited by Trailakhaya Dass of Murshidabad and Dacca. It is presumed to be very considerably over 100 years old and to have been made in Amritsar. It has been priced at Rs 6,900 and sold to His Highness the Nizam of Hyderabad."
The shawl industry in Punjab was over 200- years- old and had some of the finest workers working here. He further says that several shawls from Amritsar were exhibited by Khan Muhamed Shah, Saifudin, and Davi Sahai Chamba Mall. These included shawls, rumals, and chaddars which would take many pages to describe. Good quality shawls are almost non existent in Punjab today.
Other crafts that vanished
Gold printing industry existed in Punjab in the 19th century but there is no sign of it today. Tinsel (gold or silver) printing was done with gold or silver leaf. Cloth was first printed with a thin paste of kharia mitti (mud), suresh (fixer) and gond (glue) using water. To the design made with the paste, a leaf of gold or silver foil was applied. The foil was sold in the form of a book where one foil was separated from the other by a sheet of tissue paper in the same manner as mithai (sweet) shops or pan shops use the vark (silver paper) today This type of work was known as nik-ka-kam. Baden Powell mentions muslin printed in gold by Anand Ram of Lahore. Sir George Watt also mentions an award won at the 1903 exhibition for a pair of curtains. Quality of gold printing was good as it fetched awards. Sadly today we associate this craft only with Rajasthan or Gujarat.
Gota work is another casualty. It has always been popular and was part and parcel of our culture. Even today in every wedding it holds an important place in wrapping wedding gifts, edging for cloth to wrap the bridal trousseau. Gota kinari consisted of metallic (gold or silver) thread mainly badla and battan woven into ribbon This was made on tiny looms and the narrowest gota was made with 5 or 7 strands of gold thread. This type of gota is called dhanak. It had to have a silk edge to hold the ribbon together. There were different types of gota - dhanak, kinari, thappa, sinjaf, and dor. Rows of gota ribbons were used to make one border or pattern. The centres of production were Patiala, Ludhiana and Ambala. Today there is not much work done in traditional gota styles and gota patti work is more popular which really is from Rajasthan or Gujarat.
Death of Punjab's textile
Traditional Indian cotton varieties were valued for the cloth which was soft, durable and absorbent with excellent draping and colour holding qualities. Lot of cotton grown today is derived from American varieties, specifically grown to suit the high speed machine processing. Introduction of Bt cotton or GM cotton has lead to the ruin of the handloom industry as it is not suitable for handlooms. In early 20th century cotton was produced throughout Punjab and weavers were found in almost every village. In Lahore, Amritsar, Multan, Ludhiana and other towns almost every type of fabric was woven. Finer cotton weaving was done in Doaba, comprising of the districts of Hoshiarpur, Jalandhar and Kangra between the Satluj and Beas. Fabrics like khes, susi, lungi etc. were all woven in this region.
The British were successful in capturing a large portion of the Indian cotton textile market. And the competition of the Manchester cottons dealt a fatal blow to the local manufacturers. Indian cotton printing techniques which were instrumental in starting the printed cotton industry of Europe in the 17th century now converted to reverse trade. Our craftsmen were not able to compete with machine made fabrics of Manchester. Along with cotton industry the natural dyeing industry also suffered. Slowly but surely the natural dyes were replaced by synthetic dyes brought from Europe. With this the whole range of fabrics just died a natural death. There was a time when natural dyes like madder and indigo were widely used in Punjab. Khes dyed with these natural dyes have not lost their colour for over half a century. Natural processes of dyeing and printing is not practiced in the state today.
Lessons to be learnt
In some states like Andhra Pradesh there is a revival of indigo dyeing. Not only have they managed to revive the craft but have also created a niche market where designers are using their products. Gujarat has seen the revival of techniques like ajrak and pattola, where there were only few workers left who were practicing the craft. Maharashtra has been successful in revival of Paithani saris which has painstakingly complex process of weaving. Rajastan is preserving its textile traditions of block printing, bandani and laheria.
Are we preserving our heritage? The Punjab Archives based at Patiala are in shambles with no proper storage facility. Its importance to the rulers is evident from the unkempt appearance of this lovely heritage building which is being poorly maintained. The museums have very poor storage facilities. The display of textiles is done by unskilled workers who do not hesitate to put metallic thumb tacks or nails to hang textiles in a totally vertical position in bright light. Both can be harmful for the textiles. Museums abroad are tourist attractions and are the centre of cultural activity. What we do need is a comprehensive policy to conserve our textile heritage, which otherwise is in danger of being lost forever.
The writer is a textile researcher who has worked at the National Museum, New Delhi, and Musee d'art et d'histoire, Geneva


disappearing handlooms
In any handicraft mela today, Punjab's stall is probably the smallest with hardly any variety in crafts or hand-made textiles.
Even Phulkari, Bagh and Chope are poor in quality even though efforts are made, but without much innovation.
Durrie making craft is not lost. It has neither evolved in style nor in design.
Textiles like Kani weaving, tinsel printing, gota work, indigo and madder dyeing have now disappeared from the map of the state.
Even Kimkha'b fabric (a type of brocade) was woven at Nabha and Malerkotla but is virtually nonexistent now.
A colonial tapestry
J. Forbes Watson in his 1866 volume says that efforts were made in Glasgow and Manchester to manufacture sarees.
George C.M. Birdwoods' "The Industrial Arts of India" compiled in 1880 is another important contribution in this field.
In Indian needle work, the needle is pulled away from and not drawn to the operator. This is the opposite to what is followed in Europe.
In 1641 "Manchester cottons" an imitation of Indian cottons were made of wool.