Retail FDI: It's a challenge
With the opening up of multi-brand retail to FDI, farmers, manufactures and service providers are likely to face a win-win situation. So far, individuals and governments have failed to establish infrastructure, particularly for perishable farm products
Joginder Singh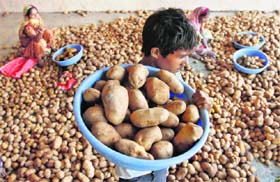 Forty per cent of fruits and vegetables and 10-15 per cent other food items go waste annually. A bumper crop results in a price crash, forcing farmers to dump potatoes on roads. Photo: Reuters
THE recent decision of the Central government to further liberalise foreign direct investment (FDI) in retail marketing and allow 51 per cent FDI in multi-brand retail, paving the way for the opening of mega stores in about 50 major cities of the country is under debate for its possible economic, political and social consequences. It appears that we lack inner strength and fear to get exploited in the process. Let us accept this opportunity as a challenge.
Apart from political whims, the prevailing production and marketing system, if altered, would certainly have implications on growth, economic disparities, employment and various social issues. For a common man (as a producer and a consumer), the ultimate concern is improving the economic efficiency in the marketing process so that quality products move in the system with minimum cost, at reasonable competitive prices and facilitating the establishment of appropriate market infrastructure.
Stagnation in farm growth
About two-third of the working force of the nation is still engaged in agriculture. Punjab and Haryana have only wheat, rice and cotton as the three major but natural resource exhaustive crops. Production has almost reached at the plateau. Marketing by value addition in these crops, to a large extent, is already done. Diversification of agriculture is widely recognised as a way out to break growth stagnation.
Alternatives suggested have highly perishable products such as fruits, vegetables, flowers, milk, fish and meat. But a long chain of market middlemen and their high profit margins, high wastage, spoilage and quality deterioration in the process due to unscientific and small-scale handling, transportation, storage, processing are the basic constraints, resulting in unremunerative prices to the farmers on one hand and high prices and poor quality produce delivered to the consumers on the other.
Over time the economic system has taken a U-turn. A consumer with high purchasing power cannot be forced to accept what is available in the market but he dictates as to what is to be produced to meet his pocket and taste. Therefore, the quality parameter, variety of processed and fresh products and market conveniences apart from price have assumed greater importance. The production system, therefore, has to cater to the specific demand aspects.
Strengthening of the market information system by a frequent assessment of market forces at the national and global levels should have broadened the market sphere of the country, where again we are lagging far behind. No doubt, a vast majority of the population is struggling at the poverty line but the number of the rich is not that small. If we are unable to improve our own house by catering to the requirements of all sections, what is the harm in engaging MNCs to meet the growing requirements of such consumers? It is strange that some people are worried over the failure of some existing chain stores.
Research and development has been another weak link being constrained by funding. An investment of $590 billion is expected, of which half has to be invested in the form of infrastructure like cold chains, processing, packing, grading etc which would help in organised marketing and technology.
Minimising waste
Wastage in small quantities aggregates to an intolerable figure of 40 per cent in perishables and 10-15 per cent in case of semi-perishable food items, which has to be minimised through scientific post-harvest operations. Direct purchases from farms through legal contracts would further shorten the channel. The charging of VAT on sales could also amount to no less than the mandi taxes foregone by the state government. A financial loss would definitely occur to preventable middlemen or cutting the size of those earning disproportionate to the services provided.
A fear of unemployment of petty traders is also not well placed as more value addition would generate more and systematic employment potential. The experience of some countries such as Australia, Thailand and the Philippines has demonstrated that with every such store, a large number of small ancillary production and trade units coexist and thrive well. Advocates of small farmers often lose sight of the fact that their economic future lies in getting organised even without such developments.
A similar controversy arose before our entry into the WTO in the early nineties and a lot of pessimism was injected in public mind. Now, we have already tasted the liberalisation of world trade and to a great extent acclimatised to the new economic order and now need to further strengthen it, for which infrastructural development with appropriate technology is an essential step. For instance, to boost exports, sanitary and phyto-sanitary and technical barriers of trade norms have to be maintained. But lacking suitable infrastructure, we have many times faced serious consequences of return of export consignments.
However, some defensive measures are also necessary. One safeguard essentially required is to effectively check the deviation of such investment from the agreed norms. For example, investment in real estate in India is a lucrative business at times, in which direct or indirect investment may lead to distortions in resource use.
The writer is a former Professor & Head, Department of Economics & Sociology, PAU, Ludhiana