Confusion over SC order
Punjab info commission working 'unofficially'
Chandigarh, October 2
While information commissions of various states have stopped working following an order of the Supreme Court, the Punjab State Information Commission (PSIC) is hearing cases and making suggestions, but not passing any orders. In short, it is working only "unofficially". The SC has recently pointed out that since information commissions were quasi-judicial bodies, these could not function without judges or legal experts on the panel.
L&T's plea to raise Rajpura project tariff declined
Chandigarh, October 2
The Punjab State Electricity Regulatory Commission (PSERC) has rejected the claim of L&T Power Development Limited for revision of capital cost, including tariff, and extension of time for executing the 1400 MW Rajpura thermal project.
Brussels killings: Husband suspects co-worker
Brussels, October 2
Indian Sikh Jasbir Singh, whose wife and three children were found murdered last Friday in Brussels, has accused one of his colleagues for the crime, the EuAsiaNews reported. The crime took place in the Brussels borough of Etterbeek. Jasbir, who worked in a cafe, has told reporters that one of his colleagues, reportedly from Bangladesh, acted suspiciously when he returned from holidays last year.
CM has no right to demand more powers for states: Congress
Chandigarh, October 2
The Punjab Congress today claimed that by allocating 26 of the 55 government portfolios to his family members, Chief Minister Parkash Singh Badal had forfeited the right to demand more powers for the states.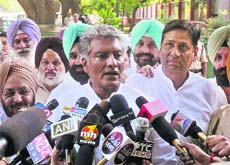 Congress seeks bonus on paddy
New Delhi, October 2
A delegation of Punjab Congress leaders, including MLAs and MPs, today met Congress president Sonia Gandhi to seek a bonus on paddy crop and a CBI inquiry into the alleged misuse of Central funds by the Punjab Government.



Congress Legislature Party leader Sunil Jakhar talks to mediapersons in New Delhi on Tuesday. A Tribune photograph

BJP rally jolts Congress out of slumber
Pathankot, October 2
The success of the BJP Yuva Morcha rally here on Sunday has not only jolted the Congress out of its slumber but has also curbed dissidence within the party rank and file. The success of the BJP Yuva Morcha rally, where former minister Vinod Khanna and his wife Kavita Khanna, a graduate from the London School of Economics, hogged the limelight, has made the Congress sit up
4 of family die in road mishap
Moga, October 2
Five persons, including a six-day-old girl, were killed in a road accident on the outskirts of the town on Tuesday night. Sources said eight members of a family were travelling on a 'Peter rehra' when a canter coming from the opposite direction hit their vehicle on the Kotkapura road at about 9.30 pm.
Held militant gives clues on 3 sleeper cells
Jalandhar October 2
The interrogation of militant Jaswant Singh Azad, who was nabbed yesterday, has given several leads to the police on the working of the terror network in the state. Azad is in police remand for a week.
Pension scam: Discrepancies found in 8,800 accounts
Moga, October 2
The multi-crore rupee pension scam detected in a recent survey spans around 8,800 old age pension accounts, including those of the dead, ineligible and missing persons, across Moga district.
Zardari's sister here on private visit
Amritsar, October 2
Pakistan President Asif Ali Zardari's sister Faryal Talpur crossed over to India via the Wagah border on a private visit today. Interacting with mediapersons, Talpur said: "The two countries have so much in common. They have a significant role to play in the Asian subcontinent."
Shagun Funds:VB told to submit report in a month
Amritsar, October 2
Raj Kumar Verka, Vice-Chairman of the National Commission for Scheduled Castes, has directed the Punjab Vigilance Bureau to submit an inquiry into the alleged embezzlement of Shagun Scheme funds within a month.
Fortified salt to boost mid-day meal scheme
Chandigarh, October 2
The Punjab Government has started issuing double fortified salt (containing both iron and iodine) to all schools providing mid-day meals to schoolchildren in the state. A recent health department survey had revealed that at least 21 per cent schoolchildren were anaemic.
Dismal returns worry cotton growers
Chandigarh, October 2
Cotton is no longer the "white gold" as farmers are getting much less prices for their produce. The area under cotton cultivation had already registered a decline this year.
Railways told to decide if train stops at Nakodar
Chandigarh, October 2
The Punjab and Haryana High Court has asked the Railway Board secretary to decide within two months whether a Delhi-bound super-fast train could change tracks for stopping at Nakodar junction.
Rs 74 cr for Virasat-e-Khalsa project
Chandigarh, October 2
Punjab Chief Minister Parkash Singh Badal today approved a budget of Rs 74.55 crore for the construction of phase II of Virasat-e-Khalsa project showcasing the glorious history of Sikhs.
Forum alleges favouritism in selection of teachers
Patiala, October 1
All India Equality Forum has accused former Director of Medical Education and Research (DRME), Punjab, Dr Jai Kishan of violating departmental rules in the direct selection and promotions of medical teachers during his tenure.
DRDO honour for UT's missile scientist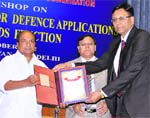 Chandigarh, October 2
Prateek Kishore, posted as a senior scientist at Terminal Ballistics Research Laboratory here, has been conferred the Defence Research and Development Organisation (DRDO) Scientist of the Year Award at a function in New Delhi.



Defence Minister AK Antony presents the award to Prateek Kishore (right) in New Delhi.

HC tells policemen to return 'overpayment'
Chandigarh, October 2
It's payback time for Punjab Police personnel deployed with the "Armed Forces of Punjab Police" (PAP) and the "Indian Reserve Battalion" (IRB). They will have to return "overpayments" made to them due to wrong pay fixation.



Liquor trader's son shot
Muktsar, October 2


A 24-year-old youth, son of a liquor trader, was found murdered, with two bullet injuries in the head and neck, in a Bolero near a private resort on the Kotkapura-Bathinda bypass road here late last night. The blood-soaked body of Sukhjinder Singh, alias Sunny, was found on the driver's seat of a Bolero. He was returning home after collecting cash from his liquor vends at Jhabelwali and other nearby villages
Sukhjinder
Betting racket busted, 6 held
Moga, October 2
The police today busted a cricket betting syndicate and arrested at least six persons. An illegal communication network being run on mobile phones with conferencing facilities has also been recovered along with 14 mobile phones, Rs 70,000 in cash and two television sets. The syndicate was involved in betting on the matches of the ongoing T-20 World Cup.