Leaking pipes to blame, says report
Chandigarh, October 8
A state Health Department report has said that a leakage in a sewer pipe that contaminated water supply near Patiala's Badungar Colony led to the outbreak of gastroenteritis in the area and subsequently the death of three persons.

Pak court allows Sarabjit to meet his lawyer in jail
Lahore, October 8
A Pakistani court today allowed Indian death row prisoner Sarabjit Singh to meet his lawyer in jail and rejected objections raised by authorities regarding such meetings.

Pak to declare Hasan Abdal a holy city: Bar Assn chief
New Delhi, October 8
The Pakistan Government has agreed to declare Hasan Abdal, where Gurdwara Punja Sahib is located, as a holy city for the Sikhs after a delegation of the All-India Bar Association visited Pakistan and met its Interior Minister A Rehman Malik last month.

SGPC yet to phase out high-altitude fireworks
Amritsar, October 8
After failing to work out a better alternative, the Shiromani Gurdwara Parbandhak Committee (SGPC) has decided to continue with high-altitude fireworks for celebrating Guru Ram Das Birth Anniversary and Bandi Chhod Diwas (Diwali) at the Golden Temple in a bid to minimise the threat of pollution to the holy shrine.

Rahul not to meet MLAs one-on-one
Chandigarh, October 8
In a reprieve for Punjab Pradesh Congress president Capt Amarinder Singh, Congress general secretary Rahul Gandhi's one- on-one interaction with legislators and senior leaders at Chandigarh has been dropped in favour of a formal interaction with former district and Pradesh Congress presidents.

SAD: Shinde's remarks unfortunate


Chandigarh October 8
Revenue Minister Bikram Singh Majithia today expressed pain over what he described asthe "ill-informed, ill-conceived and most unfortunate" statement of Union Home Minister Sushil Kumar Shinde on the " Peace Memorial for the 1984 tragedy being built in the Darbar Sahib complex in Amritsar."

Manpreet blames govt policies for financial mess
Sangrur, October 8
People's Party of Punjab (PPP) chief Manpreet Badal has alleged that wrong policies of the state government were to blame for Punjab's fiscal mess. He said on one side the state was criticising the Centre alleging "bias", on the other hand it was repeatedly seeking grants on one account or the other.






Faith on the move
Devotees carrying a palanquin during a procession on the eve of the birth anniversary of Guru Ramdass in Amritsar on Monday. Photo: Vishal Kumar
Arrested militant spills the beans, names 10 more British nationals
Jalandhar October 8
The Jalandhar police claims to have got several leads following a week-long interrogation of alleged militant Jaswant Singh Azad. His police remand was extended for two more days on Monday. Police sources said Azad spilled the beans on the terrorism network in the state and abroad.
High moisture content keeps paddy procurement sluggish
Patiala, October 8
Almost a week after the start of the paddy season, paddy procurement is yet to pick up pace following multiple reasons, ranging from strike by agency staffers to high moisture content. Government officials claim that all arrangements on their part were complete and they had only one condition for farmers — that is to bring their produce with minimum moisture.
Worried farmers take to streets in Rajpura
Patiala, October 8
Blaming the district authorities for the delay in paddy procurement in mandis, farmers under the banner of the BKU (Ekta-Sidhupur) blocked traffic on the Patiala-Rajpura Highway for about one-and-a-half-hour today.
Hero Group's SK Munjal to head PTU Board of Directors


Chandigarh, October 8
Hero Corporate Service Limited Chairman Sunil Kant Munjal has been appointed as chairman of the Board of Governors of Punjab Technical University, Jalandhar. The eminent industrialist's appointment comes after a controversy over the Punjab Government's move to appoint another industrialist, Chander Mohan, in the same capacity last month.
Property registration through power of attorney now till December 31
Amritsar, October 8 Revenue Minister Bikram Singh Majithia today announced an extension of two months for property registration on the basis of power of attorneys. The registry of sale or purchase of property through old power of attorneys can now be accomplished till December 31.
Hepatitis C cases on the rise in Muktsar
Muktsar, October 8
The number of patients suffering from Hepatitis C in the district is on the rise. Officials of the Health Department say that most of the those patients belong to poor families. At a medical camp at Jagat Singh Wala village, blood samples of 65 persons were collected and 23 were found infected by Hepatitis C.
24 hospitalised in Moga
Moga, October 8
As many as 24 patients, all migrant labourers, suffering from diarrhoea and gastroenteritis have been admitted to the district hospital. One of them has been referred to Guru Gobind Singh Medical College and Hospital, Faridkot.
Faridkot Abduction Case
Victim's parents to approach HC
Faridkot, October 8
The aggrieved parents of 15-year-old Shruti, who was abducted from her house here a fortnight ago, have decided to move the Punjab and Haryana High Court, seeking a CBI probe into the incident.





Women hold protest in Faridkot. A Tribune photo

Nabha Power Ltd told to sign fuel supply pact
Chandigarh, October 8
The Punjab State Electricity Regulatory Commission (PSERC) has directed Nabha Power Limited (NPL), Rajpura, to sign fuel supply agreement (FSA) with South Eastern Coalfields Limited (SECL).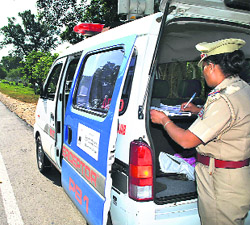 A policeman issues a challan for overspeeding on the Sangrur Road in Patiala on Monday. Tribune photo: Rajesh Sachar
Food samples of hotels fail quality test
Patiala, October 8
While Hotel Neemrana in Patiala has always been known for its grandeur and green surroundings, this time it is in the news for the wrong reasons. Samples of food products collected by the District Health and Family Welfare Department from the hotel in September have failed the quality test as a result of which the hotel might have to face action under the Food Safety Act - 2006.
Jail Supdt and his deputy suspended
Ludhiana, October 8
Following reports of negligence, Superintendent RK Loomba and Kamalpreet Cheema, Deputy Superintendent, Ludhiana Central Jail, have been suspended. Minister for Jails Swaran Singh Phillaur confirmed their suspension and said it was based on an inquiry report.



Can't throw riot victims on the road: SC
New Delhi, October 8
The Supreme Court today firmly told the Punjab Government that all those who were rendered homeless during the1984 anti-Sikh riots should be provided accommodation.



3 brothers land in jail for poppy trafficking
Bathinda, October 8
The counter-intelligence wing of the Bathinda police today nabbed an alleged narcotics smuggler whose two brothers were already behind bars for the same crime.