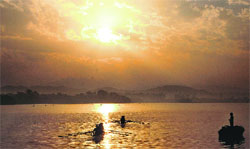 Boats silhouetted against the morning sky as Mother Nature conjours up a celestial pattern at the Sukhna Lake
on Monday. Tribune photo: Manoj Mahajan
Questions raised over police action
Chandigarh, October 8
Handling the case of four drunken teenagers in a local school has raised a question over the police action.
Tragic end to a love story
Panchkula, October 8
A young couple's love story had a tragic ending. The girl, 15-year-old Anju, a resident of Karnal, was killed for honour. She was hung on a tree in Morni after being strangulated.
Four Class XI students found drunk in school
Chandigarh, October 8
The UT police today rounded up four Class XI students of Gyan Deep Model High School, Sector 20, after they were found in an inebriated state in the classroom.



SPIC's role under scanner
Chandigarh, October 8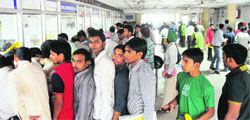 The role of the Society for Promotion of IT in Chandigarh (SPIC) in not providing timely technical support to the Registration and Licensing Authority (RLA) has come under scanner. Recently, applicants for registration certificate (RC) and driving licence (DL) have been questioning the indifferent attitude of the Chandigarh Administration in ensuring smooth functioning of the RLA.
A crowded RLA office at Sector 17, Chandigarh, on Monday. Tribune photo: S Chandan
Name of PCS officer cleared for UT Admn
Chandigarh, October 8
Finally, after the gap of more than two months, the UT Administration has finalised the name of one PCS officer, Amandeep Kaur, from the panel of 12 PCS officials.
Documents made on fake identities a matter of concern, says police
Mohali, October 8
Recovery of important documents, including PAN cards, voter cards, driving licenses and passports with fake identities from criminals is a matter of concern for the local police here.
6 underground reservoirs approved
Chandigarh, October 8 If all goes well as per the planning of the Municipal Corporation, their will be no problem of low-water pressure in the city next summer. The Chandigarh Administration today approved six under ground reservoirs (UGR) for different parts of the city, which will help in boosting the water pressure in those areas.
Deadlock continues between councillors, officials
Chandigarh, October 8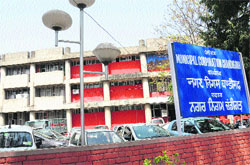 Municipal Corporation councillors and officials continued their deadlock due to recent spat in the general house meeting. A classic example of which is sanitation committee chairman HC Kalyan cancelling today's scheduled meeting without giving any tangible justification for it to the members. The meeting was to be held at 3 pm to discuss three important issues, but the councillors got a call at 11 am that the committee meeting had been cancelled.
Evaporation reason behind water loss in Sukhna: Study
Chandigarh, October 8
The Sukhna Lake suffered a loss of 300-hectare metre water (approximately) due to evaporation from October 1, last year, to June 28, this year.
Truck involved in mishap still parked on road
Zirakpur, October 8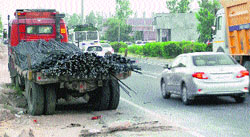 A truck, which was involved in an accident yesterday, is yet to be removed from the highway. The truck, which is loaded with iron rods, is parked partially on the highway, which hinders the smooth flow of traffic.


Truck loaded with iron rods parked on the highway at Zirakpur on Monday evening. Tribune Photo: Nitin Mittal
Encroachment continues unabated in parks
Chandigarh, October 8
Encroachment upon public parks of Municipal Corporation continues unabated in the city.



Road rollers and construction material dumped at a park in Sector 21; and (right) gravel lying at a park in Sector 22, Chandigarh, on Monday. Tribune photos: Pradeep Tewari
Raising Day celebrated
Chandigarh, October 8
The Regiment of Artillery celebrated its 185th Raising Day at Chandimandir Military Station here today. The day commemorates the birth of the first Indian artillery unit, the Bombay Battery, in 1827.
2-day theatre fest opens with Munshi Prem Chand's satire
Chandigarh, October 8
A two-day theatre festival on satirical plays opened with the play "Lottery" at Tagore Theatre, Sector 18, here today. Based on a story written by Munshi Prem Chand, the comic satire showcased how the attitude of the relatives towards each other changed when suddenly the family got a large amount or money.


Refund late fee charges, say law students
Chandigarh, October 8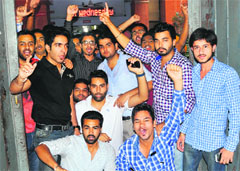 Demanding the refunding of the late fee charges to the newly admitted students, around 50 students of the Department of Laws, Panjab University, staged a protest in front of the department building here today.





Students protest at the entry to the law department at Panjab University in Chandigarh on Monday. Tribune photo: Pradeep Tewari
Students demand better facilities
Chandigarh, October 8
Around 500 students of the Chandigarh College of Engineering and Technology (CCET), Sector 26, staged a protest against the "incompetence and lack of willingness" of the authorities to provide adequate facilities to the students.



Wild growth around a basketball court; (1) debris outside the boundary wall adjacent to the entry gate; and (2) and students stage a protest at the Chandigarh College of Engineering and Technology in Sector 26, Chandigarh, on Monday. Tribune photos: Manoj Mahajan
Need to curb mobile phone misuse in schools, say teachers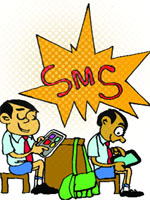 Chandigarh, October 8
With the advent of technology, the schools are trying their best to keep the students abreast by exposing them to computers and other technologies. However, the misuse of new technologies, of which mobile phones have emerged as the most contentious, is also raising many problems. Last month, during a special raid on the examination day at a school in Sector 8, the school authorities confiscated 45 mobile phones from the students. Schoolteachers informed that most of these phones were expensive, and many parents were not even aware of it or chose to ignore the issue.
PU gets ready for Rahul's visit on Oct 11
Chandigarh, October 8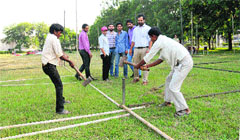 After his visit to the University of Kashmir in Srinagar, the Congress general general secretary, Rahul Gandhi, will be visiting Panjab University on October 11 to interact with students of PU and students from various parts of Punjab.

PU student leaders inspect the venue selected for Rahul Gandhi's visit near Gandhi Bhawan, Panjab University, in Chandigarh on Monday. Tribune photo: Pradeep Tewari
Children to raise funds for underprivileged
Chandigarh, October 8
Students of Firstep Montessori School and members of NGO Goonj gathered at Sector 17 to celebrate the "Joy of Giving Week". They created the city's first "Wish Tree" to raise funds for the underprivileged students. In this week, various collection drives will be conducted by the students to collect clothes, blankets, footwear, used books and notebooks from their neighbourhood.