Jwalamukhi block Congress president threatens to resign
Dharamsala, October 8
After Dehra, the Congress is facing dissidence in Jwalamukhi, where block Congress president Nardev Kanwar has threatened to resign along with his supporters in case the party does not reconsider the decision to allot the party ticket to Sanjay Rattan.
BJP misleading voters, says Cong candidate
Bilaspur, October 8
Bumber Thakur, former Congress state secretary and Congress candidate from the Bilaspur Sadar constituency, has declared that he will file his nomination papers on October 17. He has already started his election campaign for the past one month under which he has covered 34 panchayats of the area.
BJP under pressure to decide 12 candidates
Shimla, October 8
With the Congress releasing its complete list of 68 candidates, the Bharatiya Janata Party (BJP) is under pressure to take a final call on 12 candidates.
No comment on CD issue: Mankotia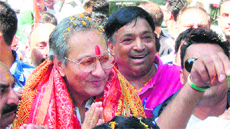 Dharamsala, October 8
Vijay Singh Mankotia, who recently rejoined the Congress, today arrived in Shahpur and started his campaign. He got a rousing welcome from his supporters. All Congress leaders from Shahpur except Kewal Singh Pathania, Himachal Pradesh Congress Committee (HPCC) delegate from the area, were present to welcome him.
Residents welcome Independent candidate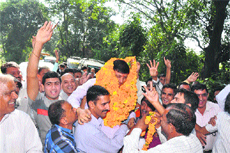 Hamirpur, October 8
Rajinder Rana, president of the Sarav Kalyankari Sabha, who is all set to contest as an Independent from the Sujanpur Assembly constituency got a warm reception on reaching here today.



Rajinder Rana being welcomed by people at Chauki in Hamirpur on Monday. A Tribune photograph

BJP leader to contest as Independent
Bilaspur, October 8
Rakesh Chopra, a prominent BJP leader and vice-president of Ghumarwin Nagar Parishad, near here, has declared that he will file his papers as an Independent from the Ghumarwin seat.
CPI-CPM rally exposes chinks in HLM
Mandi, October 8
Fissures have appeared in the Himachal Lokhit Morcha (HLM) ahead of poll as its constituents the CPI and the CPM today took out a procession in support of CPI candidate from Mandi Sadar Des Raj and CPM candidate from Balh Paras Ram.
2 women in fray from Solan
Solan, October 8
With Sheila Kumari bagging the BJP ticket for the Solan constituency, the total number of women candidates contesting in the district has reached two.
'No development in Dhumal's regime'
Hamirpur, October 8
Congress candidate for the Hamirpur constituency Narinder Thakur was welcomed by party workers from Ukhali to Hamirpur at different places on reaching here today. Thakur, who reached Hamirpur in a road show later, addressed a meeting here.
Shift BJP-affiliated officers,
Shimla, October 8
Not satisfied with the shifting of a Deputy Commissioner and a Superintendent of Police, HPCC chief Virbhadra Singh has urged Chief Election Commissioner (CEC) VS Sampath to remove all the officers having affiliation with the BJP who had been given choicest postings with an eye on the Assembly poll.
Complaint filed against BJP candidate
Solan, October 8
A complaint has been filed against BJP's Solan candidate Sheila Kumari by a villager, Rajkumar Chandel, where her Scheduled Caste (SC) status has been challenged. Chandel, a resident of Kaman village, has alleged that Sheila Kumari had changed her caste status from the earlier general category to SC to obtain undue benefits in education and politics.
CPI seeks support for Third Front
Sundernagar, October 8
The Communist Party of India (CPI) has said it will go to people of Himachal Pradesh and urge them to defeat both the BJP and the Congress in the forthcoming Assembly elections and give support to the Third Front.
Lecture-cum-workshop on power development
Shimla, October 8
Chief Secretary Sudripta Roy has underlined the need to develop hydropower resources in harmony with the environment to ensure their long term sustainability.
2 die in van-bus collision
Kangra, October 8
Two persons, including a woman, were killed when a van in which they were travelling collided with a private bus near Tanda today. The police said a van (HP39A 6304) was overtaking a vehicle on the Tanda-Rajiana road when a bus (HP68 6363) coming from the opposite direction collided with it leaving Sunita (25) of Ustherd village and Vinod Kumar (41) of Bharri village dead on the spot.