Abduction Case
Faridkot SSP, DIG shifted
Faridkot, October 11
Days after two senior police officers in Faridkot released photographs of 15-year-old Shruti who was abducted from her house here more than a fortnight ago, the state government today ordered the transfer of Deputy Inspector-General of Police (DIG) Paramraj Singh Umranangal and Senior superintendent of Police (SSP) GS Dhillon. Gurpreet Singh Toor is the new Faridkot SSP.
General Brar not aware of ground reality: Badal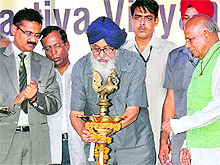 Jalandhar, October 11
Criticising the Congress for raising the bogey of terrorism, he said this was an old Congress ploy to divide people in the name of religion. Referring to the utterances of Lt Gen (retd) KS Brar on Operation Bluestar Memorial, the Chief Minister said that Brar was issuing statements without "being armed with adequate information on the ground realities in the state".

Chief Minister PS Badal (centre) inaugurates a science meet at Lovely Professional University, Jalandhar. A Tribune photograph

Sukhbir sanctions projects worth Rs 2,951 cr for Amritsar

Amritsar, October 11
Deputy Chief Minister Sukhbir Badal today announced projects worth Rs 2,951 crore which, he said, would change the face of the holy city in the next three years.

Deputy Chief Minister Sukhbir Badal (centre) meets Amritsar district officials. A Tribune photograph

2 more gastro deaths in Batala
Batala, October 11
Surinder Pal Singh and Gurdit Singh, both aged 45, died of gastroenteritis today, taking the death toll in the town to 13. The state government has ordered that 19 new tube wells are installed in the town on a priority basis.
BKU demands drought relief
Chandigarh, October 11
Punjab unit of Bhartiya Kisan Union (Rajewal) today staged a protest 'dharna' in Sector 15 against the Centre not giving drought relief to farmers of the state despite repeated assurance by party leaders.


BKU members raise their demands outside a Panjab University gate, on a day when the campus was visited by Congress general secretary Rahul Gandhi. Tribune photo: Manoj Mahajan

Soon, relief for Punjab marriage palace owners
Mohali, October 11
The state government is likely to reduce the composite charges for approving marriage palaces by about 50 per cent. Besides, some minor changes in the existing norms are also expected.
27 police officers transferred
Chandigarh, October 11
In a major shakeup in the police administration, the Punjab Government today transferred an Additional Director General of Police (ADGP), six Inspector General's of Police (IGPs), three Deputy Inspector General's of Police (DIGs) and six Senior Superintendents of Police (SSPs).
Healing touch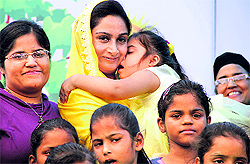 Bathinda MP Harsimrat Kaur Badal with differently abled children during a "Chetna rally" at the Unique Home in Jalandhar. The rally was organised by the Istri Akali Dal and Nanhi Chhaan, an NGO headed by the MP. A Tribune photograph

Murder convict claims he is a Babbar
Muktsar, October 11
Tension mounted in Mann village in the district when a murder convict, claiming himself an active member of the terror outfit Babbar Khalsa, announced at the village gurdwara that he would kill all members of 15 families who had "ruined" his life.
Patran doctor's kidnapping case leads police to foeticide scam
Patiala, October 11
Kidnapping of a Patran-based doctor who allegedly promised his clients safe abortion of female foetuses, by the relatives of a woman (carrying a foetus who was aborted and turned out to be a male) who was diagnosed as being pregnant with a female foetus, led the police to an organised foeticide and abortions racket spread across Punjab and Haryana.
Punjab remains power deficient
Patiala, October 11
Notwithstanding the repeated claims of the SAD-BJP government of making Punjab a power-surplus state, the agrarian state continues to reel under power deficit.
Girl set on fire in Ludhiana was 2 months pregnant
Ludhiana, October 11
The 17-year-old girl who was set on fire by a jilted lover in Shimla Colony in Jodhewal Basti area on October 6 was over two months pregnant.
Pak shepherd reunited with family
Abohar, October 11
The Border Security Force (BSF) finally handed over Dildar, 15-year-old shepherd boy, to Pakistan Rangers during a flag meeting at Prithvisar border outpost (BOP) last evening.
12-day regional SARAS fair kicks off in Patiala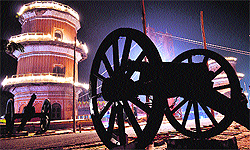 colour & gaiety:

The regional SARAS fair being organised by District Rural Development Agency, Patiala, under the aegis of Ministry of Rural Development, Government of India, began at Sheesh Mahal on Thursday. Artists from across the country have arrived in the city to exhibit their handicraft. Tribune photo: Rajesh Sachar

Now, 6-yr B.Tech course
Chandigarh, October 11
The Punjab Government has started a six-year B.Tech degree in Mansa. The eligibility for this course is matriculation. The course aims to provide professional education at a nominal fee to students from rural areas.
Bodies of 4 Indians killed in Belgium being brought home
Doraha, October 11
The bodies of Rajvir Kaur, wife of Jasvir Singh Jhajj, along with her three children Manraj (six years), Karman (four years) and Navjot (2.5 years), are being brought to India tonight. They were murdered 13 days back at their place in Belgium's capital Brussels. Jasvir's cousin Gurpal Singh, who stays in Belgium, has informed the family that the bodies will reach India tonight. "The bodies will reach their native village Buani tomorrow morning and cremated thereafter," he said.
Neena Tiwana honoured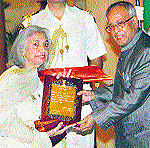 Patiala, October 11
Renowned film and theatre artist Neena Tiwana received the National Sangeet Natak Akademi award from President Pranab Mukherjee for her contribution to theatre at an award function organised at Rashtrapati Bhawan in New Delhi recently. Neena is the wife of noted theatre actor and director late Harpal Singh Tiwana.


Neena Tiwana with President Pranab Mukherjee.
Procurement on in Ropar
Ropar, October 11
Paddy procurement is on in the district. After the government procurement agencies and private millers ended their strike on October 6, a total of 16,432 tonne paddy was stated to have been procured in the districts till today.
Immoral trafficking
Seven-year jail term for two
Patiala, October 11
In a case of immoral trafficking, the Court of Special Judge (CBI), Patiala, Balbir Singh, has held Simran Kaur and Ajay Kumar of Moga guilty.