Chandigarh scan
NSS camp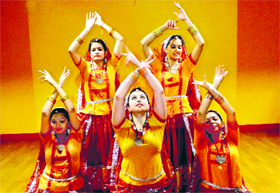 Students of the MCM DAV College for Women present an item during a cultural programme in Chandigarh on Monday. A tribune photograph
A week-long NSS camp, organised at MCM DAV College for Women, Chandigarh, concluded here on Monday. Chief guest Ashwini Kaul, NSS coordinator, Panjab University, praised the volunteers and encouraged them to keep up the enthusiasm regarding social issues. Kiran Jindal, NSS programme officer, presented a report on the week-long events held by the volunteers and highlighted their efforts. The function concluded with a colourful cultural programme. Awards for best NSS student, best campaigner for the camp and best social service were given to Marichika Joshi, Puneet Virk and Gursimran.
Appointment welcomed
Chandigarh Territorial Congress Committee has thanked AICC President Sonia Gandhi, Prime Minister Dr Manmohan Singh and Rahul Gandhi for reposing faith in Pawan Bansal and for promoting him as Union Minister for Railways. BB Bahl, Rampal Sharma, DD Jindal, Subhash Chawla, Pradeep Chhabra, Rajiv Moudgil, Gurpreet Gapi, Ajay Joshi, Parveen Duggal, Chanchal Chitranjan, Rajesh Sharma, Ashwani Kaushal, Surinder Mishra, Rakesh Garg, Vikram Chopra, Jatinder Dhami, Kamaljit Panchi and other senior leaders of Chandigarh Congress, Congress Councillors, appreciated dedication, hard work, honesty and performance of Pawan Bansal in duties already assigned to him.
Self-defence classes
A seven-day NSS camp ended at the Dev Samaj College for Women, Sector 45, here on Monday. Special self-defence classes were organised by Shiv Raj Gharti, who is a third degree black belt from USA and general secretary of the Chi Kwang Do Martial Art Association. The camp was specially organised for females.
Rally held
The second 'Assin yaad rakhange' rally was held on Monday in Sector 56, Chandigarh. Thousands of CHB/Rehabilitatio Colonies Residents came with their family members to attend the rally. The rally began with patriotic songs by Kishan Chaturvedi's famous Chandigarh Music Band. The speakers in the rally, who came from different political parties, gave expression to their suffering caused by the unending stream of notices send by the Chandigarh Housing Board authorities. The language of the notices is becoming more and more threatening, said the residents. They urged the political leaders to address the problem.
Annual day
Shishu Niketan Public School, Sector 43A, Chandigarh, celebrated its annual day 'Udaan-2012' here on Monday. As many as 600 students took part in the function. Students of both junior and senior wings showcased their talents in as many as 27 performances, including dance and acting. Arabian dance was performed in appropriate attire and songs were carefully chosen to provide a kaleidoscope of different cultures. The highlight of the function was a 'qawali' presentation by the students. Three plays were also staged. The chief guest was Upkar Singh, PCS, DPI (Schools). Shishu Niketan Public School's Director Principal S Khorana was also present. Principal Veena Arora, outlined the school's achievements while administrator of the school, Ashish Sharma, gave a vote of thanks.
Mohali Scan
International Internet Day
Aryans College of Engineering, Chandigarh, today celebrated International Internet Day on the college campus situated in Nepra-Thuha village, Chandigarh-Patiala Highway. A special talk on 'Past, Present and Future of Internet' was presented by the faculty members of the Aryans college. The students of BTech, MBA, BBA, BCA and BEd participated in the event. Speaking on the occasion, Dr Anshu Kataria, chairman of Aryans Group, said the journey of this era of easy communication wasn't exactly as simple as surfing information on Google. He said in 1969, when internet was known as ARPANET (Advanced Research Projects Agency Network), Charley Kline, under the supervision of Prof Leonard Kleinrock, transmitted the first-ever message on October 28, 1969.
Panchkula scan
Placement drive
As many as 14 students have been placed as software engineer and web developer with Unit Nexus Pvt Ltd during a joint campus placement drive. The drive was held for BTech and MCA students at E-Max Group of Institutions.