4 more deaths in Batala colony
Batala, October 29
Surrounded by sheer mayhem, 62-year-old Sardul Singh, with angst and agony writ large over his face, tries to make out what has hit him and his fellow residents of Gandhi Camp area from where four more suspected gastroenteritis deaths were reported today.
Hospitality industry reels under high taxes
Amritsar, October 29
Successive state governments have time and again promised to develop Amritsar as a major tourism hub. But, the current state of the city's hospitality industry, which is reeling under low occupancy and high taxes, shows that they have failed to keep their word.
Grief engulfs Barnala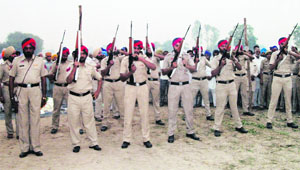 Barnala, October 29
A pall of gloom descended on Barnala as residents learnt about the shocking death of Akali leader Malkiat Singh Keetu who was seen as a "messiah" of weaker sections. He ran Mata Gulab Kaur Yaadgari Trust here which helped the poor during the marriages of their daughters.
Police pays last respects to Malkiat Singh Keetu in Moga's Bilaspur village. A Tribune photograph

Shruti's medical report may lead to fresh turmoil
Faridkot, October 29
Fresh complications have apparently emerged after the medical examination of Shruti Sachdeva who had allegedly eloped or was abducted by Nishan Singh. Sources with access to her medical report hint at the possibility that Shruti may be pregnant though doctors are unwilling to go on record on the issue. The Faridkot police, which refused to comment on the medical report, also remains indecisive whether or not to slap rape charges against the main accused, Nishan Singh.
Legal implications of a minor's pregnancy
Chandigarh, October 29
The possibility that Shruti's is pregnancy may not give birth to fresh troubles for Nishan Singh, after all. If Shruti stands by her man, the reported pregnancy will not make a material difference to the case, as her statement against Nishan Singh is obligatory to incriminate him in the case.



Festive colours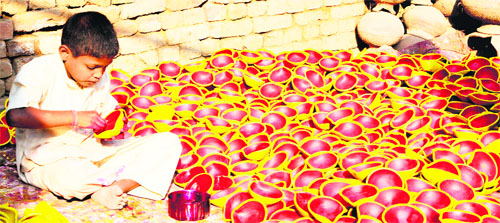 A boy paints earthen lamps ahead of Divali in Amritsar on Monday. The festival of lights will be celebrated on November 13. Photo: Vishal Kumar
Rahul's visit has galvanised party: Capt
Chandigarh, October 29
Punjab Pradesh Congress president Capt Amarinder Singh today said party general secretary Rahul Gandhi's visits to Punjab and increased representation to the state in the Union Cabinet had given a fillip to the party in the runup to the parliamentary poll.
Langah down, local Akalis look to Babbehali for leadership
Gurdaspur, October 29
With former Cabinet Minister Sucha Singh Langah caught in a morass of his own making (he is facing accusations of misuse of discretionary quota funds), middle-rung Akalis are looking to Gurdaspur legislator GS Babbehali to provide a strong leadership.
Scholarships for SC students lie unutilised
Chandigarh, October 29
Hundreds of Punjab students, mostly belonging to the reserved categories, have been denied benefits of various scholarship schemes. In 2011-12, scholarships worth over Rs 1.28 crore could not be used, official sources said. This did not include Rs 50 lakh under the post-matric stipend for the OBCs because the education department did not provide any utilization certificate for the amount under the head.


Praying for success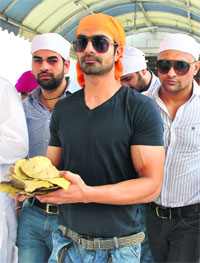 Bollywood actor Ashmit Patel offers prayers before the shooting of his new film "Dil Sada Lutiya Gaya" at Gurdwara Dukhniwaran Sahib in Patiala on Monday. — Tribune photo: Rajesh Sachar
Education staff forced to sit in unsafe building
Sangrur, October 29
Though the building housing the office of the District Education Officer (Elementary) was declared unsafe by the Public Works Department was back in 2004, employees concerned continue to work by risking their lives.
Vintage machines find 'pride of place'
Ferozepur, October 29
Three majestic machines, including a vintage rail locomotive, a narrow gauge coach and a British-era classic steam road roller, have been given "pride of place" on the Divisional Railway Manager's office premises here.
2 'babus' on dispute lane over fancy car number
Faridkot, October 29
Sporting a fancy registration number on their swanky cars has become an obsession with the Punjabis. Breaking past records during auctions to allot such numbers appears to have become a norm now. Participants at times end up shelling out an amount that even exceeds the price of their vehicle.
Cong leader to protest police inaction in rape attempt case
Muktsar, October 29
Subhash Lohakar, district in-charge of Backward Class cell of the Congress, has decided to lodge a protest outside the SP office at Fatehabad in Haryana over the alleged failure of the Tohana police to register a case of attempt to rape against three youths who on late Wednesday night attempted to sexually assault his daughter.
ECI's instructions too difficult to comply with: BLO officials
Ludhiana, October 29
The recent letter sent by the Election Commission of India (ECI) directing officials to send text messages through android phones to a given number is proving too big an obstacle to overcome for the officials. Majority of the Booth Level Officers (BLOs) did not have smart phones needed to use android software.
Canadian PM to visit Chandigarh next month
Chandigarh, October 26
Canadian Prime Minister Stephen Harper begins his seven-day official visit to India from November 3. Accompanied by both of his ministerial colleagues of Punjabi origin-Bal Gosal and Tim Uppal, he would also visit Chandigarh during his trip.
For teachers, no leave via phone or SMS: DGSE
Bathinda, October 29
Taking a strict view of teachers been found absent during surprise checking conducted in various government schools across the state, the Director General of School Education (DGSE) has issued orders disallowing teachers from taking leave over the phone or through SMS without sending a formal application.
90-kg man-eating fish caught in Sutlej
Nangal, October 29
After 17 years, a 90-kg goonch fish was caught from the Sutlej near Sra Pattan at Bunga Sahib here today. The last time a fish of this weight caught from the river was in 1995, said Bawandeep Singh Kohli, fishing contractor.
Families await word on their missing boys
Gidderbaha/Muktsar, October 29
Two families of Gidderbaha are still awaiting word on their boys who went missing more than two years ago.
100 schools in Fatehgarh Sahib sans furniture
Fatehgarh Sahib, October 29
More than one hundred primary schools out of the total 465 schools located in various parts of the district are functioning without any furniture.
Car owners overpaying for parking in Patiala
Patiala, October 29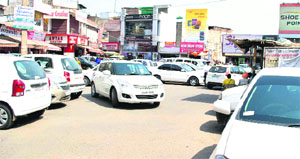 The parking contractor at the AC market has been charging people double the amount fixed for parking their vehicles in the area. What's more, if someone refused to pay up and parked their cars outside the parking area on the roadside, the parking staff punctured their vehicles.
Paid parking near Anardana Chowk in Patiala. Tribune photo
Sweets are no longer favourite Diwali gifts
Bathinda, October 29
This Diwali, people have found alternatives to sweets as gift. Since they are not sure that sweets they plan to gift to their near and dear ones would not be adulterated, they are looking for other alternatives. They are zeroing in on organic products, dry fruits and milk products.
Abohar may get another rly overbridge
Abohar, October 29
The joint inspection team of the Northern Railway and the PWD (B&R) has found the proposals for constructing another railway overbridge (RoB) and underpass technically viable.
7 people died in road accidents in last 8 days
Bathinda, October 29
The toll of fatal casualties increased to seven during the past eight days in Bathinda. While the number of fatal accidents is on the rise, there seems to be no effort initiated either by the district administration or the police to minimise their occurrence.
School board deputes 16 nodal officers
Mohali, October 29
In an effort to make its single window system more effective, the authorities at the Punjab School Education Board (PSEB) has decided to depute as many as 16 nodal officers to look after the problems of the people.