Ranike Case: Sarbhdyal in VB remand till Oct 26
Amritsar, October 23
With the 72-hour custodial interrogation of Sarbhdyal Singh, personal assistant to former minister Gulzar Singh Ranike, yielding little, a local court has extended his remand for another 72 hours as requested by the Vigilance Bureau (VB), Amritsar.
Heroin haul: Arrested porter names ASI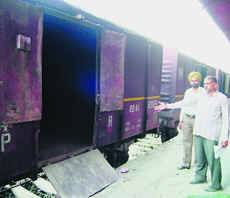 Amritsar, October 23
The Punjab Armed Police has dismissed an Assistant Sub-Inspector, Ranjit Singh, with immediate effect for his alleged involvement in the smuggling of heroin in rail cargo from Pakistan. The Directorate of Revenue Intelligence (DRI) is looking for the police official who is at large. The Assistant Sub-Inspector (ASI) was posted at a police post in the proximity of the rail cargo facility in Amritsar.
The wagon from where heroin was seized, which led to the arrest of porter Puran Chand on Saturday. A Tribune file photo

NRI conclave: Sukhbir reviews arrangements
Chandigarh, October 23
Punjab will organise a three-day NRI Conclave from January 3-5 next year in which the state government is expected to announce a comprehensive package for Punjabis residing abroad. Deputy Chief Minister Sukhbir Singh Badal and NRI Affairs Minister Bikram Singh Majithia today reviewed arrangements for the conclave.
Rs 35 lakh diamond robbery
There's a conspiracy to defame me, says IG
Ludhiana, October 23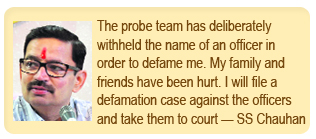 The city police's statement that the two policemen arrested for robbing diamonds worth Rs 35 lakh from an employee of a diamond trader were working in the office of the IG traffic (Punjab) snowballed into a controversy today. The IG traffic SS Chauhan conducted a press conference and claimed it was all a conspiracy to defame him.


Sukhbir to head urban amenities panel
Chandigarh, October 23


The Punjab Cabinet today approved the Punjab Municipal Outdoor Advertisement Policy: 2012. A spokesperson of the Chief Minister's office said the policy was primarily designed to ensure that outdoor advertisement did not pose a hazard to traffic. The sites meant for outdoor advertisement would be auctioned in a transparent manner. In a bid to streamline the administration, the Cabinet also gave its nod to the creation of 68 posts in the Directorate of Governance Reforms (DGR).
Punjabi varsity's forensics dept gets Rs 58.5 lakh grant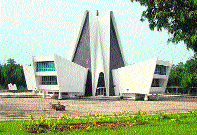 Patiala, October 23
Punjabi University's Department of Forensic Science, the first in the northern region to start with the academic programme of postgraduation and doctorate in the subject of forensic science, has got a grant of Rs 58.5 lakh under the UGC special assistance programme (DRS-1) for development of infrastructure, teaching and research facilities in the department in 2012.
Social activists insist on martyr Dhingra's memorial, hold protest
Amritsar, October 23
Various social organisations today came out against the state government decision of not constructing Martyr Madan Lal Dhingra's memorial at his ancestral house here and burnt the government's effigy to lodge their protest over the issue.
Tension grips village after dispute over gurdwara land
Guruharsahai, October 23
Tension prevailed in the area following a dispute over alleged demolition of a gurdwara situated in village Fatehgarh Gehri under Guruharsahai sub-division which was brought down by a section of the village community last week after shifting of the Guru Granth Sahib to another gurdwara.
Nasrali is Mandi Gobindgarh MC president
Mandi Gobindgarh, Oct 23
The election to the posts of president and vice-president of one of the richest municipal councils in Punjab ended here peacefully as SAD councillor Nambardar Harpal Singh and independent Mamta Jaluria were unanimously elected as president and vice-president.


Daughter raped by old-time friend
Bathinda, October 23
Jaswinder Singh of Bhagta village would leave his wife and three daughters under the care of his neighbour and long-time friend Mithu Singh,45, whenever he had to go out for work. Betraying his trust, Mithu Singh, along with six others, molested his 14-year-old daughter eight days ago.
Zira youth rapes cousin for months
Moga, October 23
A 20-year-old girl was allegedly raped for the past several months by her cousin on the pretext of marrying her in a remote village of Dharamkot sub-division of the district.
3 booked for locking education office staff
Fazilka, October 23
The police has booked three teachers for allegedly holding captive 10 employees of the District Education Office here by locking them inside a room yesterday. Among those booked are Ram Krishan Dhunkian, posted at Government Primary School in Salemshah village; Bhagwant Kumar Bhateja, president of Fazilka Government Teachers Union and posted at Government Primary School, Roherianwali village in Abohar and Parmjit Singh, posted at Government Primary School in Jhumianwali village.