Eight more arrested
Faridkot, October 17
Eight more persons were arrested in the Shruti abduction case today but but the the main accused, Nishan Singh, is still at large. The police is hopeful of tracing the kidnapped girl and arresting Nishan Singh in a couple of days, said Nirmal Singh Dhillon, Inspector-General of Police (1GP), Bathinda Range, while speaking to mediapersons this evening.
crisIs in Higher education
Barring toppers, majority of engg graduates working on paltry wages
Chandigarh, October 17
Jagtar Singh, a pass-out from one of the engineering colleges located on the city's periphery, is working as the head mechanic with a local car dealer. He is paid Rs 25,000 per month, a salary he could have managed with a simple diploma, he claims. He was picked for this job during campus placement.
Ranike Case
Banker among 2 more held
Amritsar, October 17
The Vigilance Bureau today arrested Mohit Sareen, an employee of the ICICI Bank, and Surjit Singh, sarpanch of Mianpur village, in connection with the Border Area Development Funds scam in which former minister Gurlzar Singh Ranike's personal assistant Sarabhdyal has been named the prime accused.
Brisk procurement of paddy by pvt traders
Chandigarh, October 17
Private participation in paddy procurement has increased substantially in Punjab this year. As against 5.61 per cent private purchase of paddy last year, the traders have purchased 13.12 per cent of the total paddy arrived in grain markets across the state so far this year.
New food policy on anvil, says Sukhbir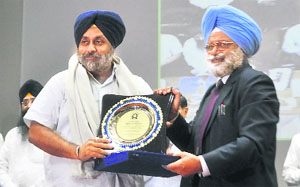 Ludhiana, October 17
Punjab Deputy Chief Minister Sukhbir Singh Badal today announced that the state would unveil a food and agro processing policy that would encourage investment in agro-processing industry.


BS Dhillon, Vice Chancellor, PAU, honouring Deputy Chief Minister Sukhbir Singh Badal in Ludhiana. Tribune photo: Himanshu Mahajan

Rahul to visit Jalandhar on October 19
Chandigarh, October 17
Congress general secretary Rahul Gandhi will be visiting Punjab on October 19 once again. This time he will be visiting Jalandhar where he is scheduled to meet councillors of various nagar councils, municipal corporation members and those of zila parishads and panchayat samitis. The aim is to have a "feel of the ground situation," said sources.
I-T surveys at Jalandhar hospitals
Jalandhar, October 17
Undisclosed income worth crores of rupees is likely to surface in a series of surveys conducted by Income-Tax (I-T) officials at eight leading business houses, doctors and jewellers of Jalandhar, Phagwara and Hoshiarpur today.
Milk price cut by processing units irks dairymen
Moga, October 17
The Punjab Progressive Dairy Farmers Association today protested against the milk processing industry of the state for reducing the purchase price of milk. The protesters spilled 5,000 litres of milk in a canal near a unit of Nestle.
State losing cotton and ginning units to Haryana
Chandigarh, October 17
The state is not only finding it difficult to attract investment in the textile sector but it is also not able to retain the existing units. A number of such units have shifted their base to other states, mainly Haryana.
Over 1,000 RMOs not paid wages
Patiala, October 17
Over 1,000 Rural Medical Officers working in rural dispensaries across the state have not received their salaries. The dispensaries fall under the jurisdiction of the Zila Parishad and since Zila Parishads do not have an earmarked budget for the salary of officers, it is disbursed from the "grant in aid" received by the respective parishad.
Punjab plans model jail farm in Nabha
Patiala, October 17
The state government has asked Punjab Jails Department to set up a state-of-the-art model agricultural farm in the open agriculture Sudhar Ghar, Nabha. State farmers would be allowed to visit the farm to check its profitability.
patran Abortion racket
Accused doctor still on the run
Patiala, October 17
It has come to light that hundreds of couples got prenatal determination test done and thereafter an abortion. The police found this out in its initial probe in the Patran abortion racket spread across Punjab and Haryana.
Patiala man dies of swine flu
Patiala, October 17
Patiala resident Jasveer Singh (58) died of swine flu on Tuesday. Epidemiologist Gurmeet Singh confirmed the death.
Rs 1 lakh relief to mishap victim
No funds, claims Sangrur MC, High Court not convinced
Chandigarh, October 17
Incredible, but true! The Sangrur Municipal Council moved the Punjab and Haryana High Court claiming it does not have Rs 1 lakh for compensating a resident who was left bedridden after being attacked by a bull.
Rs 45-cr heroin seized
Amritsar, October 17
In yet another seizure, Border Security Force (BSF) jawans today seized 9 kg of heroin worth Rs 45 crore, besides a carbine magazine of 7.56 mm caliber, 18 cartridges and a mobile phone from near Rajatal border post. Aditya Mishra, IG, BSF, said the jawans observed some suspicious movements near border post 109/04 in Rajatal. They found three Pakistani nationals had inserted a plastic pipe through the electrified barbed fence to push in the contraband and arms.
BSF officials show the seized contraband in Amristar. Photo: Vishal Kumar
Two Mohali firms booked for immigration fraud
Mohali, October 17
Two immigration companies have reportedly duped people of nearly Rs 50 lakh on the pretext of sending them abroad.