Crisis in Higher education
Imbalance in demand, supply to blame
Chandigarh, October 16
A final year student of a mechanical engineering in the city's periphery boasts of being the brain behind a car engine. He says: "This engine was made by me. Insert the and rotate it and the engine will start running." Embarrassed at this simplistic explanation, a young lad steps out of the crowd and attempts to give a description of the vehicle model, which is even more pathetic.
Govt asks PGI to study extent of drug abuse
Chandigarh, October 16
Following the uproar over Congress general secretary Rahul Gandhi's statement that seven out of 10 youths in Punjab were addicted to drugs, the Punjab Government has approached the Post-Graduate Institute of Medical Education and Research (PGIMER) here to conduct a collaborative research on the subject.
Don't trivialise issue, Capt tells Sukhbir


Chandigarh, October 16
Punjab Pradesh Congress Committee president Capt Amarinder Singh today asked Chief Minister Parkash Singh Badal and Deputy Chief Minister Sukhbir Badal to treat the issue of drug addiction with the seriousness it deserved and not trivialise it. "Better behave and act responsibly and don't make a joke of such a serious problem. Running away from the problem and denying it does not make the problem vanish," he said.
Farm sector, industry to benefit from booming bilateral trade
Amritsar, October 16
With Pakistan likely to "substantially increase" the number of items in its import list for the Attari-Wagah land route by the month-end, the trading community here is expecting a boom in the bilateral trade, benefitting Punjab, particularly Amritsar.
Better drainage system must to save soil: Expert
New Delhi, October 16
More than a change in the crop pattern, as suggested by leading agricultural scientists, Punjab and Haryana could be better off with modern water management techniques and an effective drainage system to save the soil reeling under the onslaught of fertilisers and groundwater overuse, says a top scientist from the Borlaugh Global Rust Initiative (BGRI).
Agencies fail to lift cotton, farmers protest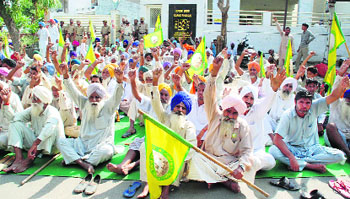 Bathinda, October 16
The Bhartiya Kisan Union (Ekta-Ugraha) today gheraoed the regional office of the Cotton Corporation of India (CCI), situated at Kamla Nehru Colony here, for over four hours. The members of the union demanded immediate start of procurement of cotton crop lying in grain markets of Bathinda and adjoining districts.
Farmers at a dharna outside the Cotton Corporation of India office in Bathinda. Tribune photo: Pawan Sharma

Cancer cases on the rise: Govt survey
Chandigarh, October 16
Cancer cases are on the rise in the state. This has come to light following a door-to-door survey conducted in Faridkot district by the Health Department. "However, the situation is not that alarming as being projected by certain quarters," said Dr Piyara Lal, incharge of the cancer survey project.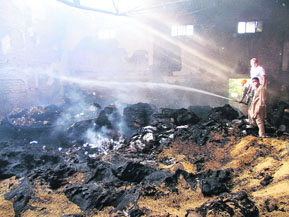 Goods worth Rs 40 lakh gutted in godown fire
Khanna, October 16
Commodities worth Rs 40 lakh were destroyed in a major fire that broke out in a Punsup godown at Industrial Area, Khanna, in the wee hours today. No loss of life, however, was reported in the incident. Fire fighting vehicles took over five hours to control the fire that started at about 2 am and could be controlled only at 7 am.
Firefighters try to douse the fire in Khanna. A Tribune photograph

Police turn a blind eye to eve-teasers at SARAS Mela
Patiala, October 16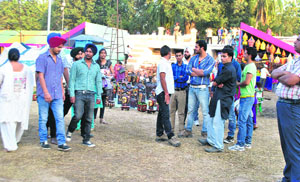 Many incidents of eve-teasing have been reported at the Sale of Articles of Rural Artisan's Society (SARAS) Mela in progress at the Sheesh Mahal despite the heavy presence of police personnel, who are busy arranging the security of visiting VIPs. "I was chased by four youths yesterday afternoon and the police personnel on duty turned a blind eye towards it," said a local resident Pooja (name changed on request).
Youth at the SARAS Mela. Tribune photo: Rajesh Sachar
Badal orders probe into gastro deaths
Batala, October 16
Chief Minister Parkash Singh Badal has ordered a probe into the 20-odd gastroenteritis deaths in the Gandhi Camp area here. Raji P Shrivastava, Managing Director, Punjab State Health Systems Corporation, will conduct the inquiry. The Chief Minister day visited the affected area and the Batala Civil Hospital where some patients are recuperating.
Ban fails to check burning of stubble in Muktsar
Muktsar, October 16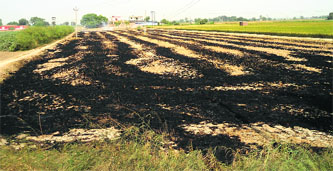 Despite a ban imposed by the Deputy Commissioner on the burning of paddy stubble, the illegal practice goes on unabated in the district. Smoke billowing from the paddy fields is a common sight. Besides causing environment pollution, it is a major health hazard. The situation is similar in Kotkapura, Bathinda, Malout, Abohar and Jalalabad.
A burnt paddy field in Jalalabad. A Tribune photograph
Minister dismisses Capt's claim
Patran (Patiala), October 16
Punjab Revenue and Rehabilitation Minister Bikramjit Singh Majithia today dismissed Punjab Pradesh Congress president Capt Amarinder Singh's claims that he received threat calls from Germany for speaking out against the Operation Bluestar Memorial.
Medical interns demand an increase in stipend
Patiala, October 16
The interns of Government Medical and Dental Colleges of Punjab today demanded an increase in their monthly stipend, which they said should be at par with that of its neighbouring states.


Notice to State on regularising services of 810 panchayat secys
Chandigarh, October 16
The Punjab and Haryana High Court today issued a notice of motion to the State of Punjab and other respondents on a petition alleging illegal regularisation of the services of 810 panchayat secretaries.


Arms licensing branch sealed in Amritsar, records seized
Amritsar, October 16
Following the unearthing of an arms licence racket by the Patiala police a couple of days back, the district administration today sealed the arms licence branch here and took possession of its official record.
Gangster gives police the slip
Barnala, October 16
Wanted gangster Gurmeet Singh alias Kala Mann (resident of Dhanaula) and two unidentified accomplices escaped from the clutches of the police at a naka that was laid to trap them.