GOVERNANCE 2007-2012: A PERFORMANCE CHECK-II
ROADS

Landslides, potholes choke lifelines
Kuldeep Chauhan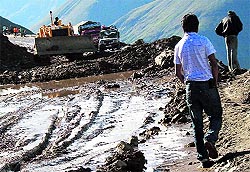 Muck being cleared on the Rohtang road in Manali, where tourist traffic jams are legendary.

Mandi: Highways and district roads are the lifeline in hills, but their condition today has shattered the apple and vegetable economy as well as tourism in the state.
The poor condition of roads and a few other factors have also increased road fatalities, making it a major election issue with farmers, hoteliers, and tour operators.
Farmers are the worst sufferers, as they cannot transport their produce to markets in time, causing them loss. The apple season particularly coincides with monsoon, and that is when the roads are at their worst.
"In 2010, more than 50 per cent of the fruit rotted in the orchards as link roads were broken," says Laxman Thakur, chairman of Ecohorts in Shimla district.
Long repair time
The damaged Ani-Khanag-Banjar-Aut road was opened to traffic after two months on October 1. Ani subdivision remained cut off from Kulu district for that period.
The Khanag landside has remained a trouble spot, as the PWD has neither raised retention walls nor constructed drains along the road. As a result, the entire area remains prone to landslides, threatening villagers downhill.
Bad roads have hit tourism particularly in Soja and Jhibhi valley, as the access through the 3,132 mt-high Jalori pass remained closed for two months due to the Khanag blockade, says a local camp operator, Sandeep Kanwar.
AR Thakur, president of the Manali Hoteliers Association, says: "We have no dedicated air or rail access, and roads are in a miserable condition. Traffic jams at Rani Nullah on the Rohtang road and between Swarghat and Bilaspur due to cement trucks have hit tourism badly in the Mandi-Kulu-Manali circuit, as high-spending tourists do not like to visit Manali."
Travellers remain stranded on highways for hours because of rolling boulders. Blocked nullahs spill dirt on to highways and nearby towns during monsoons, yet no party has ever made this an agenda.
Killer spots
Fatalities on the state's roads are on the rise as "black spots" and bottlenecks remain unaddressed. More than 40 people were killed near Kalkhar, Mandi, in an accident involving a private truck two years ago, and 10 lives were lost on the Shimla bypass last year. Thirteen people were killed in Kinnaur on October 11 on a road that had no crash barriers or parapet.
Regional Transport Officers (RTOs) and the traffic police rarely book overloaded oil-tankers and trucks carrying cement or clinker, and tractors without taillights.
In every 100 accidents on the roads in Himachal, 30 people are killed and another 150 injured, many of who suffer life-long handicaps. Congestion and bad roads have also led to instances of road rage, which lead to further accidents.
RTOs are known to issue fitness certificates to both operators and drivers without proper checking and tests — a survey of 500 cases found the vehicles unfit for use.
In 1999, as many as 693 people were killed and over 3,400 injured in 2,043 road accidents. The figure had gone up to 848 killed and 4,200 injured in 2,756 accidents in 2008. In the Kinnaur area, the national highway under the Border Roads Organisation is also in a bad condition.
False slogan
The BJP's slogan of the 2007 elections, "Raaj badlo, halaat badlo", today sounds hollow as far as roads are concerned. The bitumen and tar scams and use of substandard materials in building roads, retaining walls, drains and parapets have made people impatient, even as the PWD has of late become active. It is putting up crash barriers and signboards and making white markings on the roads in accident-prone areas. CCTV cameras are being installed to check traffic offenders on highways. However, overloading, which is also responsible for undue road wear and tear, continues unchecked.
Blame game
Even as crores spent on certain trouble spots have gone waste due to inappropriate execution of work, the ruling BJP and the opposition Congress continue to blame each other. Chief Minister PK Dhumal has accused the UPA at the Centre for not releasing funds for national highways. On the other hand, state Congress president and former Chief Minister Virbhadra Singh blames the present regime for the poor condition of roads, saying the Dhumal government has "done nothing to improve roads in the five years".