Tribune Special
INDIA-CHINA WAR 50 years later Part 3
No foresight, no planning saw defeat
Due to ideological, short-sighted and emotional reasons Chinese threats were either not accepted or under-played till Parliament and public opinion forced the government to adopt a military posture against China
General V P Malik (retd)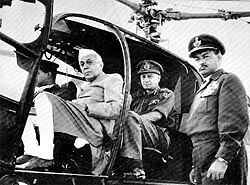 Jawaharlal Nehru with senior military officers during a visit to the northeastern sector during the hostilities

The India-China war in 1962 was independent India's most traumatic and worst-ever security failure. The war has left an indelible impression on our history and psyche which impacts India-China bilateral relations. The resultant geographic surgery continues to fester in the form of the Line of Actual Control (LAC) till date. This October marks its 50th anniversary. It is an appropriate occasion to reflect on the strategic lessons from the war and our current politico-military status vis-a-vis China.
Its seeds were sown when China incorporated the de-facto independent Tibet into its sovereign territory. In October 1950, the Peoples' Liberation Army (PLA) vanquished a feeble Tibetan opposition in the Battle of Chamdo and thus put an end to all ongoing diplomatic negotiations on the status of Tibet. Five years later, China started the construction of the 179-km long western Tibet-Sinkiang road passing through Aksai Chin, part of J&K and claimed by India. The Government of India took two and a half years to confirm this information. It was disclosed to Parliament after another one year, on August 31, 1959. Pandit Nehru's remark that 'not a blade of grass grows there' did not cut ice with the much agitated Opposition in Parliament. The India-China dispute over the undemarcated border came out in the open.
In March, 1959, the Dalai Lama fled from Tibet and took shelter in India. China suspected that India was helping the Khampa rebellion and had assisted the Dalai Lama to escape to India. The disputed border and hardening of attitudes on both sides led to skirmishes on several border posts. The Government of India adopted a strategically flawed 'Forward Policy' of erecting isolated check posts on the border without improving infrastructure or the armed forces' capabilities.
China's grand strategy
According to a de-classified Pentagon historical study paper on the Sino-India border dispute, 'Developments between late 1950 and late 1959 were marked by Chinese military superiority, which, combined with cunning and diplomatic deceit, contributed to New Delhi's reluctance to change its policy toward the Beijing regime for nine years'. The study records that 'the Chinese diplomatic effort was a five-year masterpiece of guile, planned and executed in a large part by Zhou Enlai. The Chinese Premier deceived Nehru several times about Chinese maps and carefully concealed Beijing's long-range intentions.' He played on 'Nehru's Asian, anti-imperialist mental attitude, his proclivity to temporize, and his sincere desire for an amicable Sino-Indian relationship' and strung along Nehru by creating an impression through an equivocal language that:
(a) it was a minor border dispute
(b) Beijing would accept the McMahon Line, and
(c) the old Kuomintang period Chinese maps would soon be revised.
The study concludes that 'In the context of the immediate situation on the border where Chinese troops had occupied the Aksai Plain in Ladakh, this was not an answer but rather an implicit affirmation that India did not have the military capability to dislodge the Chinese'.
Many researchers have pointed out that the then raging Sino–Soviet ideological war also played a role in the Chinese decision-making leading to the Sino-Indian 1962 war. Chinese leaders were also concerned that the US might use a Sino-Indian war situation to unleash Taiwan against the Mainland. It has now been revealed that China used diplomatic subterfuge and obtained reassurances on both these issues before initiating the border war with India.
India's security policy
When China occupied Tibet, Sardar Patel had warned Nehru on its security implications for India in a letter written on November 7, 1950. (Contents of this letter were kept secret by the Government for 18 years!) Despite that advice, Nehru continued to support China's political position and declared publicly that Tibet should be handled only by the parties concerned i.e. Beijing and Lhasa. The Indian delegation in the United Nations blocked a proposal to censure China when the Chinese forces were on their way to Lhasa. India allowed Chinese food material for its troops located near Yatung to go through Calcutta and Gangtok. Later, the Government agreed to withdraw its military-cum-diplomatic missions in Tibet without any fuss.
In the decade preceding 1962, the Indian ruling elite was convinced that having woven China into the Panchsheel Agreement, it had managed to craft a sound China policy. The Government was neither alert to the Chinese military developments in Tibet nor to the construction of the Tibet-Sinkiang road. Even after 1959, when China displayed its aggressive designs, Indian leaders were profoundly affected by the remoteness and difficulties of Aksai Chin and Tibetan terrain.
Evidently, India did not display any strategic foresight or planning. Due to ideological, short-sighted and emotional reasons, the Chinese geo-strategic challenges and threats were either not accepted or under-played till Parliament and public opinion forced the Government to adopt a military posture against China for which it was never prepared. In September 1962, Prime Minister Nehru ordered the Indian military to throw the Chinese out from the intruded Indian territory -- a task that was well beyond its capability.
China's military tactics
Towards the end of 1961, Mao convened a meeting of China's Central Military Commission and took personal charge of the 'struggle with India'. Mao asserted that the objective was not a local victory but to inflict a defeat so that India might be 'knocked back to the negotiating table'. By September 1962, China was fully prepared (this is evident from the video recordings of that war released by China recently) and warned that if India 'played with fire; it would be consumed by fire'. On September 8, 1962, 800 Chinese soldiers surrounded the Indian post at Dhola. Neither side opened fire for 12 days. The dice was cast for a showdown. China had conveyed its intention. India thought that it was bluffing.
On October 6, 1962, Mao issued a directive to his Chief of Staff, Lou Ruiquing, laying down the broad strategy for the projected offensive. The Chinese military knew that the Indian Army's main defences in the East lay at Se La and Bomdi La. The concept of operations was to advance along different routes, encircle these two positions and then reduce them. Indian positions were split into numerous segments and then destroyed piecemeal. Chinese troops' long outflanking of Indian defences, river crossing and simultaneous road construction activity indicated detailed operational planning and preparedness. The speed and ferocity of the attacks unhinged Indian defences and pulverised the command. This resulted in panic, often contradictory decisions, and a military route in the East. On account of better leadership, particularly at the tactical level, our units performed much better in Ladakh. The Cabinet decision not to use combat air power was yet another unforgivable error of judgement.
Beijing justified the invasion as a 'defensive act'. In the current military parlance, they call it 'active defence' strategy. It must be noted that China, involved in maximum number of military conflicts in Asia, has always carried out military pre-emption in the name of strategically 'defensive act' with no forewarning: Tibet invasion, entry into Korean war, the 1962 conflict with India, the border conflict with the Soviet Union in 1969 and the attack on Vietnam in 1979.
Civil-military relations
The Indian debacle was more due to failure of its grand and military strategy and military preparedness than at the tactical level. Throughout the 1950s, the Indian government had paid scant attention to its armed forces. In May 1957, strength of the Indian Army was 450,000. The government contemplated downsizing it to 150,000 and converting the rest into Labour Corps. General Shrinagesh, then Army Chief, wrote in his diary later, 'He (Nehru) agreed that Pakistan was making military alliances, had been contemplating rearming with modern weapons, and had by no means forgotten Kashmir. But when it came to China, it drew a firm "No" because the Chinese were our trusted friends; and we (army commanders) were foolish, hot headed, and needlessly belligerent. Unfortunately, perhaps, China had not yet built the Aksai Chin Road. We came away with the agreement to a 300,000 force, less than what we had contemplated, but still a force and a military one — not a Labour Corps!"
Prior to the war, there was a steep erosion of every aspect of India's military capabilities: civil-military relations, military leadership and morale, force levels and armaments. This neglect led to a steady deterioration of their fighting capacity and skills. Like any other rot within, these remained hidden till they were brutally exposed by the war. This period also saw Nehru's disdain and Krishna Menon's acerbic wit and rude behaviour with senior military leadership. There were several incidents indicating poor civil-military relations at the highest level, such as Thimaya's retracted resignation, 15 Corps Commander Lt Gen SD Verma's disagreement over Nehru's misleading statement in Parliament on the situation in Ladakh leading to his supersession and resignation. Political favouritism had allowed Kaul's elevation, direct access to Nehru, and his arrogant behaviour amongst senior officers. These events sent the message down the line that one could stand up only at one's own peril. It affected the military leadership and performance in the field. Are we seeing a similar dissonance in civil-military relations today?
A major cause for the fragility of India's politico-military relationship since Independence has been that instead of maintaining 'political control', it practises a unique system of 'bureaucratic control' over the military. The rules of business of the Government of India lay down that the Defence Secretary is responsible "for the defence of India and every part thereof including preparation for defence… and for the Armed Forces of India, namely Army, Navy and Air Force". There is no mention of the role of Service Chiefs! In 1962, a Joint Secretary verbally conveyed government orders to General Thapar, the then Army Chief, to evict the Chinese from the intruded territory. He asked for this in writing because he had not been in the decision-making loop.
A major reason for our debacle in 1962 was the isolation of the military from decision-making. Unfortunately, such a state continues. With bureaucracy ensconced in-between, there is hardly any discourse between political and military leaders on geo-political and security-related environment, defence planning and service conditions of the armed forces.
The writer is a former Chief of Army Staff