washington WHISPERS
Indian Americans back President Obama
Ashish Kumar Sen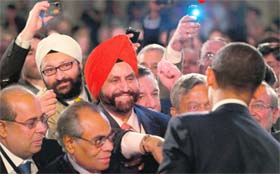 Eighty-eight percent Indian Americans have a favourable opinion of President Obama
A timely study conducted by the National Asian American Survey finds that Indian Americans overwhelmingly support U.S. President Barack Obama and his Democratic Party over challenger Mitt Romney and his Republican Party.
Indian Americans showed the strongest support (68 percent) for Obama among the Asian American and Pacific Islander ethnic groups surveyed. Only 5 percent said they would vote for Romney, a former governor of Massachusetts; and 25 percent said they had not made up their mind.
Indian Americans also had a higher opinion of Obama than the national average: 88 percent had a favourable opinion of the President, while 30 percent thought highly of Romney. The U.S. average is 51 percent in favour of Obama and 45 percent Romney.
An overwhelming majority of Indian Americans (58 percent) also said they support or lean towards the Democratic Party over the Republican Party. In the group, only Filipino and Vietnamese Americans more strongly identified with the Republican Party.
These numbers come as no surprise. A Pew Research Centre study in June found that 65 percent of Indian Americans surveyed support or lean toward the Democratic Party, while 18 identified as Republicans.
Indian Americans, especially those from the second generation, are now peppered across America's political firmament. Ironically, some of the most high-profile Indian Americans in office are Republicans -- Bobby Jindal and Nikki Haley, who are the governors of Louisiana and South Carolina respectively.
Asian Americans are the highest-income, best-educated and fastest-growing racial group in the United States. "Between 2000 and 2010, the Asian American population grew faster than any other racial group, at a rate of 46 percent. They are also an important and growing political constituency, as 600,000 new Asian American voters entered the electorate in 2008 and a similar number is expected to do so in 2012," according to the National Asian American Survey report.
Neither Obama nor Romney can afford to ignore the more than 2 million-strong Indian American community. Indian Americans constitute a greater share of the "battleground state" population than their national population shares, according to the survey. The survey identified these battleground states as Ohio, Virginia, Florida, New Hampshire, Iowa, Colorado, Wisconsin, Michigan, Pennsylvania, Missouri, Nevada, and North Carolina.
The data was based on a telephone survey of 3,034 adults in the U.S. who identify as Asian American. The interviews were conducted between July 31 and September 19.
November 6 is the Election Day.
Hate crimes against Sikhs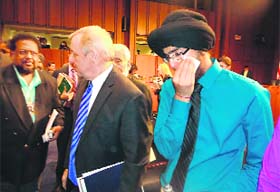 The Wisconsin gurdwara attack has left Sikhs in a state of shock
Al Qaida's attacks on the United States of America on September 11, 2001, marked a turning point in the lives of Sikhs in America.
Most Americans were unable to distinguish between Sikhs and al Qaida leader Osama bin Laden, whose turbaned and bearded image was emblazoned across TV screens, newspapers and magazines in the aftermath of the attacks.
Sikh Americans have faced a vicious, and at times deadly, backlash as a consequence. The most recent incident took place on August 5, and involved Wade Michael Page, a 40-year-old U.S. Army veteran and white supremacist. Page went on a shooting spree at a gurdwara in the Milwaukee, Wisconsin, suburb of Oak Tree killing six Sikh worshippers, including the gurdwara's president.
There has also been a sharp increase in other forms of discrimination such as schoolyard bullying and workplace discrimination. However, the FBI does not track hate crimes against the Sikh community, citing its small size.
On Capitol Hill, Democratic Congressman Joe Crowley of New York has championed an effort to press the FBI to document hate crimes against Sikhs. Crowley was the lead author of a letter to the FBI on this matter and last month introduced legislation that, among other things, condemned attacks against Sikhs and once again pressed the FBI.
"We must take greater strides in working to prevent crimes against Sikhs. That includes documenting hate crimes against Sikhs, something which had not happened in the past," Crowley said.
So far, the FBI's position is unchanged. Crowley intends to persevere.
Time's up
India's two years as a non-permanent member of the United Nations Security Council come to a close at the end of the year. On October 18, the U.N. General Assembly will elect five new non-permanent members to the Security Council. The new members will take up their seats on January 1, 2013, and will serve until December 31, 2014.
Besides India, South Africa, Colombia, Germany and Portugal will also depart the council.
Rwanda, Bhutan, Cambodia, South Korea, Argentina, Australia, Finland and Luxembourg are vying to fill the soon-to-be-vacated seats. The contest for Asia's one seat will be between three candidates.
India has been seeking a permanent seat on a reformed Security Council. On a visit to India in 2010, U.S. President Barack Obama offered support for India's bid. China, one of five veto-wielding members on the council, is a likely obstacle to India's ambitions.
'Genius' economist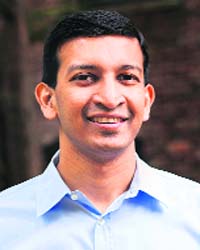 The Economist rated him among the world's top young economists. Now it's official. Raj Chetty has been awarded a $500,000 "genius" grant from the MacArthur Foundation.
Chetty told the Harvard Crimson newspaper that he received the telephone call informing him of the news while having lunch with his mother in downtown Boston.
Chetty's work focuses on issues ranging from how sales tax affects shoppers' behaviour to teacher effectiveness. In a study on teacher quality, Chetty and his colleagues found that students who were assigned to talented teachers in elementary school had significantly higher incomes as adults and better future life outcomes.
Chetty is an economist whose "rigorous theoretical and empirical studies are informing the design of effective government policy," the MacArthur Foundation says of the 33-year-old who is a professor in the Department of Economics at Harvard University.