21 held for illegal mining in Moga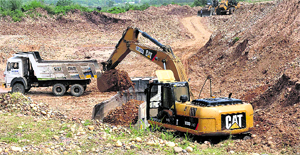 Moga, October 18
In a crackdown on sand mafia, the police has arrested 21 persons and seized 18 loaded trucks and three trailers in the last 24 hours in separate raids in the district.

Excavated from the Sutlej basin in Ferozepur, the sand was being transported through Moga district
Ranike Case
Fake accounts in name of sports clubs uncovered
Amritsar, October 18
The Vigilance Bureau today arrested Major Singh of Dhand village, Kulwant Singh of Kasel village, Darshan Singh of Lahori Mal village, Harjit Singh of Gumanpura and Narvail Singh of Khairdeenke in connection with the embezzlement of government grants released under the Border Area Development (BADF) and the Rural Area Development Funds (RADF).
Woman delivers stillborn, kin allege staff negligence
Moga, October 18
A woman hailing from the Dalit community gave birth to a stillborn after she was allegedly not attended upon by doctors at the Government Hospital in Baghapurana yesterday.
Omaxe investors cry foul
Ludhiana, October 18
Investors from across the state are at loggerheads with leading real estate developer Omaxe Limited after the company allegedly failed to fulfil its promises when the showroom space was offered for sale in the shopping mall in Ludhiana.
Business houses surrender Rs 13 cr
Jalandhar, October 18
Owners of eight hospitals, jewellers and other businessmen have surrendered undisclosed cash amounting to Rs 13.46 crore before the Income Tax Department.

'Biggest' such surrender of money in recent past
Now Inspectors to investigate Vigilance cases
Chandigarh, October 18
The Punjab Government has authorised Inspectors to handle Vigilance cases in the state. An official notification has been issued in this regard. Under the Prevention of Corruption Act, 1988, no official below the rank of Deputy Superintendent of Police (DSP) has the authority to investigate a Vigilance case.
66% homes in Doaba, Majha affected by drug menace
Chandigarh, October 18
Even as the Akalis spar with the Congress on the extent of drug menace in the state, the Directorate of Social Security has found one drug addict in 66 per cent of the households surveyed in the Doaba and Majha regions.
crisIs in Higher education
Agency to rate functioning of pvt engg colleges
Chandigarh, October 18
To ensure quality teaching in private engineering colleges, the government has decided to engage an agency specilalising in evaluation besides appointing representatives from Punjab Technical University, Jalandhar, for the task.
School staff clash with management, one hurt
Zira, October 18
A driver was injured in a clash between senior management functionaries and other staff members of Adarsh School in Hardasa village in Zira subdivision of Ferozepur district here.
Unpaid Power Corp staff strike work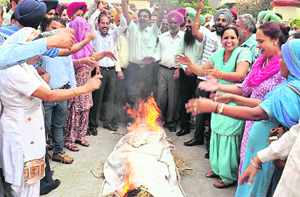 Patiala, October 18
With Punjab Power Corporation not accepting their long pending demands, thousands of non-gazetted employees of the Punjab State Power Corporation Limited (PSPCL) and Punjab State Transmission Corporation Limited (PSTCL) went on a day-long strike and staged protests in various districts of the state.
Employees protesting in Patiala. Tribune photo: Rajesh Sachar
Punjab won't construct Dhingra's memorial
Chandigarh, October 18 Punjab Government has declined to construct a memorial at the site of martyr Madan Lal Dhingra's house in Amritsar. As the PIL filed by advocate HC Arora came up for the resumed hearing before the Division Bench of Chief Justice Arjan Kumar Sikri and Justice Rakesh Kumar Jain; Joint Director, Department of Cultural Affairs, Navjot Pal Singh Randhawa, filed an affidavit.
Infanticide: HC chides police for shoddy probe
Chandigarh, October 18
Rapping the Punjab Police on the knuckles for "shoddy and faulty investigation" in a female infanticide case, the Punjab and Haryana High Court has minced no words to say that the police lacks fortitude to bring out the truth by scientific methods.