Clot in Monica's head could be 15 days old
Chandigarh, October 18
An analysis of the postmortem report in the Monica death case reveals that the minor clot found in the head of the victim could be 15 days old. Sources said the clot was found to be caused by a minor head injury and could not be linked with the cause of the death.


Head Constable held on charge of smuggling garments
Chandigarh, October 18
The Punjab Excise and Taxation Department has arrested a Head Constable of the Chandigarh Police for allegedly running an illegal business of bringing garments from Punjab without paying the sales tax.
Head Constable Najjar Singh (in turban), who was arrested for allegedly smuggling garments in a bus (seen in the background). Tribune Photo: Vicky Gharu
'Kidnap victim' held for fraud
Panchkula, October 18
A "kidnapping victim" has been arrested for allegedly duping four persons under the pretext of sending them abroad. The accused has been identified as Karan Datta, a resident of the Mansa Devi Complex, Sector 5, Panchkula.


booth scam
UT initiates action against 8 allottees
Chandigarh, October 18
In a major development in the infamous booth allotment scam, a three-member probe committee of the UT looking into former ADC PS Shergill's report on the scam has initiated proceedings in at least eight cases of allotment, which have been found to have been made in violation of the terms and conditions laid down for the allotment of booths in the Krishna Market, Sector 41.

Booths at the Krishna Market in Sector 41, Chandigarh. A Tribune photograph
Homage to the brave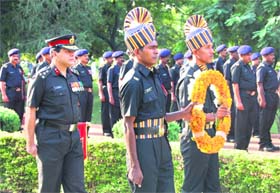 Brig Arun Ganguli, officiating Major-General (Electronics and Mechanical Engineers), Western Command, Chandi Mandir, goes to lay a wreath at Veer Smriti in Chandi Mandir on Thursday.
MC projects on paper only
Chandigarh, October 18
It has become a practice with the municipal corporation to approve interesting projects, which are not within its purview, in the annual budget. Interestingly, the councilors, who propose these projects, do not bother to inquire about their progress.
In trouble? seek help from para-legal volunteers
Panchkula, October 18
If some one tries to tease you at the Navaratra fair and the police is not listening, you can seek help from para-legal volunteers. This Navaratras, for the first time, under the directions of Chief Judicial Magistrate (CJM) Jaibir Hooda, a special corner has been set up by the legal authority services to help and educate the needy how can they make the police take action on their grievances.
Industrialists a harried lot
Chandigarh, October 18
The industrialists of the city are facing difficulties as the UT Administration has failed to decide on the long pending demand of implementation of Micro, Small and Medium Enterprises Development (MSMED) Act, 2006.


Railways adds more coaches
Panchkula, October 18
Due to the ongoing festive season, there are long waiting lists at the Chandigarh railway station. A rise in passenger volume has led to the long online waiting lists too as far as the train reservations are concerned.

People queue up for reservation at counters at the Chandigarh railway station. Tribune Photo: Manoj Mahajan
Experts dwell on depression
Chandigarh, October 18
During a public forum on 'Depression: A Global Crisis', organised at PGIMER here, today, experts noted that it is important to recognise and diagnose depression separately from normal fluctuations in mood.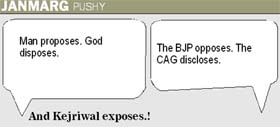 building bylaws violations
Roll back hike in penalty charges: Traders
Chandigarh, October 18
The executive body of Chandigarh Beopar Mandal (CBM) today urged the UT Administrator to roll back the hike in penalty charges in case of misuse and building violations. Recently, the UT Administration had increased the charges from Rs 10 per sq ft per month to Rs 500 per sq ft per month.
Air-compressor tank bursts
Chandigarh, October 18
There was panic in the motor market of Sector 48 when the tank of an air compressor burst in a shop at 10 am today. Luckily, nobody was injured in the incident.



Theatre theme of PU youth festival on Day 3
Chandigarh, October 18
Day 3 of the ongoing Panjab University Zonal Youth and Heritage Festival at Home Science College was about 'theatre'. The first session comprised skits where the chief guest was an eminent theatre personality, Dr Atamjit Singh.

Students take part in a skit at DAV College in Sector 10 in Chandigarh on Thursday; and (right) students take part in a mime competition at Home Science College in Sector 10. Tribune photos: Parvesh Chauhan
PGGCG celebrates UN Day
Chandigarh, October 18
Prashasnika and Political Science Society of Post Graduate Government College for Girls, Sector 11, celebrated the UN Day today. A paper reading contest was organised during the occasion.