MPs pull up officials for delay in helping rape victims
Jind, October 18
The Haryana government appears to have been caught on the wrong foot on the issue of crime against women, following which an 11-member standing committee of Parliament for the welfare of SC/STs visited the state for an assessment of the situation.
Cops blamed for death of victim's mother
Karnal, October 18
Reeling under threat to life, Dharampal, husband of deceased Dalit woman Kamlesh who raised her voice against the gang rape of her 15-year-old daughter, has blamed the police for his wife's death.
Child Panel notice to Karnal DC, IG
New Delhi : Taking suo motu cognizance of The Tribune report on a Dalit minor's gangrape in Kalsi village of Karnal and her mother's murder for seeking justice, the National Child Rights Commission today asked the Karnal Range IGP and the Deputy commissioner to immediately submit a report on what steps the administration was taking to protect the victim.
Man strangles daughter for honour
Jhajjar, October 18
In a case of honour killing, a man allegedly strangled his 21-year-old daughter Pooja at his house in Jatiya Mohalla near Ambedkar Chowk here last night. Pooja was pursuing the GNM course at Lord Shiva College in Sirsa.
Karnal woman not raped, claims police
Karnal, October 18
The police today denied that a 50-year-old woman was raped in Dabarki Kalan village on October 14, asserting that it was only an attempt to molest her. Shashank Anand, SP, Karnal, said the woman's medical examination confirmed that no rape was committed and there were only two persons and not four, who attempted to rape her.
YC, NSUI activists burn Chautala's effigy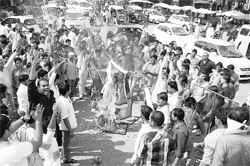 Hisar, October 18
Activists of the Youth Congress (YC) and the National Students' Union of India (NSUI) today burnt an effigy of INLD supremo Om Prakash Chautala in protest against his allegation that AICC general secretary Rahul Gandhi had evaded stamp duty on purchase of land in Haryana.


Youth Congress activists burn an effigy of INLD supremo Om Prakash Chautala at Devi Lal Chowk in Sonepat on Thursday. Photo: BS Malik

Farmers protest open air field trials of GM corn
Shahabad (Kurukshetra), October 18
Hundreds of farmers from the Bharat Kisan Union carrying banners and placards reading "Monsanto GM corn Quit India" held a peaceful protest outside the Regional Research Station of Choudhary Charan Singh Haryana Agricultural University (CCHAU) at Shahabad today to show their resentment towards open air field trials of genetically modified (GM) corn in the state.
BJP, HJC burn Vadra's effigy
Faridabad, October 18
Activists of the local units of the Bharatiya Janata Party and the Haryana Janhit Congress (B) today jointly burnt an effigy of Robert Vadra, son-in-law of Congress president Sonia Gandhi, in connection with former's real estate business in Haryana.
Docs examine Fatehabad resident
Chandigarh, October 18
Hans Raj Chauhan of Fatehabad district was today medically examined. Less than six months ago, he had alleged that sadhus were castrated after giving them the false hope that " they would be able to achieve God through Gurmeet Ram Rahim Singh".
4 cops, TTE booked for robbing NRI on train
Ambala, October 18
Four constables, a traveller's ticket examiner (TTE) and their accomplice have been booked for robbing an NRI on board the Amarpali Express following action by the inspector-general, Railways.
Dead woman found alive
Hisar, October 18
A woman who was declared dead was found alive hours after her brothers cremated the half-burnt body of a woman mistaking it for their sister's here last evening.