Girl's parents still on dharna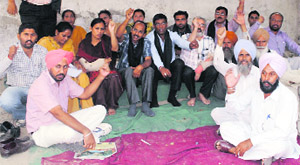 Faridkot, October 22
Despite 15-year-old Shruti being found and her abductor arrested, public anger against the police refuses to subside with the latter trying to paint the incident as that of elopement. Outraged by the police claim, members of the local Action Committee and Shruti's parents today continued their protest dharna outside the police station here.
Shruti's parents and members of the Faridkot Action Committee at a dharna. Tribune photo


Demand not accepted, Fazilka teachers lock education office staff
Fazilka, October 22
As many as 24 activists of the Government Teachers Union, Fazilka, allegedly held captive 10 staff members attached to the District Education Officer (DEO) this evening by locking the main door of their office from outside.


lesson taught! An official held "captive" calls for help at the DEO office in Fazilka. A Tribune photograph

Paucity of officers in Pathankot: CM
Pathankot, October 22
Various leaders today took pot shots at one another at the BJP Vikas Rally at Parmanand, 22 km from here, even as Chief Minister Parkash Singh Badal admitted that several developmental initiatives needed to be launched in the industrially and educationally backward Bhoa assembly segment.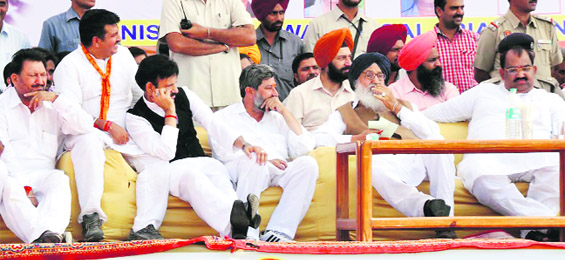 Chief Minister Parkash Singh Badal, BJP state president Ashwani Sharma and other leaders at a rally in Pathankot. Tribune photo
Forest Dept receives a rap on its knuckles
Chandigarh, October 22
The Commissioner of Inquiries has censured the Forest Department for its attempts to scuttle the probe against the Amritsar division staff. The department has also been admonished for virtually punishing IFS (Indian Forest Services) officer Harsh Kumar for referring the matter to the Vigilance Bureau.
Power generation hit at Ropar plant
Ropar, October 22
Power generation was affected at Guru Gobind Singh Super Thermal Plant when one of its six units stopped working this morning. This is the second unit of the plant where generation was stopped due to a technical snag in the last three days.
Ranike's PA to be produced in court today
Amritsar, October 22
The Vigilance Bureau is to produce Sarabhdyal, personal assistant of former Animal Husbandry Minister Gulzar Singh Ranike, and his brother-in-law Harjit Singh in a local court tomorrow on completion of their police remand.
Amritsar part of Centre's vegetable cluster scheme
Chandigarh, October 22
In a major initiative to boost vegetable production in Majha and Doaba areas and ensure good quality vegetables to consumers in Amritsar, the holy city has now been included in the ambitious Vegetable Initiative for Urban Clusters scheme.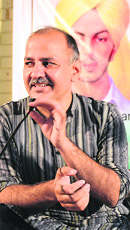 Rampant corruption in Punjab: IAC
Ludhiana, October 22
India Against Corruption (IAC) activist Manish Sisodia, who was in Ludhiana to strengthen the organisation at the grassroots level, said there was rampant corruption in Punjab today. He said IAC would collect documents providing evidence of corruption in the state. Sisodia said during his visit, it had been reported to him that many influential people were involved in the business of drugs. IAC would take up the issue if and when substantial proofs of their involvement were submitted to it, he added.



Manish Sisodia in Ludhiana. Tribune photo

College selected for research on earthquakes
Fatehgarh Sahib, October 22
In order to conduct research that would enhance understanding of seismic activity in the region, Baba Banda Singh Bahadur Engineering College (BBSBEC) has been earmarked as a test centre by the Indian institute of Information Technology (IIIT), Hyderabad.
Police to step up vigil during festive season
Sangrur, October 22
In the wake of the paddy procurement season and the upcoming festivals, Inspector General of Police (Patiala range) Paramjit Singh Gill has directed the police to step up vigil today.
Sangrur's bus stand paints a grim picture
Sangrur, October 22
With little or no maintenance work, Sangrur bus stand paints a grim picture. It has potholes everywhere, stinking urinals, illegible timetables and non functioning lights and fans.
Farmers block traffic in Sangrur
Sangrur, October 22
In protest against the cancellation of the licence of a local pesticides shop by the Agriculture Department, pro-farmer organisations blocked traffic here for over two hours today.
SARAS mela concludes
Patiala, October 22
The 12-day SARAS mela today concluded at Sheesh Mahal amidst huge fanfare. Around 2.5 lakh persons attended the event. More than 350 artists from 20 states, who had put their stalls to display and sell handicrafts, registered a collective sale of around Rs 1.60 crore.
Policemen slap youths, face public anger
Bathinda, October 22
The drive by the police to enforce traffic rules in the city ran into a roadblock on Sunday when people vented their ire on the police today after two youths on a bike were allegedly slapped by the constables of the newly-formed Eagle Squad, which was on duty at the Sadbhawna Chowk in the busy Dhobi Bazaar area.



Denied bail by HC, 34 dera men sent to jail
Moga, October 22
Thirtyfour Dera Sacha Sauda followers who were sentenced to three-year imprisonment on September 22 after being found guilty in a case of arson surrendered in the court of District and Sessions Judge Karamjit Singh Kang here today. The guilty had been given a month's time to seek bail from the higher court.
Sedition charges against Dal Khalsa leaders dropped
Amritsar, October 22
A local court today dropped charges against 21 leaders and activists of Dal Khalsa who were booked in June 2005 for allegedly raising slogans in favour of Khalistan on the eve of Operation Bluestar anniversary.



Youth held with smack in Patiala
Patiala, October 22
Patiala Police today allegedly recovered 70 gm of smack from a person who has also been involved in over a dozen cases of snatching.