Architect, engineer, owners to be booked for negligence
Chandigarh, October 22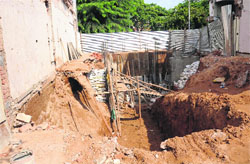 A day after a labourer was killed and another was injured after a wall caved-in at a hotel site in Sector 18, the Deputy Commissioner (DC) has ordered registration of a case against the owners of the property, the architect and the structural engineer of the site.



The construction sight where the wall caved-in at Sector 18, Chandigarh. Tribune photo: Manoj Mahajan
Victim failed to hear shouts of co-workers
Chandigarh, October 22
The 19-year-old labourer, who died last night when a wall caved-in at a hotel site in Sector 18, was not able to hear to the shouts of fellow workers as he was partially hearing impaired.
Mess food to cost more
Chandigarh, October 22
Following the recent hike in the price of LPG cylinders and other food items, Panjab University (PU) today proposed a Rs 6 hike in the meals served at the hostels.
Save your child's eye, say no to bow and arrow this Dasehra
Chandigarh, October 22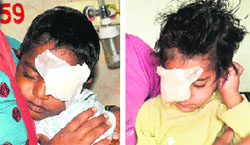 With the onset of the festive season, cases of eye injuries among children start pouring in city hospitals. Most of these injuries are due to bow and arrow. Inspired by Ramlila, children shoot arrows from bows which can lead to serious eye injury. This can also lead to permanent blindness if the injury is severe and not managed properly.
Six-year-old Prince and a three-year-old girl admitted to the PGI. Tribune photo: Pradeep Tewari
Under proposed new rule, violators to pay heavy penalty in city
Chandigarh, October 22
To discourage building owners from going ahead with hazardous digging of basements without prior sanction of the building plans, the UT Estate Office has sought a heavy penalty and stricter provisions under the Punjab Capital (Development and Regulation) Building Rules, 1952.


MC fails to take up road projects
Chandigarh, October 22
Out of Rs 30 crore, set aside for city roads, the Municipal Corporation has already spent Rs 23 crore and has finished only five road projects.
Revision of electoral rolls to continue till Oct 31
Mohali, October 22
The revision of electoral rolls in Vidhan Sabha assembly segment number 52 (Kharar), 53 (Mohali) and 112 (Dera Bassi) would continue till October 31. This was stated by Mohali Deputy Commissioner-cum-District Election Officer Varun Roojam after reviewing the working of BLOs here yesterday.


Security beefed up for Dasehra in Mohali
Mohali, October 22
To check any untoward incident and to keep the law and order situation under control, about 150 police personnel would be deployed at the Dasehra Ground at Phase VIII on Dasehra.
Devotees harassed due to Guv's visit
Panchkula, October 22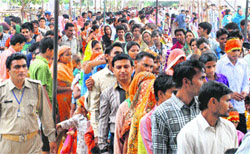 When Raj Singh Sareen's (76) turn came to pay obeisance to Goddess Mansa Devi after waiting for four hours in a queue at the Mansa Devi temple, he was pushed by security guards to a corner saying that the Governor was there to visit the temple. He could not pay obeisance properly and had to return disheartened.

Devotees wait in a long queue at Mansa Devi Temple in Panchkula on Monday. tribune photo Nitin Mittal
Governor's car dropped him outside yagyashala
Panchkula, October 22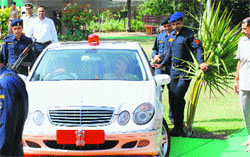 Unlike other elderly people, Haryana Governor Jagannath Pahadia, who visited the Mansa Devi shrine today, did not use the golf cart facility but interestingly his car dropped him just outside the yagyashala where entry of any kind of vehicle is prohibited.



Haryana Governor Jagannath Pahadia reaches Mansa Devi Temple in his official car in Panchkula on Monday. tribune photo Nitin Mittal
Woman accuses docs of negligence
Panchkula, October 22
High drama was witnessed today at the General Hospital, Sector 6, when a woman alleged that the delay in treatment by the doctor claimed her mother's life.
Two-suspected dengue deaths, 91 confirmed cases in Mohali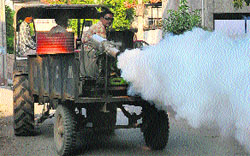 Mohali, October 22
With two-suspected dengue deaths and 91 confirmed cases, the situation in Mohali district is alarming. Mohali Civil Surgeon Dr JS Cheema confirmed that so far 91 cases of dengue had been reported in the district and it was really a cause of concern.



MC workers carry out fogging exercise at Phase IX, Mohali, on Monday. tribune photo: Vicky Gharu
Dengue cases on the rise in city
Chandigarh, October 22
The total number of dengue case has reached 180 in the city. More more than 100 patients afflicted with dengue and malaria are being admitted everyday. The emergency wings at the city hospitals have been running out of space. The number of patients, visiting the OPD at the Government Medical College and Hospital, Sector 32, has doubled over the past two weeks. In order to accommodate the patients, the beds of the emergency ward have been shifted to the Medical OPD and the waiting area.
No lessons learnt from past incidents
Chandigarh, October 22
It seems that the Chandigarh Administration has not learnt any lesson from tragic incidents of last year where six labourers lost their lives in two separate incidents.
A slice of Hungarian culture
Chandigarh, October 22

Centuries old Hungarian culture and customs were brought alive at the Tagore Theatre here today. Hungary-based The Csillagszemuek (Starry-Eyed) Dance Ensemble Group, mesmerised the audience with their folk dance performances that celebrated their "togetherness". The group consisted of 11 dancers, four males and seven females, all aged between 16 and 22. Explaining the significance of the performance, Tibor Kovacs of Hungarian Information and Cultural Centre, New Delhi, with whose cooperation the event was held, said that in the older times, about 150-200 years ago, men and woman did not have much opportunity to spend time with each other.
Members of a Hungarian folk dance troupe perform at Tagore Theatre in Sector 18, Chandigarh, on Monday. Tribune photo: Preadeep Tewari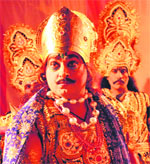 Constables by day, actors at night
Chandigarh, October 22
They might be stick-wielding constables by the day, but as evening falls they don a completely different role. Two UT policemen — one who works at the police headquarters and the other serving in the traffic police department — are these days busy performing at Ramlilas.

Paramjit Singh, a traffic police constable, enacts the role of Meghanad at the Sector 20 Ramlila inset; and Ashwani Kumar, a Chandigarh Police constable, who performs at Sector 17 Ramlila. Tribune photos: Pradeep Tewari and S. Chandan
Jail inmates show talent at 'Sargam 2012'
Chandigarh, October 22
A cultural programme "Sargam 2012" was organised at Model Jail, Chandigarh, today. The programme included performances by jail inmates such as songs, poetry, dance, bhangra and drama-skits. Some of the songs were written by the inmates themselves and music was also composed by them.
mid-day meal scheme
Suppliers demand hike in meal rates
Chandigarh, October 22
The rising prices of grocery items and the recent hike in the LPG cylinder rates have put a burden on the mid-day meal suppliers in Chandigarh. In the wake of this hike in the kitchen budget, the institutions hired by the UT Administration to prepare and supply mid-day meals to the government schools have demanded a revision of the per child meal rates. The revision sought varies from 25 per cent to 35 per cent.