Mandi Board forms flying squads
Barnala, October 21
The Punjab Mandi Board chairman, Ajmer Singh Lakhowal, recently visited Dhanaula, Barnala and Mehal Kalan villages to take stock of paddy procurement and the problems being faced by farmers, labourers and arhtiyas.
Farmers facing harassment at mandis: MP
Sangrur, October 21
Sangrur MP Vijay Inder Singla today accused the Badal government of working against the interests of the farmer community. He said farmers had been facing harassment due to installation of meters to measure moisture content in paddy at grain markets.
Centre begins to move wheat stock from state
Chandigarh, October 21
Punjab wheat has started reaching Bangladesh, South Korea, Indonesia and to some other countries. A senior official of the Food Corporation of India (FCI) said about 2 lakh tonnes of wheat had been moved to a sea port in Gujarat for export to these countries.
Congress wants for CBI probe into Shruti case
Faridkot, October 21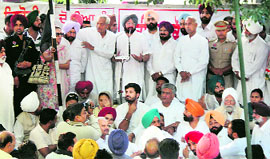 It was after 27 days of her abduction that the Punjab Police today claimed to have recovered Faridkot girl Shruti Sachdeva in Goa. Incidentally, the recovery coincided with a major protest by the Congress leadership in the town. The protest saw Punjab Congress chief Capt Amarinder Singh and former Chief Minister Rajinder Kaur Bhattal burying their differences and coming on a common platform after a long time.
Congress leaders protest in Faridkot on Sunday. Tribune photo

State police must get its act together
Chandigarh, October 21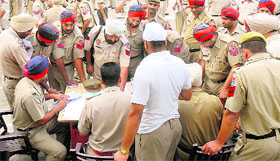 The recovery of Faridkot girl Shruti and her abductor Nishan Singh today provided the much-awaited relief to the Punjab Government. The incident also signifies that the Punjab Police needs to be jump-started into action by its political masters.
The incident signifies that the Punjab Police needs to be jump-started into action by its political masters
7 of marriage party killed in road accident
Gurdaspur, October 21
Seven persons were killed when a speeding Scorpio SUV collided with a truck coming from the opposite direction on the Puranashala-Tugalwal road, 17 km from here, this evening.
Akali leader faces probe over bigamy
Barnala, October 21
The police has ordered a probe into the allegations of bigamy and cheating against a local Shiromani Akali Dal leader who "embraced Islam" to marry a minor girl despite having a wife and three children.
Two-day festival celebrates spirit of Sufism
Amritsar, October 21
Sufism is all about connectivity whether of the soul or geographical boundaries. This was the theme of the two-day International Sufi Festival which concluded at Khalsa College today.
Now, serving langar to cost more
Chandigarh, October 21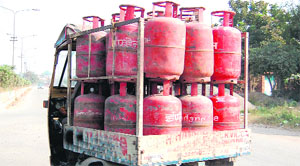 Religious institutions serving 'langar' will now have to pay more for an LPG connection. Ditto for educational institutions and hospitals. Categorised as "non-domestic exempt" LPG consumers, these institutions will have to pay excise and customs duty on the LPG cylinders. This will cost them a minimum Rs 1,170.50 per cylinder (weighing 14.2 kg).

Religious bodies will now have to shell out more for for cooking gas cylinder. Tribune file photo
Power corp staff on warpath
Patiala, October 21
The management of the state power corporation and non-gazetted employees have been at loggerheads since the unbundling of the erstwhile Punjab State Electricity Board two-and-a-half years ago.
Police Commemoration Day
Terror: Police to keep tabs on social media
Jalandhar, October 21

Punjab Police has made a special plan to stop various militant groups from misguiding the youth of the state on social networking sites including Twitter and Facebook. Director General of Police (DGP) Sumedh Singh Saini said this during his visit to PAP headquarters here on Police Commemoration Day. He laid a wreath on the memorial in PAP complex to pay homage to the martyrs who had sacrificed their lives fighting militants and criminals.
Punjab DGP paying homage to martyrs at PAP Jalandhar on Sunday. Tribune photo

Need to curb drug inflow: Patiala IG
Patiala, October 21
Patiala (range) Inspector-General Paramjit Singh Gill has exhorted the police officials to gear up to fight the threat of narco-terrorism facing the state. After paying tribute to Punjab Police martyrs on the occasion of Police Commemoration Day here today, Gill emphasised on the need to cut the supply of narcotics to Punjab from Pakistan.
Chandigarh-Ludhiana highway to be 8-laned
Chandigarh, October 21
The National Highway between Chandigarh and Ludhiana is all set to be eight-laned with the Union Government giving its approval for the execution of this project.
Remembering the martyrs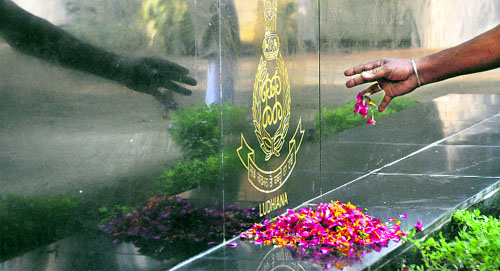 Police officers paying floral tribute to martyrs on Police Commemoration Day in Ludhiana. — Tribune photograph: Himanshu Mahajan
5 booked for clash at village gurdwara
Shahkot, October 21
Tension prevailed in Dhandowal village following a clash in a gurdwara yesterday, in which five persons sustained injuries. Security was beefed up in the village with the deployment of about 200 police personnel.
2 ex-cricketers held on kidnapping charge
Jalandhar, October 21
Two former Ranji players are among four persons arrested by the police today for allegedly kidnapping an insurance firm employee. The victim, detained at a house in Bhago Majra village in Mohali, has also been rescued.